Consumers Don't Really Want Self-Driving Cars, MIT Study Finds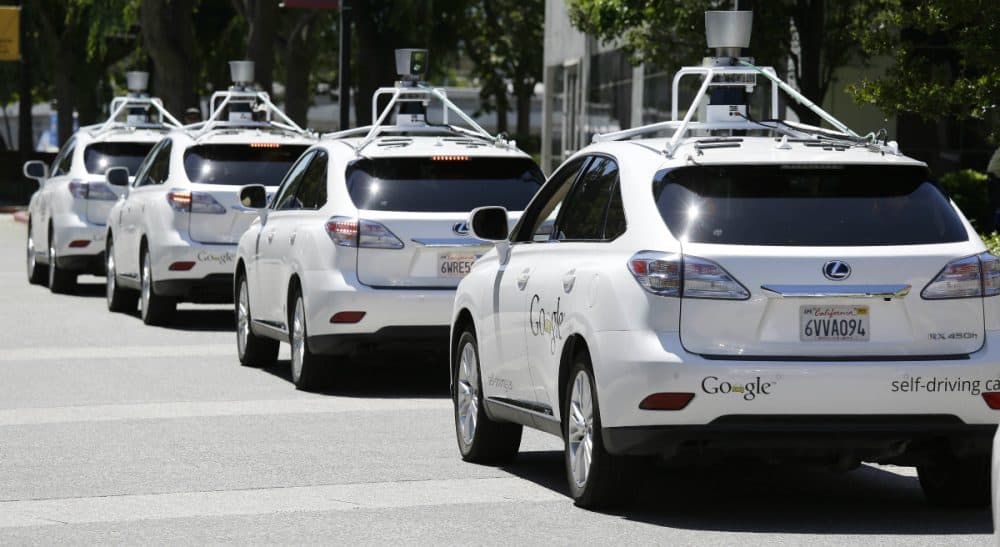 This article is more than 5 years old.
Tech companies and car manufacturers are spending billions to get self-driving cars out on the roads. But it turns out, people don't really want them, according to a new study from MIT.
The study asked nearly 3,000 people about their interest in self-driving cars. Nearly half — 48 percent — said they would never purchase a car that completely drives itself. Respondents said they're uncomfortable with the loss of control and don't trust the technology. They also don't feel self-driving cars are safe.
This is the second year the MIT AgeLab and the New England Motor Press Association has conducted this study. The research also shows a decline in consumer interest in autonomous vehicles across all age groups — especially among young people. Last year's study found 40 percent of people age 25-34 said they would be comfortable with fully autonomous vehicles. This year, only 20 percent of people 25-34 said the same. Young people are still more comfortable with autonomous vehicles than older people — but they're becoming more cautious about the technology.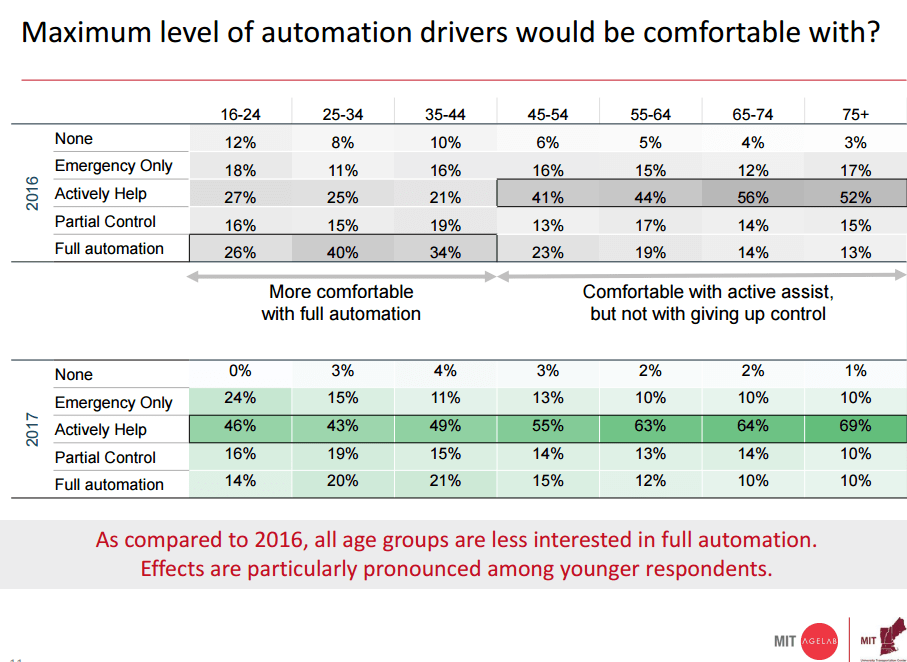 Bryan Reimer, a research scientist at MIT's AgeLab, says people's personal experiences with technology may come into play here. He says everyday tech issues that we experience, like Wi-Fi disruptions or a website not working, trouble people as it is. But "here you're asking an individual to put their life in the hands of technology," Reimer said.
That concern was reflected in comments made by survey respondents. One respondent flat out said: "I don't trust technology to the point of putting my life in its hands."
But Reimer said people do want some autonomous technology in their cars — such as automatic emergency braking, lane-keeping systems and auto-park features.
"They're looking for driver assistance systems that work to help them stay in active control [and] safe control of the vehicle," Reimer said. "They're just not looking for a car to drive them in a chauffeur kind of framework."
Most experts agree that we are, however, moving toward a more highly automated society. Reimer said there needs to be more transparency and education around autonomous vehicles so consumers "understand that these machines are being built to a higher standard than the technologies that dot our daily lives."
Reimer said those working on autonomous vehicles can build consumer trust through public disclosures and investigations into vehicle failures. He said there may also need to be more governmental guidance so each state isn't moving in different directions in terms of policy and oversight.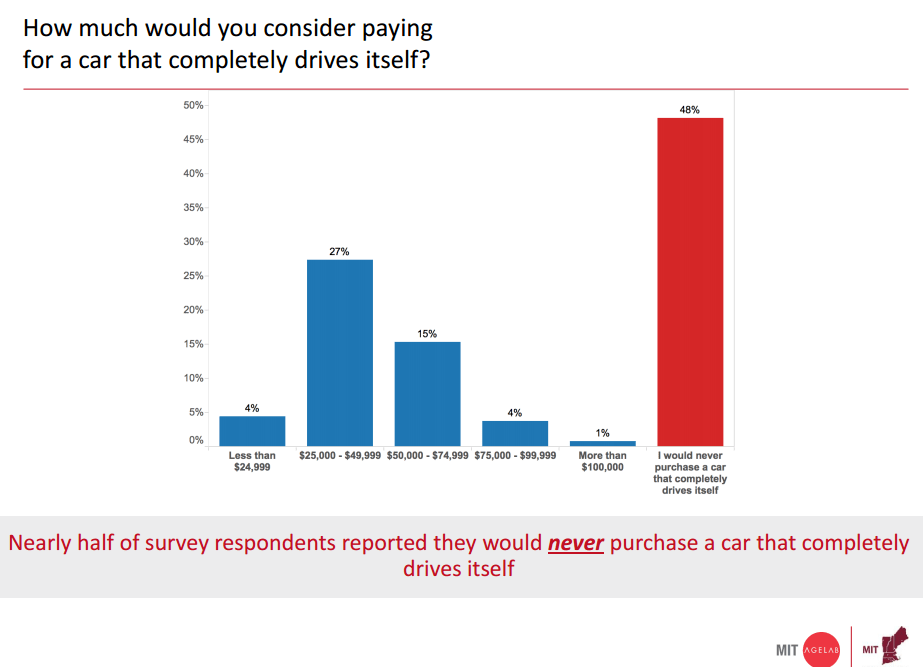 The MIT study builds on other research with similar findings. A study released last month by J.D. Power found consumer trust in self-driving cars has dropped. The University of Michigan has done several surveys that consistently found motorists are concerned about fully autonomous vehicles cars but do want some automated features.
Self-driving cars are currently being tested in Boston as part of a pilot program. And at the state level, Massachusetts lawmakers are trying to prepare for an autonomous vehicle future. There's a state working group studying the technology. And legislators are considering several bills to regulate self-driving cars.