Facebook CEO Mark Zuckerberg, A Harvard Dropout, Delivers Commencement Speech
Resume
Twelve years after dropping out of Harvard University, Mark Zuckerberg, the founder and CEO of Facebook, finally has a college degree from his old university. Zuckerberg, who left college in 2005 after his sophomore year to build his infant social media platform into the multibillion-dollar company it's become, received an honorary degree from Harvard on Thursday.
And although the tech mogul never officially graduated himself, he was the featured speaker during Harvard's afternoon commencement ceremony.
A few highlights:
Zuckerberg On Harvard
As graduates and their families huddled under ponchos and umbrellas in a muddy, wet Harvard Yard, Zuckerberg began his speech by congratulating the class of 2017 and cracking a couple of jokes about his own dropout status.
"I am honored to be here with you today because let's face it, you accomplished something I never could," said Zuckerberg, although it's worth pointing out his current net worth is $63 billion — that's close to double the Harvard endowment.
He reminisced about his days at Harvard: accidentally wearing a shirt inside out and backwards to his first computer science class, meeting his now wife Priscilla Chan and creating the forerunner to Facebook — FaceMash, which nearly got him kicked out of college.
And he recalled the exact moment he found out he was accepted to Harvard. His dad videotaped the scene — flannel PJs and all.
Zuckerberg On Purpose
The Silicon Valley billionaire spoke about the need for his fellow millennials to live a life of "purpose." He told grads that they're entering a different world than their parents, a world in which one stable career may not exist, and so rather than choosing a job, he told them to choose a purpose.
He talked about recent stops along his national "listening tour" and the lessons he's learned from opioid addicts and factory workers.
"I'm here to tell you that finding your purpose isn't enough. The challenge for our generation is to create a world where everyone has a sense of purpose," Zuckerberg said.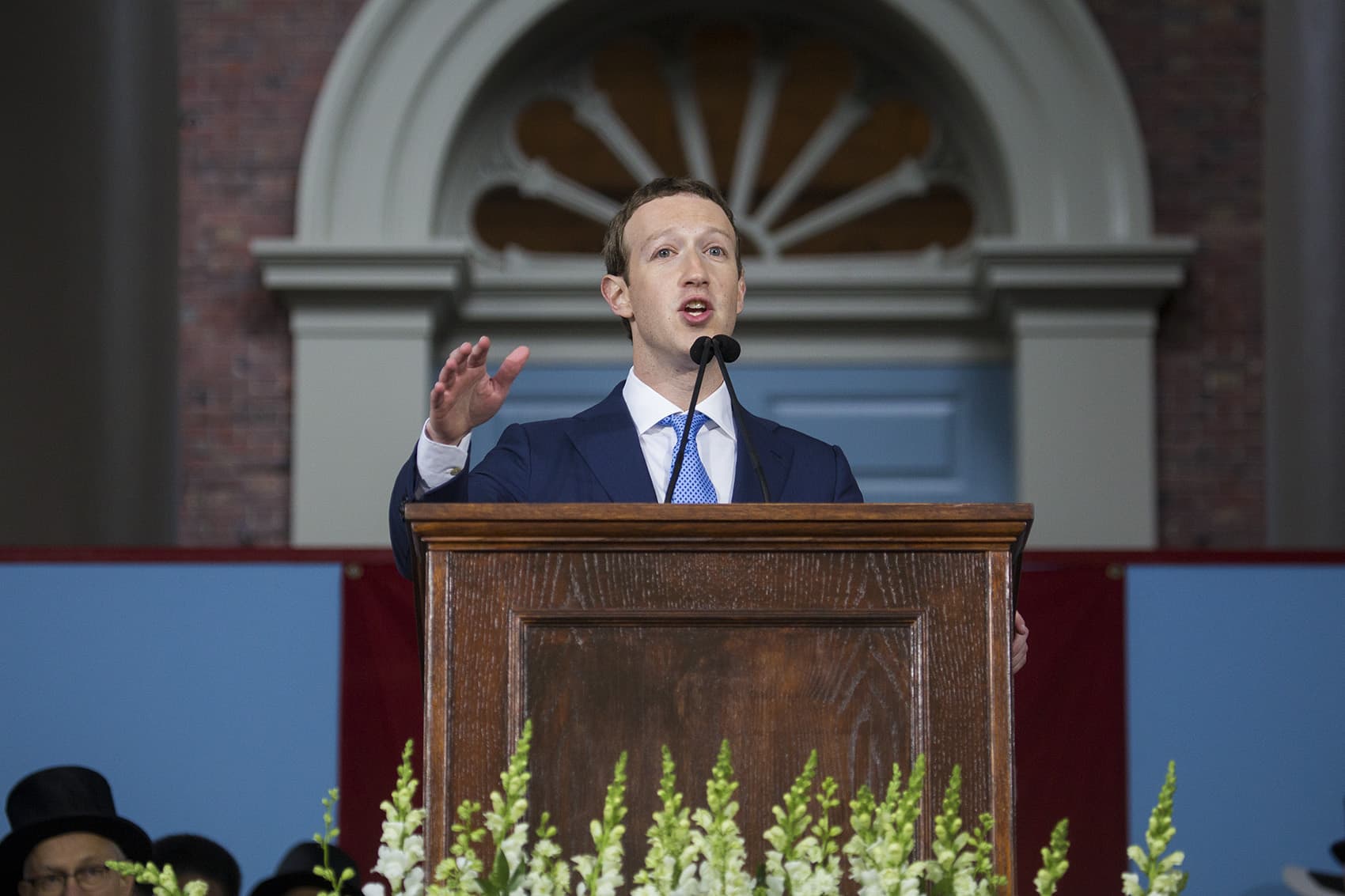 He talked about the need to take on "big, meaningful projects." And referenced some seemingly lofty goals that he insisted are "all within our reach."
"How about curing all diseases by asking volunteers to track their health data and share their genomes?" Zuckerberg asked. "How about modernizing democracy so everyone can vote online?"
He got particularly emotional near the end of his speech as he recounted the story of a young high school student he's worked with over the years who entered the country illegally and isn't sure he can go to college.
"Here is a young guy who has ever reason to be cynical...but he wasn't feeling sorry for himself," Zuckerberg said, explaining that the young man asked for a book on social justice for his birthday because he had noticed struggles he saw other kids in his class facing.
"If a high school senior who doesn't know what the future holds for him can do his part to move the world forward, then we owe it to the world to do our part too," he said.
Zuckerberg On Politics
I'm a former political reporter, so I've heard a lot of politicians over the years, and, although Zuckerberg has insisted he's not running for office (as recently as Sunday in a Facebook post), at times during his Harvard speech, he sure sounded like a politician.
"Today, we have a level of wealth inequality that hurts everyone," he told graduates, insisting the only way only way everyone has the freedom to pursue their purpose is by redefining equality. "There is something wrong with our system when I can leave here and make billions of dollars in 10 years, while millions of students can't even afford to pay off their loans, let alone start a business."
Zuckerberg called for a potpourri of progressive public policies: universal basic income, affordable childcare and "health care that's not tied to just one employer."
He also touched on the criminal justice system, saying we need a society that's less focused on locking people up when they make mistakes.
This article was originally published on May 25, 2017.
This segment aired on May 25, 2017.