From Brick To AstroTurf: Boston Calling's Big Move From City Hall Plaza To Allston
Resume
Performers including Chance the Rapper are in town this weekend for the Boston Calling music festival, which will be a significantly bigger party than in the past.
After staging seven fests at City Hall Plaza, producers have moved the three-day event to the cushy fields at Harvard's Athletic Complex in Boston's Allston neighborhood. (Here's a map of the new site).
New Turf, New Pizzazz
In its new location, there's been a persistent sound of golf carts zipping around as an army of staff and crew prepare for the arrival of the bands and fans. A black stage rises from green AstroTurf instead of the hard red brick that encases City Hall. Trees replace big urban buildings in the skyline.
Then, there's the Ferris wheel. As its pieces were being unloaded from a truck smack in the middle of the main field, Boston Calling co-producer and founder Mike Snow said he always dreamed of putting this particular amusement park centerpiece on City Hall Plaza — but never pulled it off.
"It's kind of like an iconic festival thing," he said, "but you're going to get the perspective everybody wants, right? You're going to get to the top of that thing, you're going to see Cambridge, you're going to see the river, you're going to see the stadium, you're going to see the stages."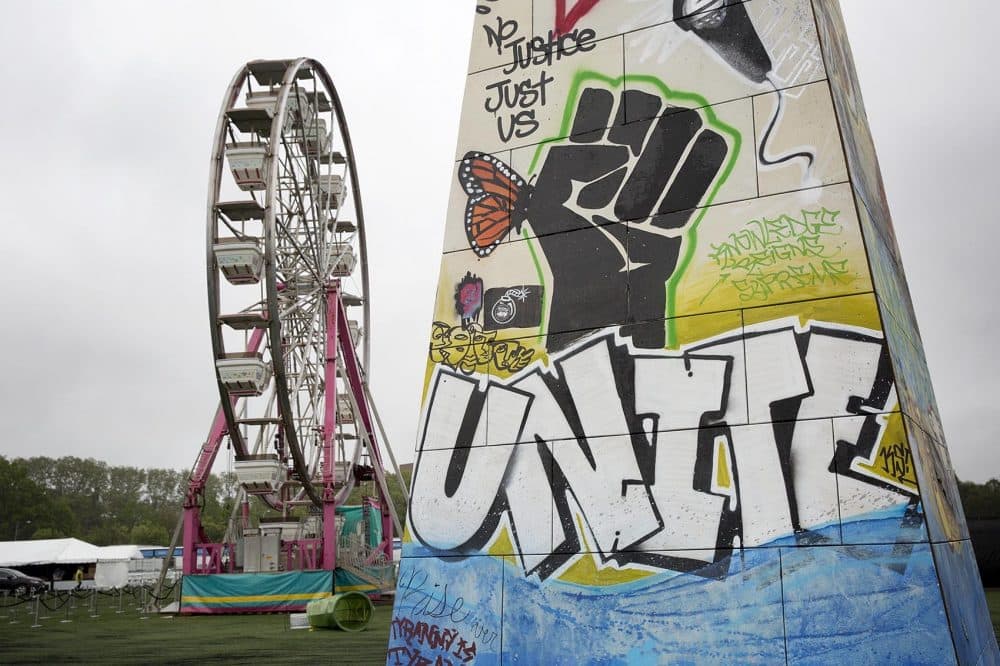 Boston Calling now has four stages instead of three. The expanded lineup boasts 12 comedians and 45 music acts, including Major Lazer, Mumford & Sons and Tool. The ability to grow is driving the big move.
"Easily in a numbers game, we had six acres — now we have 16," Snow said. "Our overall operating budget is probably close to triple. You know, our talent budget was definitely triple, and then our operations budget was closer to double."
Snow estimates the festival's cost hovers between $10 and 12 million. Additional funding came last summer when New York's Madison Square Garden Company purchased a controlling interest in Boston Calling.
"We're still kind of the last of the mostly-independents," Snow said when asked about the corporate acquisition. "Sometimes when you want to grow, you need some more help, and that's all part of it."
Bringing in greater amenities for more fest-goers also works into the equation. Snow told me there are three times as many portable toilets, and room for twice as many trucks to bring in sound and lighting equipment. Twenty-six food vendors — up from six — are now on site. Some of the options are more upscale, too, with chef's offerings from eateries like Cambridge's Puritan & Company and Alden & Harlow in the VIP and new "platinum" guest areas.
There's also a lot more beer. Sam Adams is still present, from the festival's sponsoring Boston Beer Company, but there's also a wider selection from the Danish brewery Mikkeller.
These ingredients are fueling the vision Snow's team has for making Boston Calling a premier event for this city, like the long-established ones in Chicago and Austin.
"I think with urban festivals like Lollapalooza and South by Southwest -- they're great cities, right? And we have a great city. And I want to be able to use this as the benchmark to show people a great city," Snow said.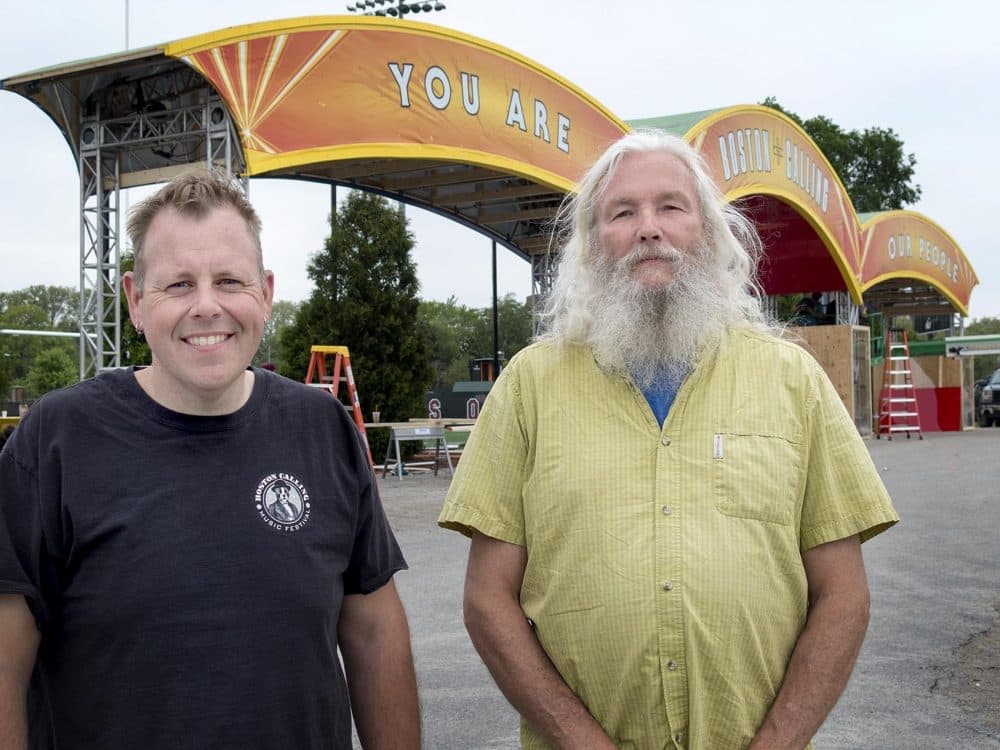 To take Boston Calling to the next level, the producers also hired seasoned "festival designer" Russ Bennett. He's had a hand in shaping several other big-name fests, including Bonnaroo (Tennessee), Outside Lands (California) and Life is Good (Boston), as well as ones hosted by the Vermont jam band Phish.
Looking around the new grounds, Bennett said the grassy site just across the Charles River from Cambridge and Watertown is definitely more forgiving than the Brutalist backdrop of City Hall Plaza.
His goal has been to fashion zones and navigable travel paths for the expected 40,000 fans each day. They need to circulate freely, Bennett explained, between the music stages, the comedy performances in Harvard's hockey area, and the various places to get food and drink.
Bennett is also incorporating stronger visual elements. The new signage is more aesthetic and cohesive. He pulled potent lines of lyrics from songs by 30 bands and is posting the text — lit from behind — on sculptural supports scattered around the field.
The designer has also added original artwork to the experience that aims to celebrate Boston's spirit, including a mini-model of the Bunker Hill Monument.
"We didn't want to have Paul Revere on a horse," Bennett mused, "but Bunker Hill is pretty serious — you know, the beginning of things. But we updated it a little bit with some graffiti."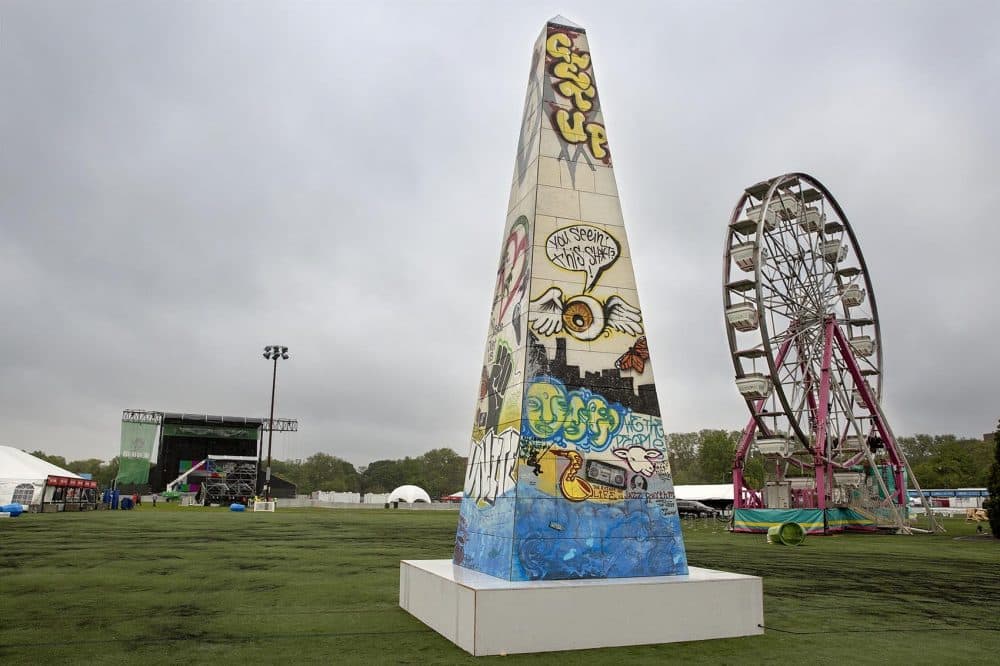 Portraits painted by different artists will also line a perimeter wall. Bennett hopes their images represent the people of Boston — and send a message.
"I'm hopeful that the population that attends is going to be more diverse," he said, "because of the lineup, and because I think that's important."
Boston Calling's music programming has been criticized in the past for lacking diversity, but representation has broadened over the years.
Still, a last-minute change to the bill Thursday night ignited some social media ire when the festival announced that the rap trio Migos would replace Solange. (Migos has been accused of making homophobic comments in an interview with Rolling Stone.) Although Knowles promised on Twitter to come back for a "one off show," many of her fans are saddened by the change, having looked forward to seeing her for months.
'An Eye Towards Security'
The bottom line is that putting on a festival is a complicated and logistically as well as politically sensitive endeavor. Unexpected events have an effect on the atmosphere, the mood and issues of security.
In the wake of this week's horrific concert bombing in Manchester, Snow said, "We started our first event after the marathon in 2013, so we have always had an eye towards security. We sharpened it then, and we've met with everybody here in both Boston and Cambridge."
Only clear bags are allowed into the festival. Boston, Cambridge and state police will be on duty, according to Snow, along with extra security officers. He urges audience members to exercise patience going in and out of the main entrance "and to just be smart."
"It's the same way that I think Bostonians have looked at it over the last three years," he added. "Now you've got to be a little bit heightened again, just like you were in 2013. Be aware. If you think you see anything strange, just find somebody and tell them."
Get Bigger, But Don't Forget The Fans
In the end, Snow and his team members just want people to have a safe, meaningful and memorable time with other music lovers in a carefully curated new location.
I asked Bennett what he thinks ticket holders who pay about $100 for a day pass expect in 2017, considering how many festivals there are across the country.
"I think a lot depends on what festival they're going to," he responded, with a laugh. "This festival, I believe, is going to grow to be like any really good, profound city festival. So if you think about Jazz Fest, or Outside Lands, or the Chicago Blues Festival — you know, they reflect the area that they're from. And I think that's what these guys are doing."
Snow and his co-founder Brian Appel hope the returning fans that helped build Boston Calling will feel welcome in the new spot.
"And that can't be forgotten," Snow said, "just because you move and just because you get bigger. So it's really important to make them feel super-duper at home, because those are the people who give you the best critiques."
Snow will be watching social media for feedback — and weather forecasts.
Now that they're standing where the grass is greener, Snow admits that, with the recent rain, there's been a lot of mud.
This article was originally published on May 26, 2017.
This segment aired on May 26, 2017.