Portland Puts Panhandlers To Work, Paying Them To Clean Up The City
Resume
On any given day -- year-round but particularly in warmer weather -- panhandlers work the curbs and corners of Portland, Maine, cardboard signs broadcasting their need for a little help.
After an unsuccessful attempt to crack down on panhandling a few years ago, the city is now trying a more benevolent approach.
Derek Cote is a Portland native who has been on the streets for a while. Heroin and a partner's death, he says, have contributed to his homelessness for the past five years. He brings in a few dollars each day standing on a median strip.
When things are going well, Cote says he and other panhandlers can make some decent cash at choice intersections, where commuters' cars line up on their way to and from the highway that transects the city. And, he adds, they share the territory.
"We work it out. Like, I'll stay for a couple hours and when I'm satisfied I'll wave him over. Like he's waiting for this spot," Cote says. "I usually stay and make about $30, $40 in a couple hours."
Four years ago, panhandlers like Cote were under siege, with business owners and residents in this booming mini-metropolis loudly complaining to City Hall about proliferating and aggressive begging.
City officials responded by banning panhandling from the medians, calling it a public safety issue. The courts called it a free speech issue and threw the ordinance out on constitutional grounds. Now, instead of the back of its hand, the city is offering a helping hand.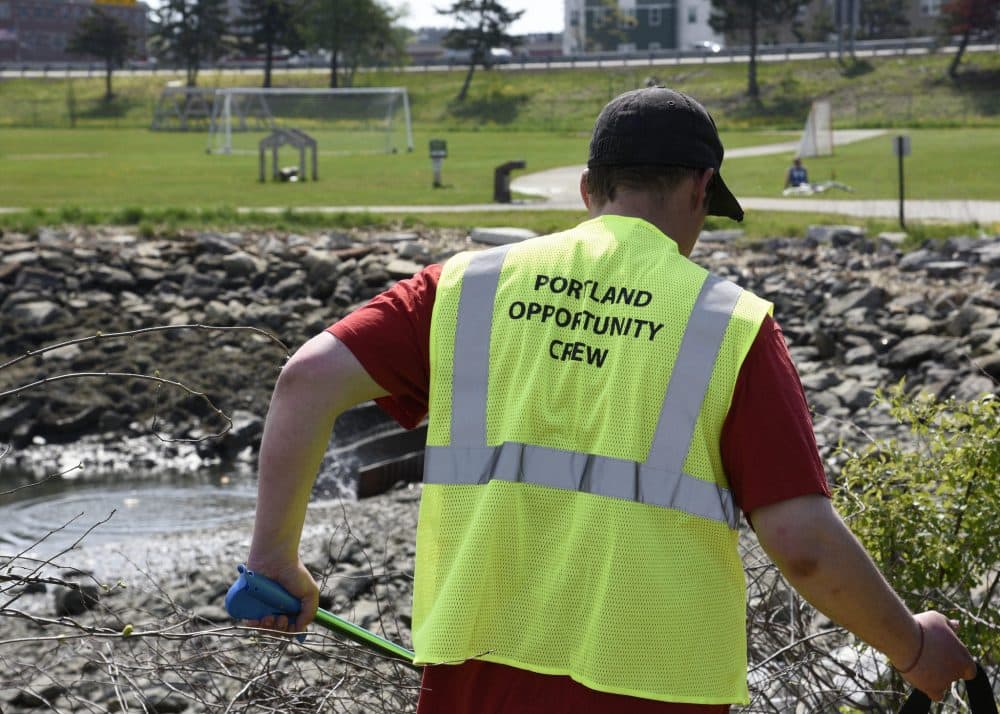 'A Bigger Part Of The Community'
Just a few weeks ago, Peter LaRoche's chief income came from panhandling, one legacy of his struggles with homelessness and addiction. But now he's wielding a trash grabber and a big yellow rubberized bag, working two days a week cleaning up the city's many green spaces, including the strip of parkland that surrounds the city's Back Cove.
As part of its new Opportunity Crew project, the city is paying LaRoche its minimum wage: $10.68 an hour. That's more, LaRoche says, than he can make on the medians.
"Extra money in my pocket to help me out and help the environment as well, and we get fed breakfast and lunch, so that's definitely a bonus," he says. "I think I'm definitely a bigger part of the community than I was back when I was in a hard spot."
LaRoche and a friend, both sporting bright green Opportunity Crew safety vests, are the first recruits to the pilot program. On-site manager Matt Pryor, who has a long history working with Portland's homeless, says he hopes to round up enough recruits to staff the program with five or six people, two or three days a week, to spruce up the city.
"We've been out here for three days so far. I think we've got 30 bags of trash so far from just four sites," Pryor says. "Obviously the end-goal is to maybe help people get more long-term employment and not be counting on two or three days a week they can work with me."
Pryor says he has more recruits in line, and they should be ready to go soon, once they iron out problems getting access to birth certificates and state IDs they need to get paid. That's a barrier that Pryor says many of the city's panhandlers face. He's also acting as a nexus to connect them with shelter, addiction, mental health and other services.
A Cue From Albuquerque
The effort marks a contrast to the national trend. According to a recent report by the National Law Center on Homelessness and Poverty, the number of cities that bar panhandling altogether has risen by more than 40 percent over the last decade, and more than 60 percent of U.S. cities now prohibit the practice in at least some public places.
Still, a few -- including Denver, Chicago, San Jose and now Portland -- are taking their cue from Albuquerque, New Mexico, and its mayor, John Berry.
"Sometimes the easiest way is just to prohibit things, but the punitive approach isn't working or certainly not getting to the root of the problem," he says.
Two years ago, Berry, a Republican, pioneered Albuquerque's There's a Better Way program, sending a van around town to recruit panhandlers to gather garbage and other debris. Since then, he says, the recruits have put in 2,000 workdays, cleaned up nearly 500 city blocks, removed 130,000 pounds of trash (and, it being New Mexico, tumbleweeds), and connected more than 250 people to permanent work.
Perhaps just as importantly, Berry says, the program has solicited community donations and received nearly $60,000 in response.
"So not only are we giving people the dignity of work, helping connect them to services at the end of the day, paying them cash, building them up as human beings, but we're also telling our community we can do better if we work together," he says.
Portland officials plan to follow suit. Through public signage and other means, they hope to get public donations too, and eventually expand the program's $42,000 budget to enable a five-day-a-week work effort.
They say they don't expect to end panhandling in the city any time soon, but they do hope to create a new tool to improve the quality of life of all who walk and drive the city's streets.
This story comes via the New England News Collaborative and was first published by Maine Public.
This article was originally published on May 30, 2017.
This segment aired on May 30, 2017.