Forecast: Sunshine And Milder Air Coming, But We Can't Shake The Risk Of Rain
Another gloomy start to the day after a chilly and rather raw Tuesday in May.
Today will be different in that temperatures will warm into the lower 70s inland and 60s at the coast. Clouds will hang tough, but they'll eventually break, especially inland.
The lack of sunshine is getting on some nerves as it seems like we just can't string together a nice stretch of weather. While this year's May will end up cooler than average, it's not even in the top half of cool Mays in the record books. In other words, it's just a typically cool spring.
I'll have more data on meteorological spring, which ends at midnight, soon. But, suffice it to say the season was likely typical in terms of wetness and coolness. Some areas have seen much wetter-than-average conditions during the past three months, but that has not been the case around Boston.
This afternoon some cold air up at around 18,000 feet will pass overhead. As this happens, the relatively warm air at the ground rises, and when it reaches the cold air, it can create clouds and showers or thunderstorms. There is a risk for a few strong storms west of Route 495 and more typical garden-variety ones around there and in Boston.
On Thursday a westerly flow takes over and pushes the marine layer out to sea. This means places like Boston, Gloucester and even Hyannis will reach and exceed 70 degrees. It may feel hot to some of you after the cool stretch.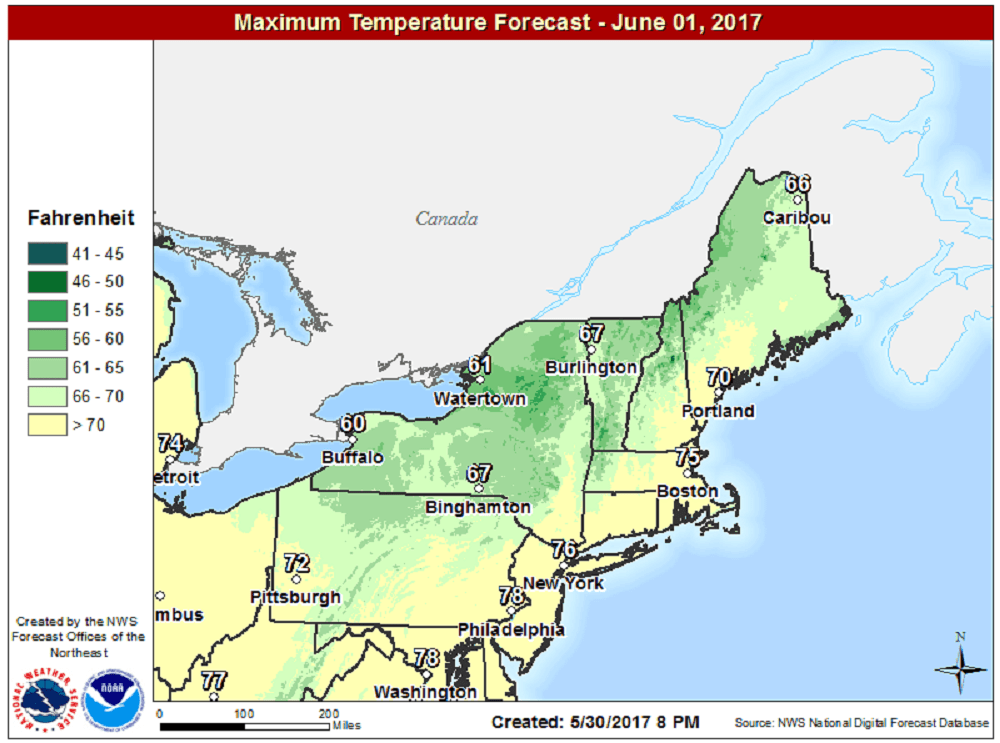 The weekend looks good to start, but clouds and rain will arrive late Sunday along with much cooler air. The pattern isn't quite done with us yet.
You can follow my updates here and on Twitter @growingwisdom.
---
Wednesday: Partly sunny with a shower or thunderstorm possible. Storms could be strong. Warmer. Highs in the low to mid-70s.
Wednesday Night: Cloudy, some evening showers. Lows around 55.
Thursday: Party to mostly sunny. Isolated showers, but mainly dry. Highs in the low to mid-70s.
Friday: Partly sunny and seasonable. Small chance of a shower. 68-74.
Saturday: Sun and clouds. May shower. Highs 70-75.
Sunday: Clouding up with rain arriving late. Highs in the mid-60s.