Man Arrested By ICE Following Workers' Comp Meeting Is Released From Custody
Play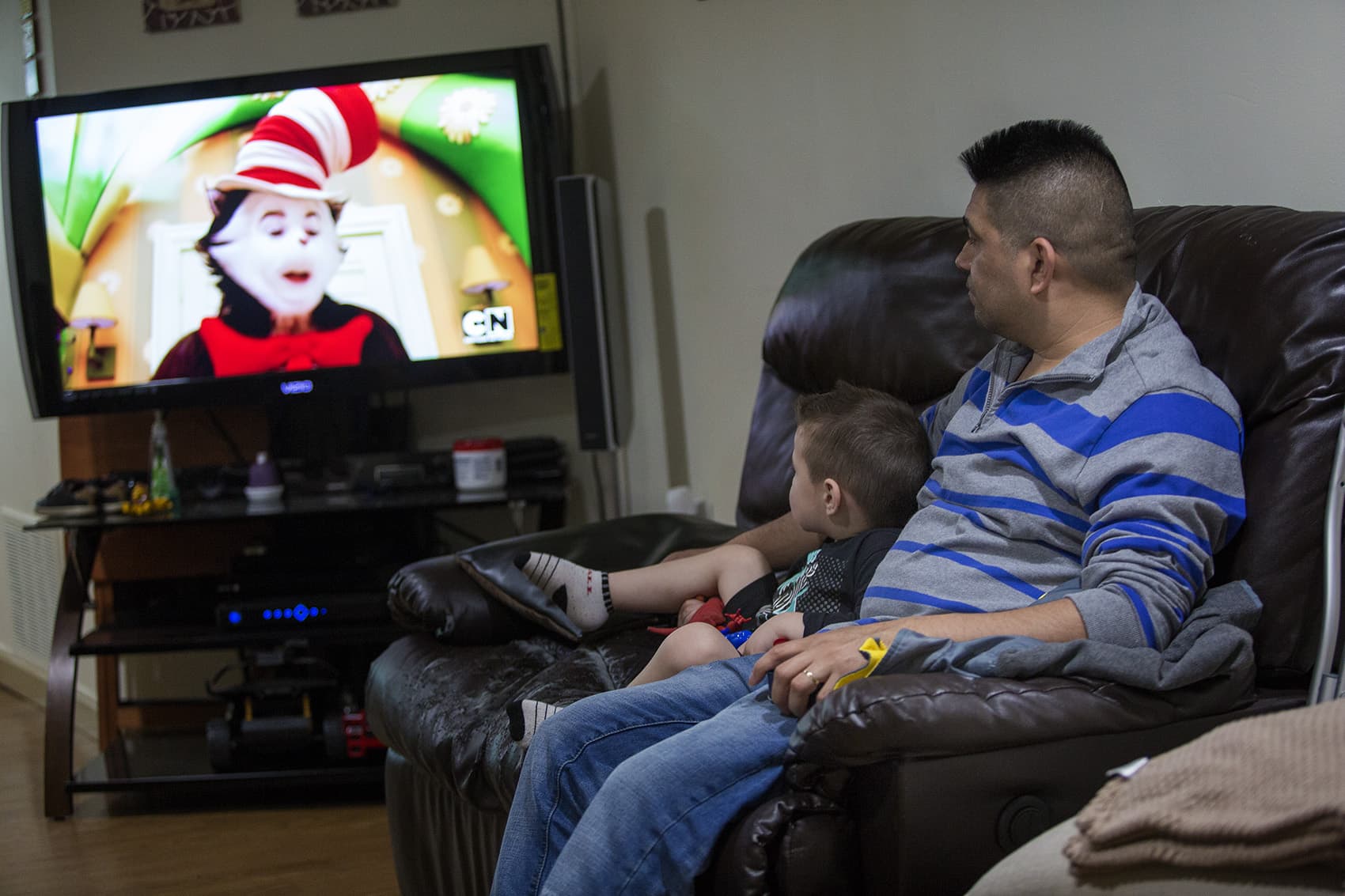 This article is more than 5 years old.
A man arrested by federal immigration officials after a workers' compensation meeting is out of federal custody after nearly two weeks in jail.
Thirty-seven-year-old Jose Flores was arrested by U.S. Immigration and Customs Enforcement (ICE) agents immediately following a meeting arranged by his employer. Flores' lawyers question whether his arrest was retaliation by the employer, looking to get out of the workers' comp claim. Advocates fear his arrest could prevent other workers in the country illegally from reporting workplace accidents.
'I Wasn't Looking For Anything Extra'
Flores' 2-year-old son barely leaves his side now that he's home. Flores and his wife Rosa Benitez have five children together. The mood at the house is much lighter than the last time we visited, shortly after Flores was arrested by ICE.
Speaking in Spanish about the meeting that ultimately led to his arrest, Flores says he never wanted anything more than to be paid for his work.
"My concern was my family. I wasn't seeking compensation of some kind," he says. "I went because my employer had offered me something and I went thinking of my family and its needs."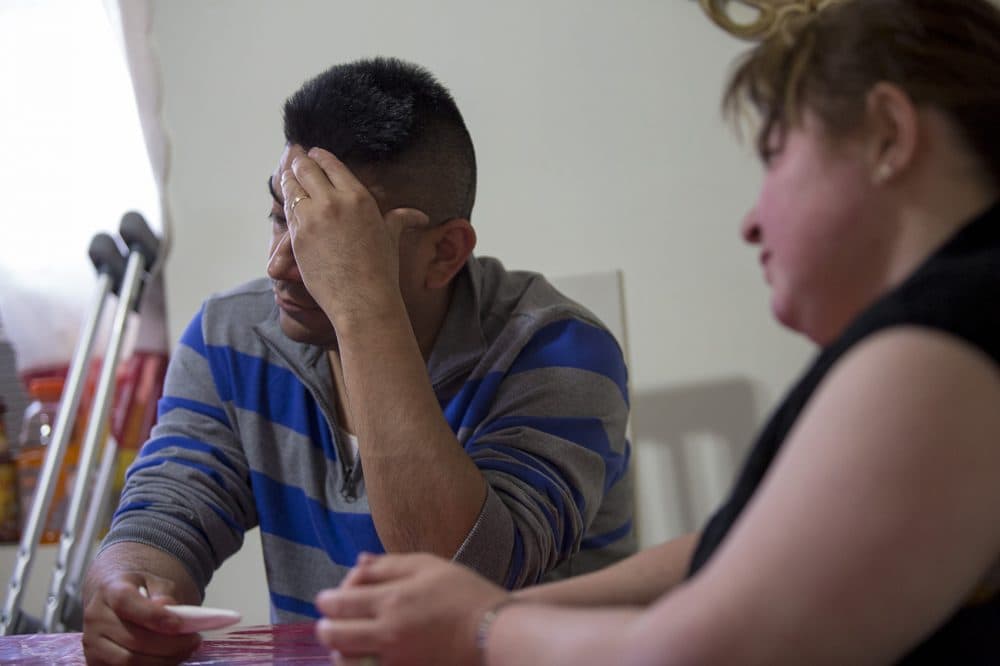 Flores was on a Boston job site at the end of March working for Tara Construction when he fell from a ladder, fracturing his femur bone. The company did not have workers' compensation coverage the day of the accident. After Flores filed for workers' comp, a manager at Tara Construction asked to meet with Flores, saying he wanted to offer something to help the family. After leaving the meeting, Flores says he was apprehended by ICE officials about a block away from the company's property.
"Yeah, I do feel like I was betrayed by my employer. All I did was try to work to earn a living and I wasn't looking for anything extra," Flores says.
But Stephen Murray, an attorney for Tara Construction, says there was no phone call to ICE. He says he can say with certainty that his client had no communication with ICE whatsoever.
Questions Of Retaliation, Compensation And Deportation
Both Flores and his wife entered the U.S. illegally and Flores had previously been ordered removed from the country when ICE took him into custody. Both say they lost family members to gang violence in Honduras and insist it's too dangerous to return.
Murray says Tara Construction had no reason to believe Flores was living in the country without documentation.
Flores' immigration attorney, Christina Corbaci, says several factors led to ICE's temporary suspension of his deportation. One of those factors is a potential investigation into retaliation by the employer.
"We know that there had been interest from several law enforcement agencies who want to investigate the employer's conduct and had reached out to ICE to express their interest and desire to have my client participate in that," Corbaci says.
Corbaci wouldn't specify which agencies may be involved in an investigation but at question would be whether Tara Construction triggered Flores' arrest by ICE in order to avoid liability in the workers' comp claim. There is a statute in the state's workers' comp law against such retaliation.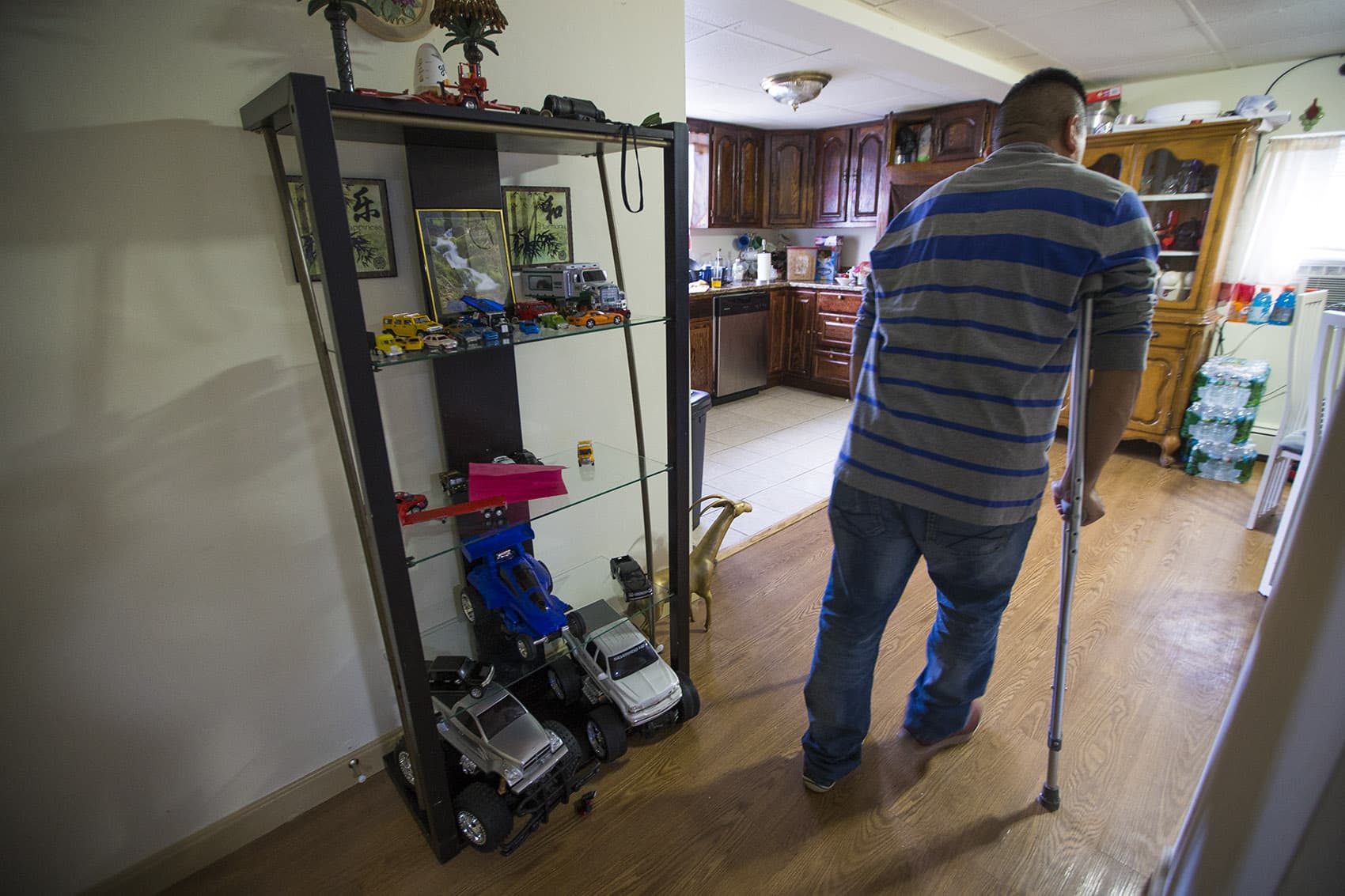 Flores' workers' comp attorney, Stacie Sobosik, says no one is disputing whether Flores was injured on the job. Still, nearly two months after the accident, he's yet to receive any compensation. The goal for Sobosik is getting that compensation while her client is still in the country.
"After deportation, how to find medical professionals on the ground in foreign countries that are willing to work with an insurance company who's operating under Massachusetts law — that's an open question," Sobosik says.
Sobosik typically tells clients their immigration status doesn't matter. Under Massachusetts law, immigrants in the country illegally are almost always entitled to the same workers' comp benefits as U.S. citizens. Though, Sobosik admits, these are unique political times which perhaps call for extra measures, like preparing ways to administer workers' comp benefits abroad.
"We don't have a network like that set up," she says, "although it would be something important to do in this era of increased enforcement action."
'These Folks Will Not Leave The Workforce'
And it's that increased enforcement that has workers' rights advocates, like Diego Low of the Metrowest Workers' Center, particularly concerned.
Low worries that after seeing Flores' arrest, other immigrants may avoid claiming the benefits they're owed, such as back wages and workers' compensation. And that reluctance, he says, puts all workers at risk, regardless of immigration status.
"These folks will not leave the workforce but will work cheaper and be less able to speak up for themselves," Low says. "Ultimately that undermines the working conditions of all workers because there's this major portion of the workforce that will put up with pretty much anything."
The workers' comp claim for Flores is pending and his immigration status will be reviewed again in November.
Correction: An earlier version of this story said Flores was in jail a month; he was in jail nearly two weeks. We regret the error. 
This article was originally published on June 05, 2017.
This segment aired on June 5, 2017.