Family Complexities Make Israeli Stage's 'Days Of Atonement' Feel At Once Distinct And Universal
Israeli Stage hosted Sephardic playwright (and award-winning film actor) Hanna Azoulay Hasfari for a residency in Boston last year, which included a world premiere of her play "Dina." Now Israeli Stage presents the North American premiere of Azoulay Hasfari's nuanced, highly-charged drama "Days of Atonement," which — like "Dina" — explores complex family dynamics against the setting of a Jewish holiday, in this case Yom Kippur. The playwright succeeds in giving "Days of Atonement" both distinctiveness and universality, while commenting on the deep divides and irreconcilable differences that make some families more complex than others.
The four half-Moroccan, half-Israeli sisters of the Ohana family — Malka (Jackie Davis), Evelyn (Adrianne Krstansky), Fanny (Ramona Lisa Alexander) and Amira (Dana Stern) — represent a spectrum of national, ethnic and religious identity. They range in devotion from the deep piety of Evelyn (the second oldest of the Ohana clan) to the free-spirited Fanny, and in social attitudes from the highly traditional — and discontented — Malka to the completely contemporary Amira (the youngest). Summoned back home to the city of Netivot — which the program note helpfully clarifies was established by Moroccan and Tunisian immigrants — the Ohana sisters struggle to reestablish family bonds while launching a search for their missing mother.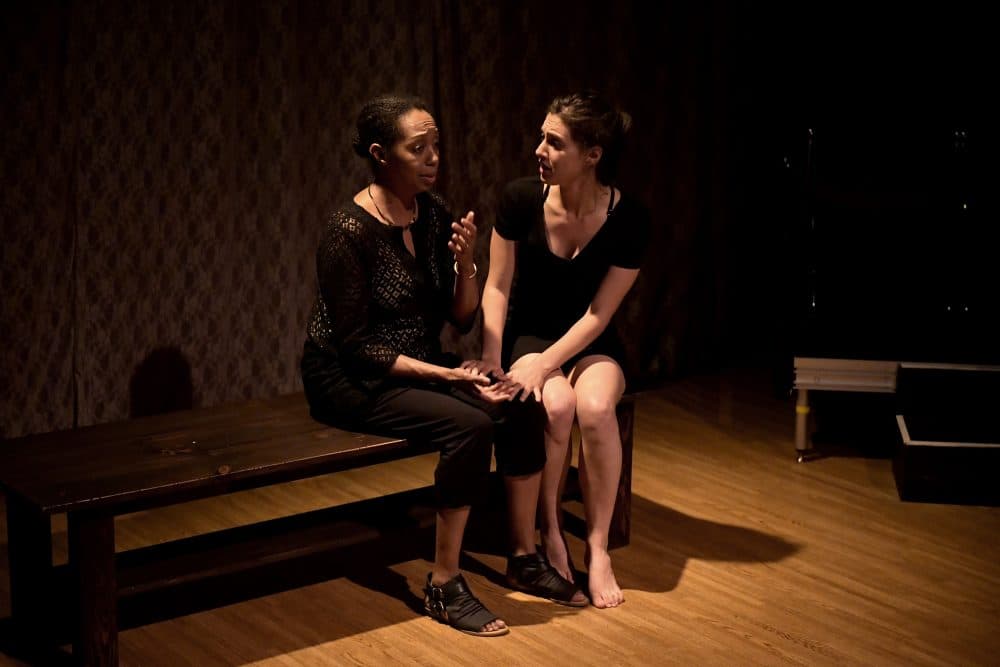 Family is always a rich theme for drama, and the built-in multicultural aspects of this family deepen the characters' conflicts and color their interactions. Though she's now in her early 40s, and is facing significant health issues after she's already had eight children, Evelyn is so invested in her role as a mother that she refuses her doctor's advice to obtain an abortion — and the tradition of fasting on Yom Kippur only pushes her closer to crisis. Fanny's past includes a teenage pregnancy that resulted in her being ejected from the household; she's bounced back nicely and is now highly successful, but there's a lingering sense of loss behind her decision to adopt a Vietnamese infant. Malka, having been pushed into an arranged marriage in the wake of Fanny's fall from grace, fixates on the conviction that her husband is cheating on her — an unconscious mimicry of the obsessions that came between the sisters' own parents. As for Amira, she's still in her early 20s and trying to complete a screenplay as a requirement for film school. Notating her life on video and swanning around in her undergarments in the summer heat are perfectly natural to her, though thanks to the generation gap that exists between the siblings her conduct is shocking to Evelyn.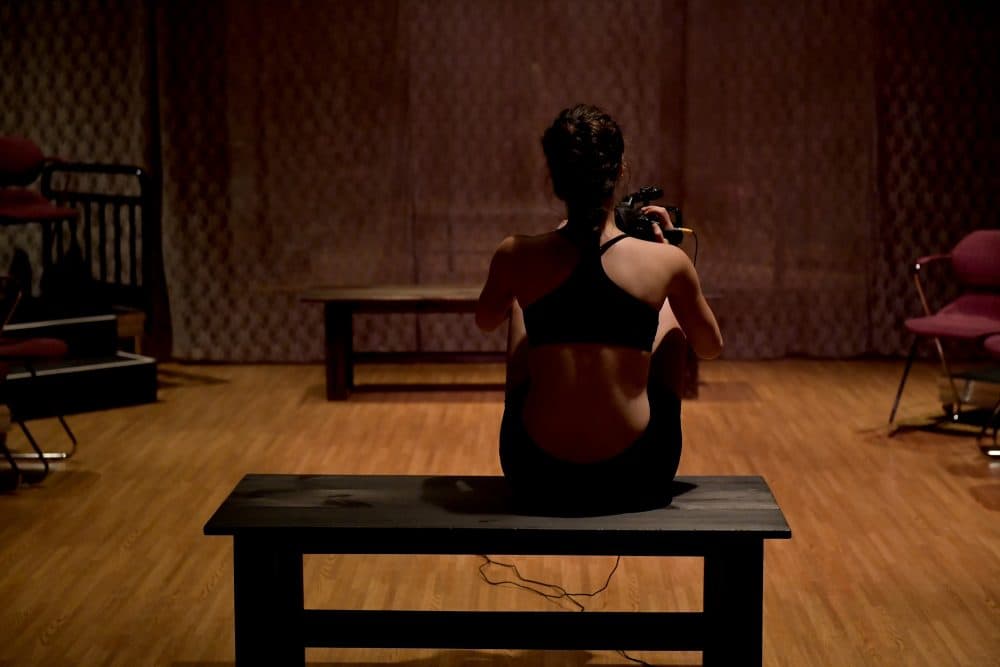 Even as these religious and social gulfs drive the story, the play's striking cadences set it apart from much of what one might be accustomed to seeing on the American stage. One moment the Ohana sisters treat each other with brittle formality, if not hostility; the next, they offer tokens of family intimacy. It's not a case of too much being packed into too little time; rather, these hairpin turns of affect and mood arise organically from the material, and the society it reflects. It's a fascinating mix of urges and responses in which the foreign and the familiar co-exist within sororal bonds. Translator Shir Freibach makes it all sound so easy; the dialogue is supple and comfortably vernacular, with none of the stiffness from which plays in translation sometimes suffer.
This fully staged production opts for a minimalist style that reinforces the centrality of the characters. The set is furnished, by designer Cristina Todesco, with little more than three benches; props (including cell phones, dishes and other commonplace objects) are sketched in through mime. The actors all wear simple black costumes (credit here to Charles Schoonmaker), except for a religious observance in which they all don ornate blue caftans as an expression of their Moroccan heritage.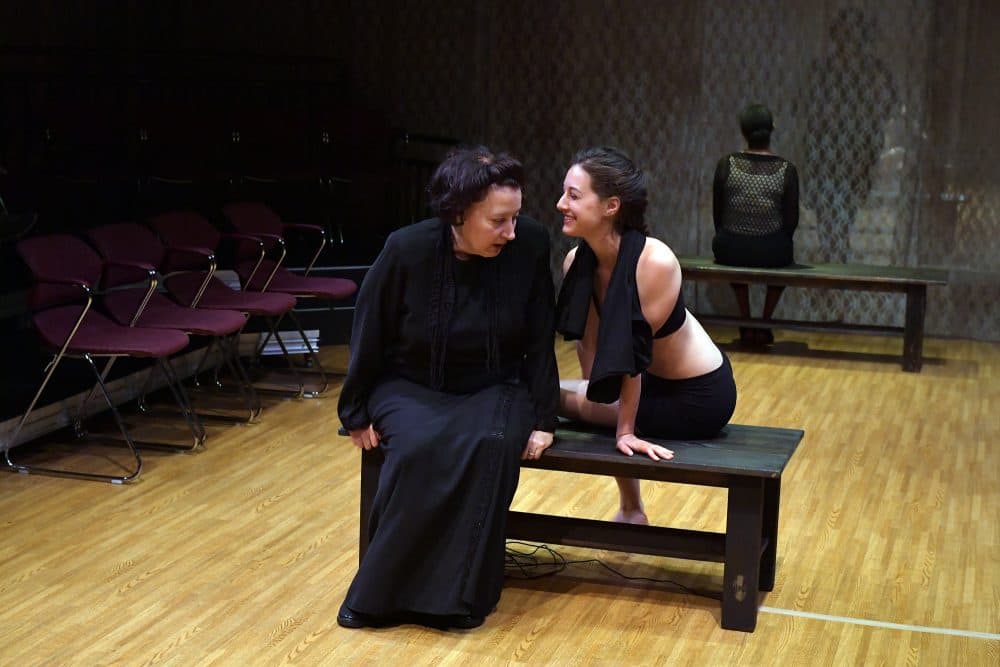 Co-sound designers Tony Meola and Zach Williamson create lovely sonic landscapes that inform the audience of setting and environment, from the drone of a crowd to a radio program that airs the news of their missing mother. (There's also the clarion call of the shofar, a traditional instrument made from the horn of a ram, which is part of Yom Kippur's religious tradition.)
If the play's denouement is a little obvious (it's all but stated from the beginning), it's still satisfying when it arrives; Azoulay Hasfari has sculpted a nicely rounded, warm and funny work from difficult material that has an aura of authenticity. (Azoulay Hasfari, though born in Israel, is from a Moroccan family.)
Director Guy Ben-Aharon guides this production with an eye to its cultural complexities; he brings that same skill, along with genuine curiosity, to his role as moderator for post-performance discussions that, while brief, are insightful.
"Days of Atonement" continues through June 25 at the Boston Center for the Arts.
Correction: An earlier version of this post misstated the ages of the sisters in the play. We regret the error. 
This article was originally published on June 06, 2017.