At This Year's Boston Early Music Festival, Forgotten Baroque Opera Ballet 'Le Carnaval De Venise'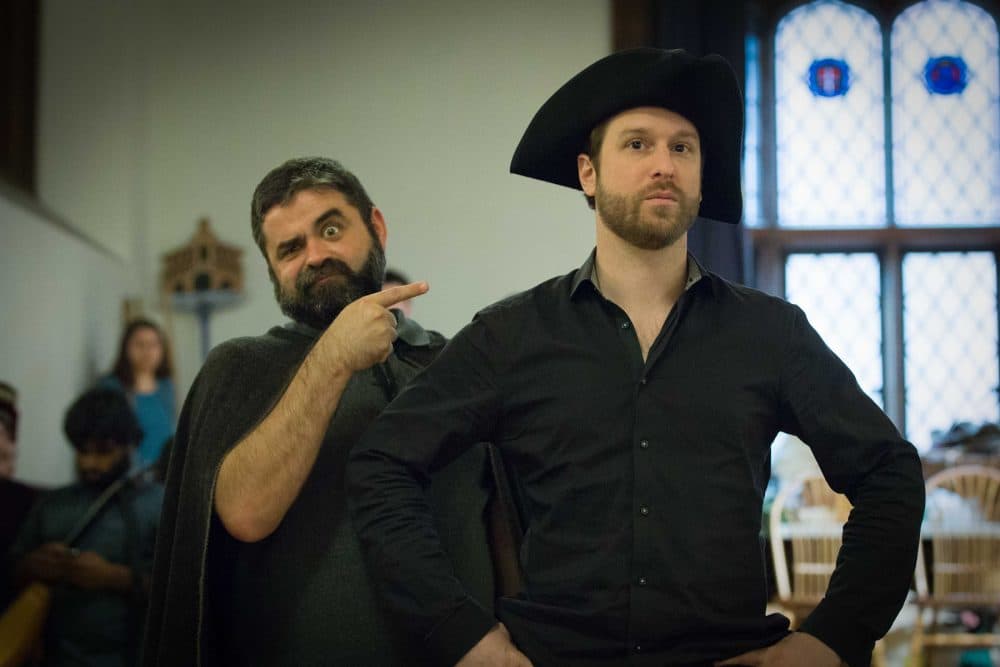 This article is more than 4 years old.
The Boston Early Music Festival brags about being called the world's leading festival of early music. Founded in 1980, it is certainly one of the world's most ambitious musical enterprises.
Every two years, lovers of early music from around the world pour into Boston to attend a spectacular production of an opera very few people alive have ever had the opportunity to experience, hear celebrated artists like fortepianist Kristian Bezuidenhout and viola da gambist Paolo Pandolfo and less familiar artists from around the world, and visit what BEMF calls an early music trade show, which includes exhibitions of period instruments by the people who actually make them, as well as rare books, prints and manuscripts. You can buy instruments, scores and recordings, and go to master classes, symposia and lectures by renowned international artists, scholars and educators. This year marks BEMF's 18th bi-annual season.
I've had a love-hate relationship with one aspect of the festival since its inception. For years, the stilted opera productions, while giving me a chance to hear live performances of rare works, seemed almost intent on draining the life out of them. Too often, the singers with their textbook poses seemed mere clothes racks for the gorgeous costumes. And the dancing seemed more prissy and self-conscious than truly expressive. On the other hand, most of the singing and orchestral playing, led by master lutenists Paul O'Dette and Stephen Stubbs, was on the highest level.
Then in 2011, there was a revelatory production — "Niobe, Queen of Thebes" — by the 17th-century Italian composer, prelate and diplomat Agostino Steffani, an almost completely forgotten figure. This was a breakthrough. The superstar countertenor Philippe Jaroussky was an unforgettable, moving Amphion, who cared more about the music of the spheres than ruling his kingdom. And in the title role, Boston soprano Amanda Forsythe matched him as his ruthlessly ambitious wife. Jaroussky's aria to cosmic harmony, with inspired staging by the French director Gilbert Blin, the company's opera director and designer, was one of the most sublime moments I've ever seen in an opera production:
It's no surprise that BEMF's website leads with a photo of Jaroussky in this production.
Two years later, there was an almost equally good production of Handel's first opera "Almira," again with Forsythe, as the complex Princess Edilia. Here, for once, the dancing was part of the drama — dancers were actually playing characters.
Later productions have been more uneven. Two short Pergolesi chamber operas, which will be repeated once at Jordan Hall (Saturday, June 17) and twice at the Mahaiwe Performing Arts Center in Great Barrington (the weekend of June 24 - 25) at the end of this year's festival, were too arch by half. Blin remains an unpredictable commodity — a director capable of genuine inspiration but whose taste and judgment are not entirely dependable.
The major opera production this year is another fascinating discovery, the American premiere of "Le Carnaval de Venise" ("Carnival in Venice") by another forgotten Baroque composer André Campra (1660-1744), who fell halfway between two more familiar masters of French opera, Lully and Rameau. "Le Carnaval de Venise" is the second of Campra's works in the genre he invented, "opera ballet" — an opera in which the dancing plays a larger than usual role.
The play within a play is a gambit Blin has often imposed on his material, but in "Le Carnaval" it's actually built in. A company in some disarray, but under the supervision of the goddess Minerva and other gods representing the musical and visual arts, is preparing to perform a play about jealousy and revenge, set in Venice. During the play, there is a grand divertissement that takes place in the Piazza San Marco and near the end, a performance (in Italian — perhaps a tribute to Monteverdi and the earliest operas of the 17th-century) of the Orpheus and Euridice story. It's an opportunity for both excessive passion and elaborate spectacle, with plenty of singing and, yes, dancing.
Here's a complete audio performance on YouTube, with Hervé Niquet, a former tenor with William Christie's Les Arts Florissants, conducting his own group Le Concert Spirituel. There's no translation, but some of the most charming music is for dancing, which requires no words:
Performances of "Le Carnaval de Venise" are at the Cutler Majestic Theatre from Sunday, June 11 to Sunday, June 18. Among the festival events I'm also enthusiastic about are the recital of Mozart sonatas with Kristian Bezuidenhout and violinist Rachel Podger (Jordan Hall on Friday, June 16) and a rare performance of the 23-year-old Handel's Italian oratorio "La Resurrezione" ("The Resurrection"), with sopranos Karina Gauvin and Teresa Wakim, and tenor Aaron Sheehan (Jordan Hall on Thursday, June 15). This will be preceded by a talk I wouldn't miss called "Eyewitness to the Resurrection" by that brilliant Handel expert MIT Professor Emerita Ellen T. Harris.