Chemical Bust Signals Drug Dealers Plan To Start Producing Fentanyl In Mass.
Federal agents are searching for dealers who ordered 50 kilograms of a chemical used to make the powerful opioid fentanyl.
Bags and boxes of the chemical, known as NPP, were seized from a Northborough storage facility on May 25, authorities announced Friday. There are no arrests yet in the case.
Investigators say this volume, if converted, could be laced with heroin or produce 19 million fentanyl pills, with a street value of more than $570 million.
"This is believed to be the largest seizure in New England of NPP," said Michael Ferguson, special agent in charge of the DEA's New England Field Division.
The seizure is a troubling sign that manufacturing of fentanyl is going local. Agents have previously said that NPP is produced in clandestine labs in China and shipped to Mexico, where it is mixed to produce fentanyl. There are no confirmed reports of local production.
"DEA and its state and local law enforcement partners are very concerned with this seizure," Ferguson said. "We are doing everything at our disposal to investigate the individuals involved in this possible distribution and manufacturing of NPP."
Some of the boxes seized are marked UPS and "priority mail." Others are labeled with Chinese characters. The DEA says fentanyl and other forms of synthetic opioids are commonly shipped into the U.S. via the mail. The DEA is working with the U.S. Postal Inspection Service, as well as the Worcester, Northborough and Westborough police departments, on this case.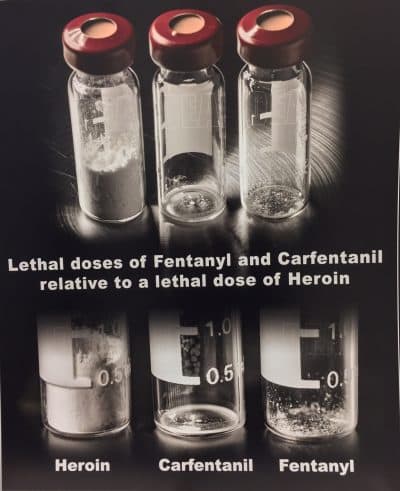 The investigation of possible fentanyl manufacturing comes just a few days after state police confirmed finding an even more powerful synthetic opioid, carfentanil, in Massachusetts for the first time.
Seventy-eight percent of men and women in the state who died after an overdose last year had ingested fentanyl, which can shut down the respiratory system in less than a minute. Carfentanil, a tranquilizer used with large mammals, is roughly 100 times more powerful than fentanyl.
Buyers typically do not know if the drugs they buy contain fentanyl or something stronger. A few groups have started distributing street-ready test kits so drug users can check the contents and take precautions if the bag tests positive for fentanyl.
The DEA added NPP to its list of controlled or illegal substances in 2007 after a sharp increase in fentanyl-related overdose deaths. Toxicologists say NPP on its own isn't more dangerous than a household chemical.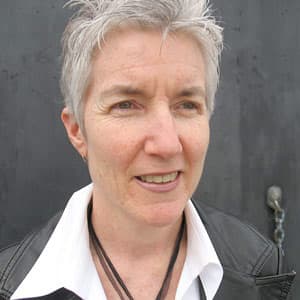 Martha Bebinger Reporter
Martha Bebinger covers health care and other general assignments for WBUR.