Judge To Decide Fate Of Woman Charged With Urging Suicide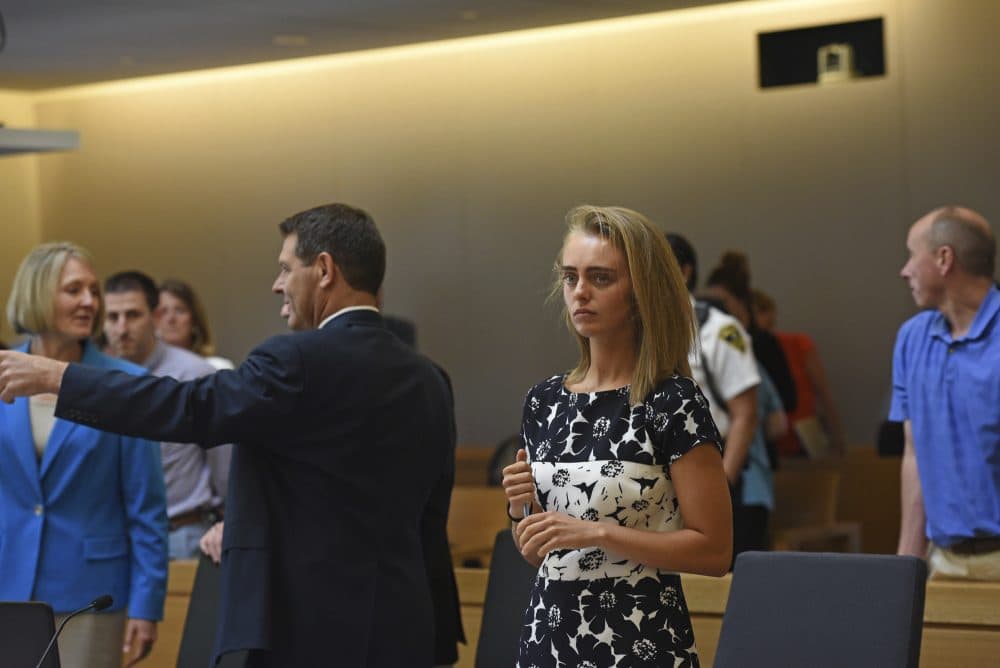 This article is more than 5 years old.
A young woman accused of sending her boyfriend dozens of text messages urging him to kill himself when they were teenagers "kicked out his feet from under him" every time he expressed doubts about taking his own life, a prosecutor said Tuesday.
Michelle Carter is charged with manslaughter in the death of Conrad Roy III in 2014, when she was 17 and he was 18.
During closing arguments, Assistant District Attorney Katie Rayburn said Carter, who's now 20, told Roy his relatives would be fine after his suicide and she would take care of them. Rayburn said Carter scolded Roy whenever he became frightened and abandoned any plan to kill himself.
"It got to the point he was apologizing to her ... apologizing for not being dead yet," Rayburn said.
Carter's lawyer, Joseph Cataldo, said Roy was intent on killing himself and took Carter along on his "sad journey." Cataldo said Carter was struggling with "baggage" of her own at the time.
A psychiatrist who testified for the defense said Carter was suffering from side effects from an anti-depressant she was prescribed.
Cataldo said Carter became "overwhelmed" by Roy's suicidal thinking after she initially tried to talk him out of it and urged him to get professional help.
"It was his constant wearing on Michelle Carter for over a year and a half of `I want to take my own life,"' Cataldo said.
Roy was sitting in his pickup truck in the parking lot of a store in Fairhaven in July 2014 as the truck filled with carbon monoxide. After he exited the truck, Carter told him to "get back in," prosecutors said.
In a suicide note that was introduced into evidence Tuesday, Roy thanked Carter.
"I love you and greatly appreciate ur effort and kindness towards me," Roy wrote in a handwritten note in a spiral notebook. "I'll forever be in your heart and we will meet up someday in Heaven."
Carter waived her right to a jury trial, so Juvenile Court Judge Lawrence Moniz will decide the case.
The judge began deliberating late Tuesday. He said he will announce his ruling in open court, but he did not give any timeline.
The National Suicide Prevention Lifeline is available 24/7 at 1-800-273-8255.
This article was originally published on June 13, 2017.