Students Don't Deserve Underpaid, Overworked Professors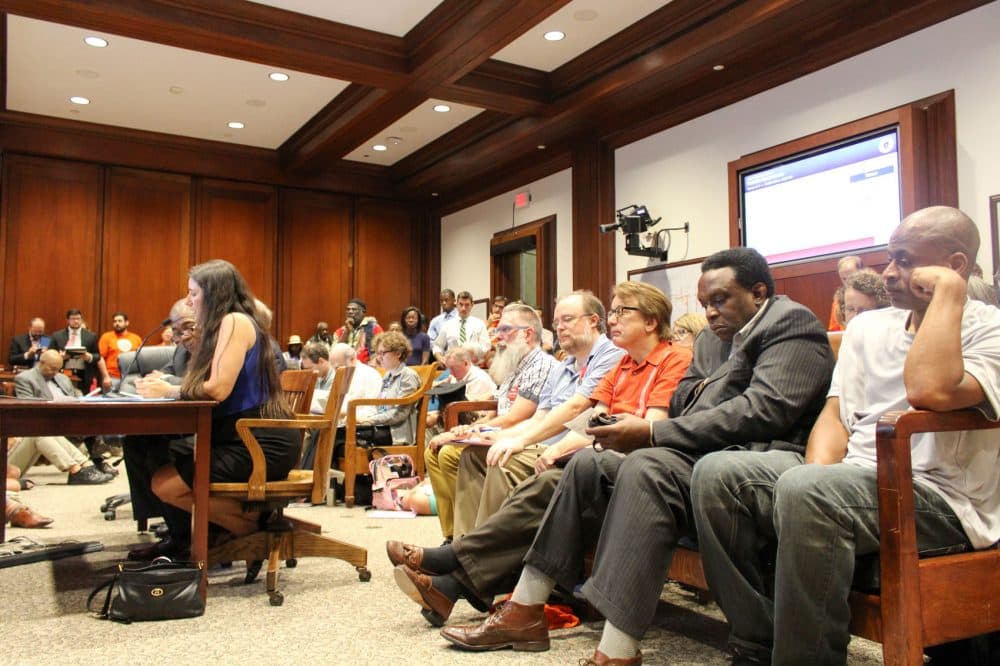 This article is more than 5 years old.
The 29 public colleges and universities in Massachusetts are weary after decades of state funding cuts that have shifted the burden of public higher education from our community to students and working families. Not only are students forced to pay high fees, but our campuses now rely too heavily on an underpaid, overworked group of educators — adjunct faculty.
Adjunct faculty now teach a large portion of classes at state schools, including the majority of courses at our community colleges. While these adjunct faculty have masters degrees and PhDs — and the debt to go with them — many receive less pay per credit than other faculty for doing the same work, and some don't even have access to healthcare and retirement plans.
Effectively, we have outsourced the education of almost 200,000 public college students in our state to contractors who don't have access to much-needed resources and who are longing for one of the few full-time, tenure-track positions at one of their schools. Many of these teachers take on as many as six courses a semester across two or three campuses, crisscrossing the state just to eke out a meager salary with few or no benefits.
Students feel the effects of this mistreatment, too: when their adjunct professor doesn't have an office on campus to discuss a lesson or an exam, or when they can't get in touch with a professor who's rushing down the highway to get to another class an hour away. We're asking public college students to bear those problems on top of high costs and massive debts.
That's why students, faculty and the community are coming together around a first step towards solving our public higher education crisis. House Bill 639, "an Act to invest in public higher education," currently sits before our state lawmakers.
Over 100 representatives and senators support this bill, amounting to more than half of the Legislature. State Rep. Aaron Vega (D-Holyoke) held up a copy of the bill at a hearing of the Joint Committee on Higher Education on June 29, stating that the list of co-sponsors took up more than three full pages.
So a majority of all state lawmakers know that we have to act on these issues, but House Speaker Robert DeLeo (D-Winthrop), Senate President Stan Rosenberg (D-Amherst) and those in leadership must take action to get this bill on the floor for a vote.
The impact of this bill would be twofold.
First, it would create a "Finish Line Grant" covering one full year of tuition and fees that would serve as a real financial lifeline for the thousands of college students who might otherwise leave our campuses with huge debts but no degree.
Second, it would guarantee equal pay and benefits access for adjunct faculty while creating a fund to hire more full-time professors at all of our community colleges, state universities and UMass campuses.
Massachusetts has cut funding for public higher education by 31 percent per student since 2001 – that amounts to nearly $500 million less per year. (Where has the money gone? Largely to tax cuts for the wealthiest Bay Staters.)
Right now, both students and faculty are being exploited to fill in the gaps, through payment of sky-high tuition and fees as well as the lower pay and limited benefits paid to adjunct faculty.
Students and families must see relief from costs, but that relief cannot come at the expense of adjunct faculty who already work too hard and take home too little. This bill works to tackle both problems at once, rather than pitting the two groups against each other.
"We are paid poverty wages to do very important work," Michelle Nash, who's been an adjunct at Springfield Technical Community College for 18 years, said at the June 29 hearing. "We are qualified, committed instructors, most of us going out of our way to serve our students. We volunteer our time when we do any work outside of the classroom. Office hours, emails, recommendations, advising – [that's] all unpaid labor."
Our state now has one of the most educated workforces in the country, but that means we need hundreds of thousands of college graduates to avoid a workforce crisis down the line. We must invest in public higher education, and that starts by investing in our students and our teachers.
Zac Bears is the executive director of the Public Higher Education Network of Massachusetts (PHENOM).