Want To Star In A 'Back To The Future' Remake? Crowdsourced Boston Wants Your Help
This article is more than 5 years old.
Have you ever dreamed of remaking a big-budget Hollywood hit film … but with no money? That's the premise behind Crowdsourced Boston's community effort to remake the 1985 film "Back to the Future" this summer.
"Imagine filming a no-budget film that requires a DeLorean, a clock tower, a skateboarding teenager and a mad scientist," organizers write. "With 40+ directors, producers, actors and editors each directing their own scene."
Over the past couple years, Brookline Interactive Group, that town's community media center, has contributed a handful of scenes to Northampton Community Television's Crowdsourced Cinema remakes of the 1981 action film "Raiders of the Lost Ark" and the 1987 adventure comedy "The Princess Bride."
This year, Northampton is remaking "Back to the Future." And instead of just contributing scenes to that project, the Brookline public access television station has partnered with Somerville Community Access Television to form Crowdsourced Boston and create their own separate, full-length crowdsourced version of that film as well. A number of additional communities have signed on to help, including Arlington, Belmont, Lexington, Provincetown and PACTV, which serves Pembroke, Duxbury, Plymouth and Kingston.
If you'd like to work on the remake, you have until July 10 to sign up with Crowdsourced Boston to remake a one- to four-minute scene. (Northampton is already fully booked with remakers.) It's free to take part. Participation "is open to teams of all abilities and ages in the greater Boston area." Scene assignments will go out on July 11.
"All the scenes are actually distributed randomly so you don't know what scene you get until you sign up," says Kathy Bisbee, the Brookline station's executive director.
Completed footage is due on Sept. 5. They aim to finish cutting together the remake in late September. "The biggest challenge is audio consistency. And color correction," Bisbee says. They plan to debut the remake at community screenings in October.
Northampton's Crowdsourced Cinema tries to pick films that many people know well, with easily identifiable characters (think Indiana Jones, whose hat allows many different actors to play the role and still be recognized as Indy) and lots of active scenes (rather than something reliant on nuanced acting and delivery of subtle dialogue). "We want people to be able to get in and really play," says Al Williams, executive director of the Northampton Community Television. (He also happens to be Bisbee's fiancé.)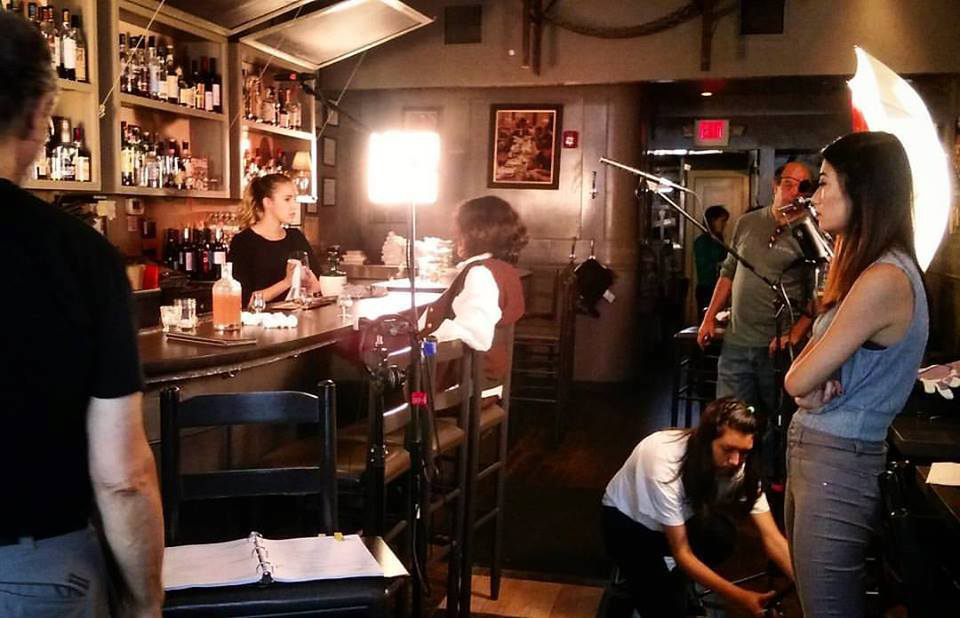 "Back to the Future" fit these criteria. Also, Williams says, "It's about returning to your past to correct your present. A lot of people pine for that in a certain way."
"We don't have any DeLoreans, but we encourage all kinds of filmmaking," Bisbee says. "You can make your own DeLorean with a cardboard box." To remake "The Princess Bride" last year, teams variously used live action, animation, puppetry and silent film. "In one of the scenes, there was a baby as the princess," Bisbee says. All the adjustments and no-budget solutions to recreating Hollywood blockbusters add to the remake's madcap hilarity.
"The only rules," organizers say, "are that teams must follow the same action, dialogue and total running time of a short scene without using copyrighted images or audio." Bisbee says they're able to make the remake under copyright laws since "it's fair-use because you're basically doing a remake and you're creating a new creative work. It's also a parody."
Though, Williams notes they ran into problems with posting the video to YouTube the first year because they used the film's original music. That's why Crowdsourced Boston is inviting musicians to participate by composing original scores for randomly-assigned sections of the movie.
Northampton's Crowdsourced Cinema program grew out of its "7 Day Film Sprint," which invites community members to completely film and finish a video in seven days. Many people come to the community television station with a dream of making films, but "it can be daunting if you're someone starting out to create a narrative piece," Williams says. "So Crowdsourced Cinema provides an opportunity for people to have a roadmap to that goal."