'The B-Side' Brings Pioneer Cambridge Photographer Elsa Dorfman Out From Behind The Camera
Resume
The latest documentary from revered local filmmaker Errol Morris is essentially a love letter to his longtime friend and fellow Cantabrigian, Elsa Dorfman.
"The B-Side: Elsa Dorfman's Portrait Photography" profiles the life of the woman who spent more than 30 years profiling others in her studio. She was a pioneer of photography, best known for her 20x24 inch Polaroid portraits. Given that Morris' lens has been trained on such diverse and idiosyncratic subjects as pet cemeteries, renown cosmologist Stephen Hawking and an off-kilter Holocaust denier, "The B-Side" may seem something of a whimsy by comparison, but it's Morris' most intimate and warmest output to date.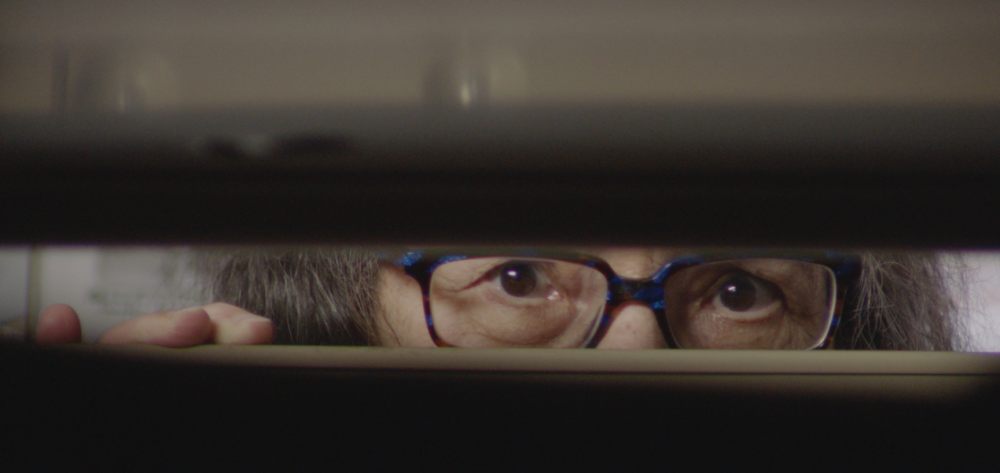 Morris first met Dorfman when she photographed his son — then 5, now 30 years old — and has had the urge to make this film for some time.
"I've known Elsa a long, long time," Morris says in a conversation with Dorfman on her back patio just outside Harvard Square. "I had the idea for this movie for a while, and when I told Elsa she was skeptical."
"I said yes, just to humor him," Dorfman adds with a jovial chuckle.
Ironically, what finally got the film off the ground was Dorfman's retirement and the process of digitizing her aging photographs. With support for the large format all but extinct, Morris knew the time was right to showcase the esoteric format — and bring the work of its pioneer to a broader audience.
"The B-Side" operates on two levels. It rewinds Dorfman's life to see her journey as a young, single woman in the '60s searching for roots and a career. Then it shuffles through her limitless prints, telling the stories behind the shots. (The film's title refers to what Dorfman calls the portraits her clients rejected — often a photograph with "so much charm" that it's "probably better than the one they did take.")
"We had fun and didn't take it too seriously, it was just what we found that day when Errol came by," Dorfman says.
For anyone who's ever seen a Morris film, you know there's nothing coincidental in the end result. The filmmaker came to the fore with his riveting and serious 1988 crime doc, "The Thin Blue Line," which helped get an innocent man out of jail. He went on to win an Oscar for his 2003 profile of former Secretary of Defense Robert McNamara, "The Fog of War." However, Morris admits that the stories emerge as you make a film — "there's nothing scripted."
Dorfman was born in Cambridge in 1937 and attended Tufts University. She went on to work for a small literary press down in New York City where she met Beat poet Allen Ginsberg. The two became fast friends and Ginsberg would become a major subject of her lens throughout the years. As the film shows it, their friendship, much like the one Dorfman maintains with Morris, was a deep and enduring one. The message that plays on Dorfman's answering machine in the film announcing Ginsberg's death is at once heartbreaking and telling.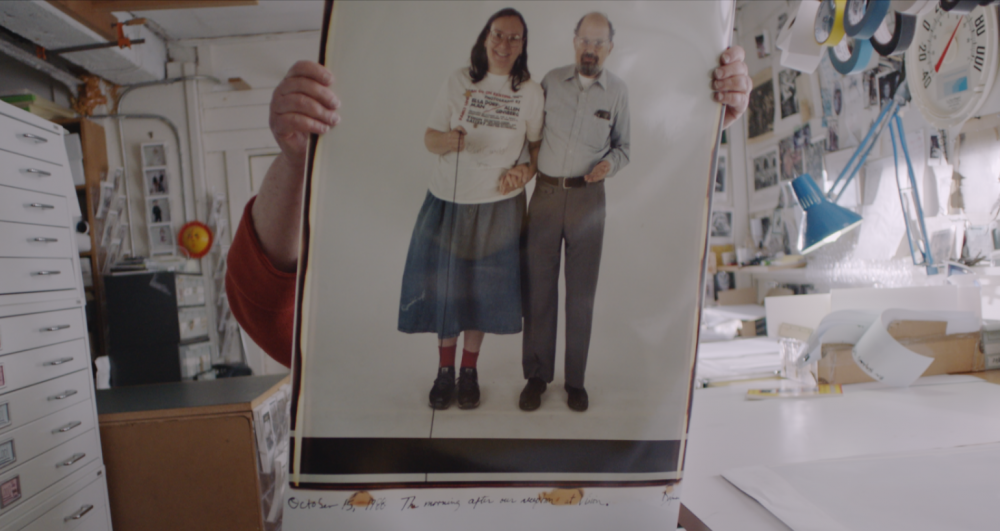 Returning to the Boston area, Dorfman slipped into a brief career as a school teacher and became the subject of an MIT program that used photography to study teaching methods — and that's when the photo bug bit her. She went on to marry prominent civil rights attorney Harvey Silverglate, who she met in New York and is the subject of many stills hauled out in the film.
Because she was so well connected to Boston's literary circle revolving around the Grolier Poetry Book Shop in Harvard Square, the bulk of Dorfman's initial portraits became a veritable who's who of the scene including Anne Sexton, Robert Lowell and W.H. Auden to name a few.
Also high on Dorfman's shot and framed list is recent Nobel Prize winner Bob Dylan. As the story goes, she attended a show with Ginsberg where cameras we barred backstage. The affable Dorfman ultimately got the shot because Dylan intervened. The images featured in the film radiate an intimacy and personality far beyond a typical celebrity still.
In the late 1970s, Polaroid came out with the 20x24 format — the company only made five such cameras — and Dorfman gravitated to it immediately. She opened her own studio on Mass. Ave. in Cambridge.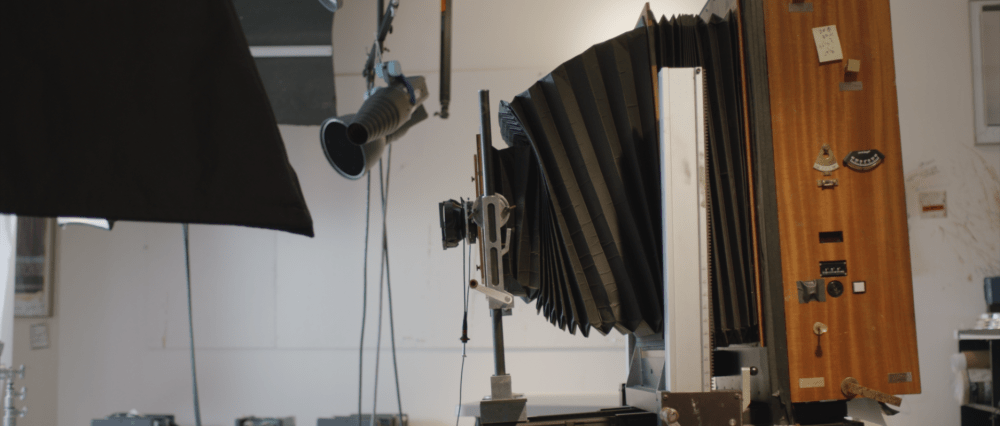 Morris says his favorite part of the film is Elsa — now 80 years old — looking at pictures of herself. The film showcases elegant black-and-white self-portraits of a young Dorfman, with the trigger cable for the monstrous camera looming in the frame, and ones of her parents holding a portrait of themselves that Dorfman had shot. Like that frame-within-a-frame, the film ultimately becomes a portrait of an artist looking at portraits, as shot by another artist — all quite Escher-esque.
Morris noted that one of the challenges in making the film was shooting the 20x24 stills. "They're just not the right ratio aspect for the camera, so I abandoned my Interrotron [a Morris design that allows him to interact with his subject eye-to-eye without being obstructed by the camera] and used multiple cameras, which was something new," he says.
The end result was more Dorfman's doing than Morris' — the film is loaded with shots of Dorfman holding up various 20x24 photos, obscuring much of her face and frame with Morris zooming in as she tells the story behind the photo.
When asked about her reaction to the film, Dorfman responded with infectious warmth, "I loved it," she says. "It was like psychotherapy, very cathartic."
Morris humbly says "subjects and films need to be entertaining, and Elsa is entertaining."
Next up for Morris is a true crime series on Netflix and he remains active with his Op-Docs series for the New York Times. On the feature front, Morris didn't wish to disclose too much.
When asked if he ever conferred with fellow Cambridge documentary filmmaker Frederick Wiseman — and perhaps Morris' only equal in the documentary universe — Morris smiles and points to Dorfman. "You know they're related?" Sure enough, Dorfman's grandmother and Wiseman's mother were sisters. Dorfman giggles and says she likely has pictures of "little Fred" on the beach somewhere.
It's that seamless back and forth between the two and their whimsical intimacy, akin to a veteran comedy team, that pervades the film and binds it with heart.
"The B-Side" shows at the Kendall Square Cinema starting Friday, July 14.