With Artists In Residence, Boston Is Changing How The City Values Art
Resume
For the past year, 10 Boston-based artists have been working with Centers for Youth and Families across the city. The program they're a part of, Boston Artists-in-Residence (AIR), is changing the way the city measures the benefit of art by embedding artists in various communities.
Karin Goodfellow, the executive director of Boston AIR, is still exploring the language to talk about the experimental program coming to the end of its second year.
"It's hard to pin it down and say this is exactly what it is," she says. "I think we can say that we're embedding artists into city of Boston agencies and integrating art and creative thinking into our practices and policies as a city."
"I think we can say that we're embedding artists into city of Boston agencies and integrating art and creative thinking into our practices and policies as a city."

Karin Goodfellow
The residency program got off the ground in 2015 as the city began developing its cultural plan, dubbed Boston Creates. (The 10-year cultural plan was released in the summer of 2016 with this program as a key tactic to integrate creativity into city offices and planning.)
The city paid each of the 10 artists $27,500, plus $12,000 for materials, for the 11-month residency. It was originally a nine month program, but was extended by the City Council — with additional pay — because of high participation rates.
The program gave the artists the freedom to develop their own curriculum and activities at the community centers, because as Goodfellow says, Boston AIR exists not to be measured but to be experienced.
"Part of this is also a certain element of trust and belief that there is something worthwhile in art and art making," she says, "even when it is hard to quantify, even though we can't always have proof of an economic impact."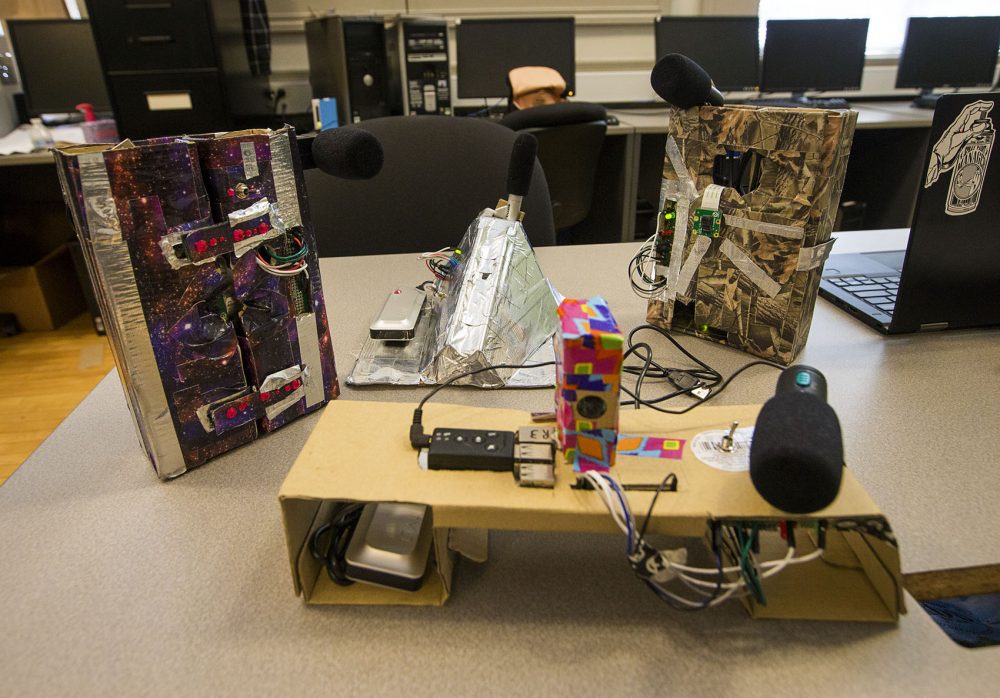 Artist Lina Maria Giraldo used her residency to teach children and adults in Hyde Park how to build cameras from unconventional materials. The cameras look like cardboard contraptions, fastened by Velcro clasps. Inside the cardboard is a lens, microphone and lots of wires that the class learned how to code.
"We want to create the sense of being a maker instead of being a consumer," Giraldo says.
Giraldo made her coding workshops intergenerational which means longtime Hyde Park resident Jean Borgard learned how to code, sitting next to preteen girls young enough to be his granddaughters.
He says the workshop showed him "there are a lot of things in life that can be done with what others call trash."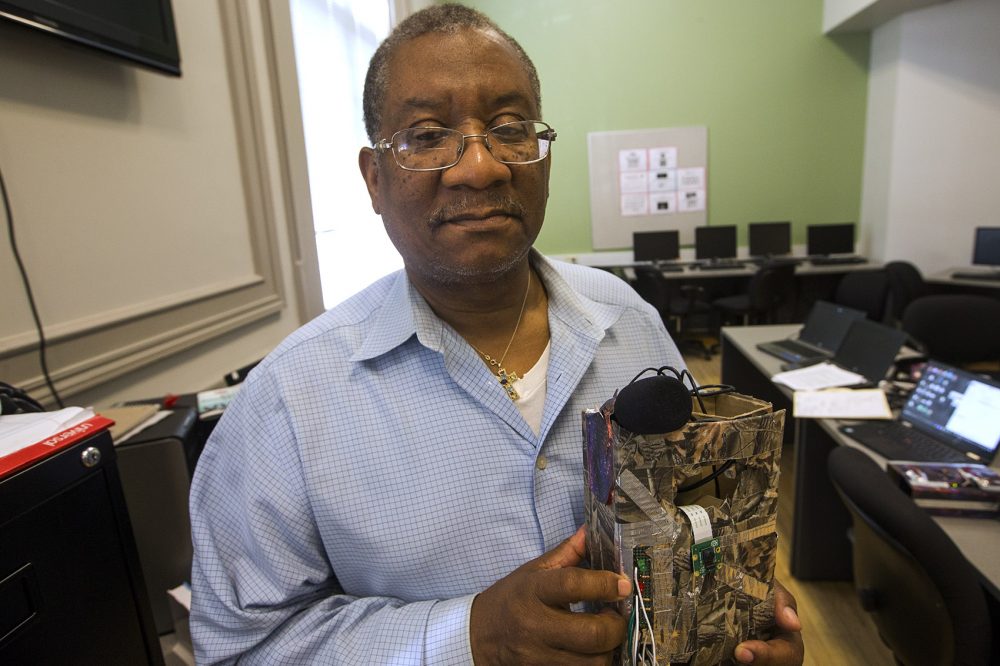 The students, many of them immigrants or children of immigrants, interviewed people in the neighborhood with their new cameras, exploring issues of identity. "When you move to a new place, and you're first or second generation, ownership is something difficult to understand and it's hard to feel at home," says Giraldo, who moved to Boston from Colombia as a young adult.
Across the city at the Blackstone Community Center, artist Rashin Fahandej and her class of teens and adults are walking through the South End, "reseeing or seeing again what the space around us is and what it means," explains Fahandej.
Fahandej wants people to pay closer attention to public structures, from benches to doorways, and what the spaces invite our bodies to do, or adversely, restrict them from doing. A graduate student attending the workshop, Hama Pertad, leads the group to a tree enclosed in wrought iron bars that prevent people from sitting in its shade.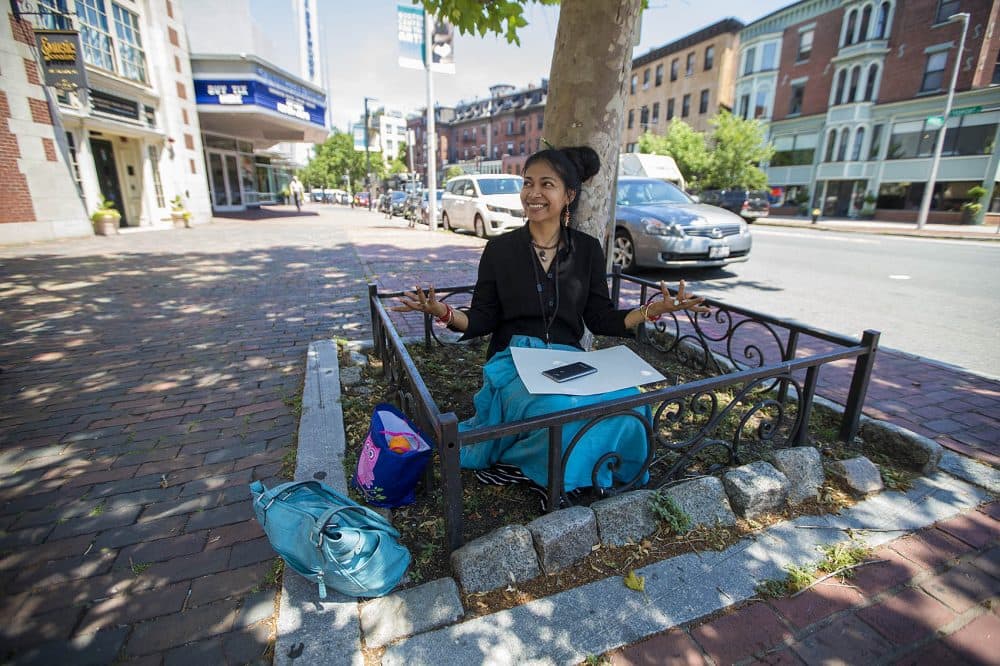 "It's a public space. It's meant for everyone supposedly, but I feel that excludes people who need space to rest or to linger or the homeless, the sick," Pertad says as she jumps the wrought iron bars and sits on the tree's enclosed soil.
It's not lost on Fahandej that the workshop asks critical questions of public space in a city-sponsored program. "I think it's important that the city is recognizing the voice of art, or the space of art, that is a space that we could think together about social issues," she says.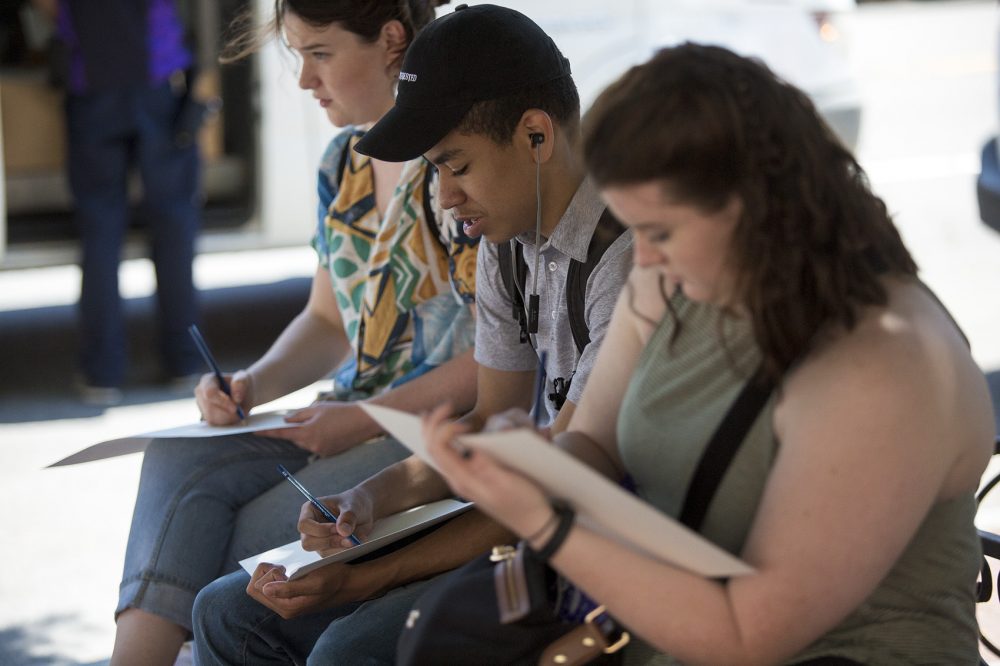 The city will begin taking applications for the next round of artists this fall, though the program may change a bit next year, based on feedback from this year's participants. The impact, for now, is most evident in the people meeting and interacting with artists, often for the first time in their lives.
This segment aired on July 26, 2017.