Early, Unofficial Doctor's Office Data Supports Prediction Of Heavy Lyme Disease Season
Resume
Part of our Losing to Lyme series
Early this spring, ecologists predicted that this would be a particularly risky summer for Lyme disease in the Northeast, positing that a boom in mice last year could mean a boom in ticks this year — including ticks carrying Lyme.
Now, some early data from doctors' offices around the country suggests that, in May and June at least, Lyme is indeed up significantly this year. Public health officials like to say that lately every year is a bad year for Lyme disease. However, this year is looking even worse.
The new data comes from athenahealth, a Watertown-based company that provides electronic health record software to about 100,000 doctors' offices across the country. To track Lyme disease diagnoses, the company looked at the diagnostic codes used by doctors for about 700,000 patients per week at roughly 1,600 medical practices.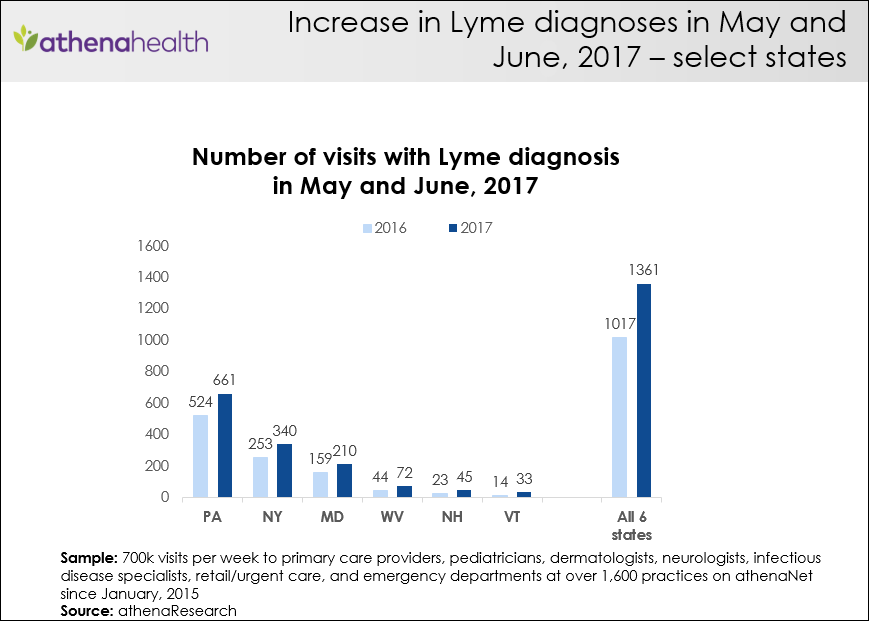 What athenahealth is seeing, according to Josh Gray, vice president of research: Overall, the doctors are diagnosing about 15 percent more Lyme disease cases than they did last year, with a lot of geographical variation.
"This year we've seen very large increases in New Hampshire, which is up about 96 percent over last year; West Virginia, which is up 64 percent; and New York, up 34 percent," he says.
Here in Massachusetts, where we already have thousands of cases a year, the jump isn't quite so dramatic: Diagnoses are up 14 percent compared to last year, Gray says.
These numbers are, of course, early and unofficial, based on a "convenience sample" rather than a scientifically designed sample. But Gray says they can "give you a good sense of how Lyme is trending in many communities, and for thousands of physicians around the country."
The official count on Lyme disease comes from the Centers for Disease Control and Prevention, based on Lyme disease diagnoses that have been confirmed in the lab. But the latest CDC numbers are for 2015. And the agency itself says it knows there are far more cases of Lyme disease than it reports, probably a total of about 300,000 nationwide — and rising.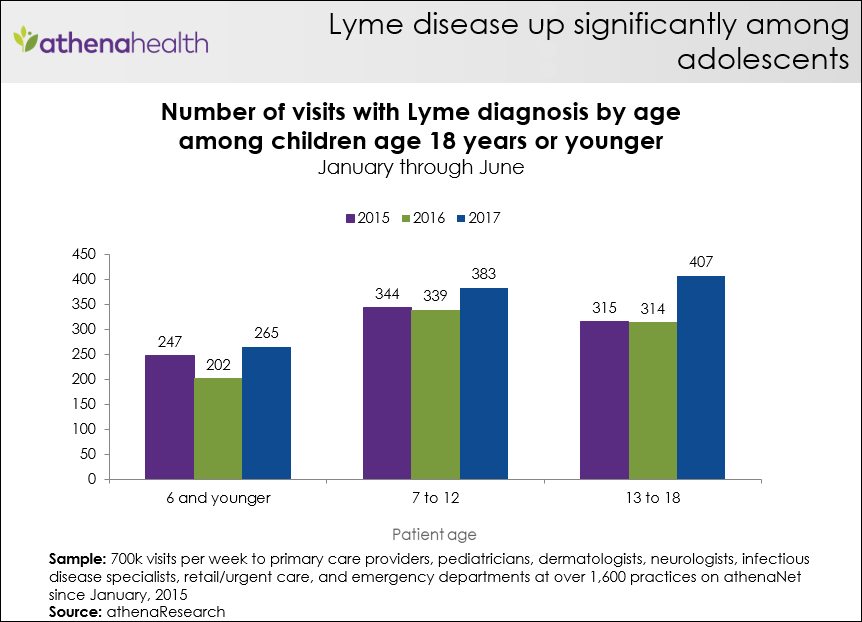 This segment aired on July 27, 2017.