Honoring Robert Mitchum, Brattle Screens Ultimate Boston Movie: 'Friends Of Eddie Coyle'
This article is more than 5 years old.
Legendary wild man Robert Mitchum would have turned 100 years old this Sunday, and lord only knows how he would have celebrated. But it's been a Mitchum party all summer long at the Brattle Theatre, with Mondays and Tuesdays (through Aug. 29) devoted to their "Robert Mitchum Centennial Tribute," spanning 50 years from the actor's breakout role in 1945's "The Story of G.I. Joe" to his final screen appearance as a bereaved dad barking orders at a stuffed bear in Jim Jarmusch's 1995 "Dead Man."
The series boasts everything from Jacques Tourneur's gloriously cynical film noir "Out of the Past" to the easy-going cowboy camaraderie of Howard Hawks' "El Dorado." Earlier this week was a double feature showcasing two of the star's most iconic roles — his insinuating, cigar-chomping Max Cady in the original 1962 "Cape Fear" and the terrifying, tattooed preacher in Charles Laughton's 1955 "The Night of the Hunter." But anyone in Boston will tell you there's one Mitchum performance that towers over the rest, and it's in a movie the Brattle almost wasn't able to present.
"'The Friends of Eddie Coyle' has been a notoriously difficult film to screen for many years," says Ned Hinkle, creative director of the Brattle Film Foundation. "Given its status as one of the greatest, most authentic Boston films ever made, I just couldn't conceive of doing this program without it."
The 1973 adaptation of former local U.S. attorney George V. Higgins' debut novel is a moody, downbeat crime picture without any of the blarney that bogs down so many Boston stories. In stark contrast to the mythic opulence of the previous year's blockbuster "The Godfather," this is a movie about ratty, low-rent crooks meeting ignoble ends, with Mitchum playing against type as a rumpled, underworld Willy Loman on his way out.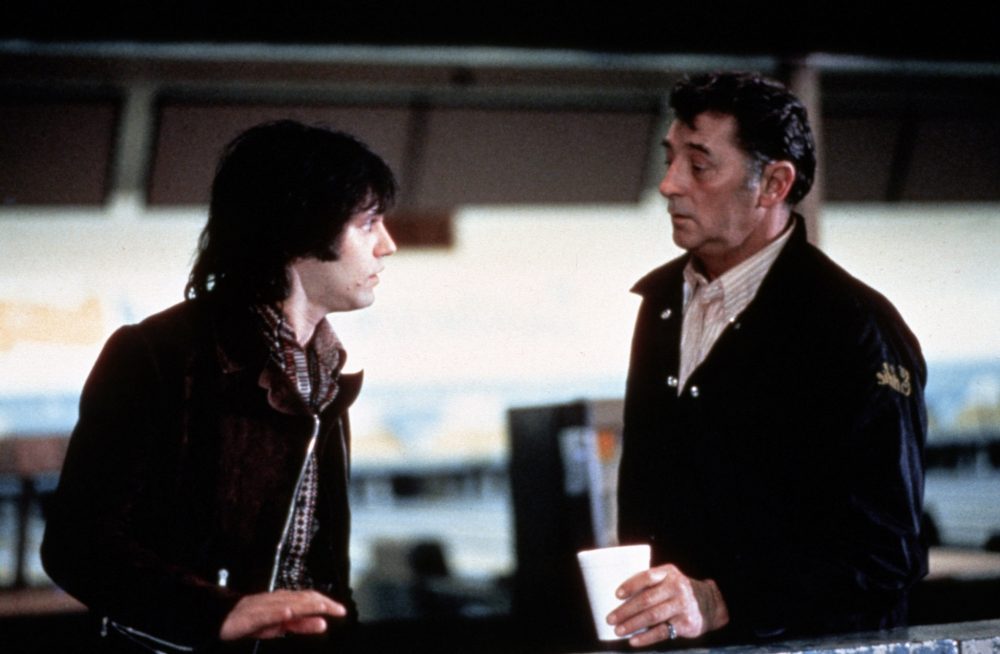 It's always been a bit of a Holy Grail for film buffs as well, never released on VHS for complicated rights reasons that banished it to random television airings on high-numbered channels. I still remember Siskel and Ebert devoting segments of their show to "The Friends of Eddie Coyle" every now and again, basically begging the studio to put it out on home video. Seventeen years ago, I was visiting a friend in Dallas and we happened upon the opening scene while channel-surfing after midnight, which at the time was a young movie critic's equivalent of an archaeologist tripping over the Ark of the Covenant in his neighbor's backyard.
The Criterion Collection's 2009 DVD release (and subsequent 2015 Blu-ray) brought the film back to the public's attention in a big way, but that didn't make it any easier to see on a big screen. "For the whole time we've been running the Brattle, and even before, the only way to show the film was by using an archival 35mm print from Paramount," Hinkle explains. "We took advantage of this a few times, but around 2012, Paramount pretty much stopped sending out prints from their archive and, therefore, no more 'Eddie Coyle.' After an extensive search of U.S. film archives, I came to the conclusion that there wasn't a decent quality film print to be had in the country. So I bit the bullet and asked Paramount what it would take to get a new digital print made."
And that's how the theater, known as Boston's Unofficial Film School, ended up co-sponsoring this digital restoration of one of the city's cinematic landmarks. "Thanks to our amazing donors," Hinkle proudly makes sure to mention, a new DCP of "The Friends of Eddie Coyle" will screen at the Brattle all weekend in honor of Mitchum's birthday.
Referred to by those in the know as the "best Boston movie evah," the movie reeks of grubby authenticity — shot in harsh, overcast afternoon light as director Peter Yates positioned these doomed characters beneath the town's most oppressive, brutalist architecture. There's nothing romantic or inviting about these locations. It's a film full of daylight glaring through dingy barroom windows, with even the fateful, final hit ordered amid the ugly stone expanse of the MBTA's Oak Grove station. We're a long way from the Corleone family's luxurious corridors of power.
"The Friends of Eddie Coyle" feels lived-in partially because, as a prosecutor, Higgins knew these guys inside and out. (His dialogue is so dead-on that screenwriter Paul Monash simply transcribed it straight from the book.) But a bit of extra verisimilitude might be felt because the set was crawling with members of the Winter Hill Gang. Co-star Alex Rocco — formerly Alessandro "Bobo" Petricone Jr. of Somerville before he played Moe Green in "The Godfather" — is fabled to have introduced Mitchum to Johnny Martorano, aka "The Basin Street Butcher." A raucous 1973 Rolling Stone story that must be read to be believed even found notorious gang leader Howie Winter working as a teamster on the production.
Draining tall cans of Budweiser throughout the interview while surrounded by a bevy of beautiful ladies, Mitchum took a break from tormenting the film's unit publicist to address the somewhat unsavory company being kept. "[Higgins] warns Peter Yates that I'm associating with known criminals, warns him that I'm going to get busted or tainted or something. Well f---, there's hardly anyone you can talk to in Boston without — you know. Anyway, it's a two-way street, because the guys Higgins means are associating with a known criminal in talking to me."
The actor is of course referring to his infamous 1948 marijuana arrest, which probably should have ended Mitchum's career, but instead cemented his hepcat, outlaw mystique for generations. It's a persona he plays against quite movingly as Eddie Coyle, channeling all that megawatt movie star magnetism into a streetwise, sunken-eyed sad sack who's been around long enough to be able to tell that his goose is pretty much cooked. It's heartbreaking to watch him cheer on Bobby Orr at the old Garden, getting blotto to block out the ending we all knew was coming from the opening reels.