The Lucy Parsons Center, Where Boston's Radicals Shop For Books
I first attempted to visit the Lucy Parsons Center on a balmy Saturday afternoon. After realizing that the bookstore was closed, I peered through the front door and all I could see were two bookshelves and a short set of stairs to a second floor as small as an office coffee room. As I sat on the bench next to the center, defeated, a light wash of rain began.
That missed encounter exemplifies the enigmatic presence of the independent, nonprofit, radical bookshop. When it's open, a shredded wooden sign inconspicuously beckons in this part of Jamaica Plain accented with Spanish-language bodegas, beauty supply stores and home-cooked-style food joints.
My later visits to 358A Centre St. were more successful. The center is open Sunday through Wednesday. Store hours the rest of the week are currently uncertain, due to a shortage of volunteers. (Visitors are encouraged to check the store's Facebook page where hours are posted, albeit intermittently.)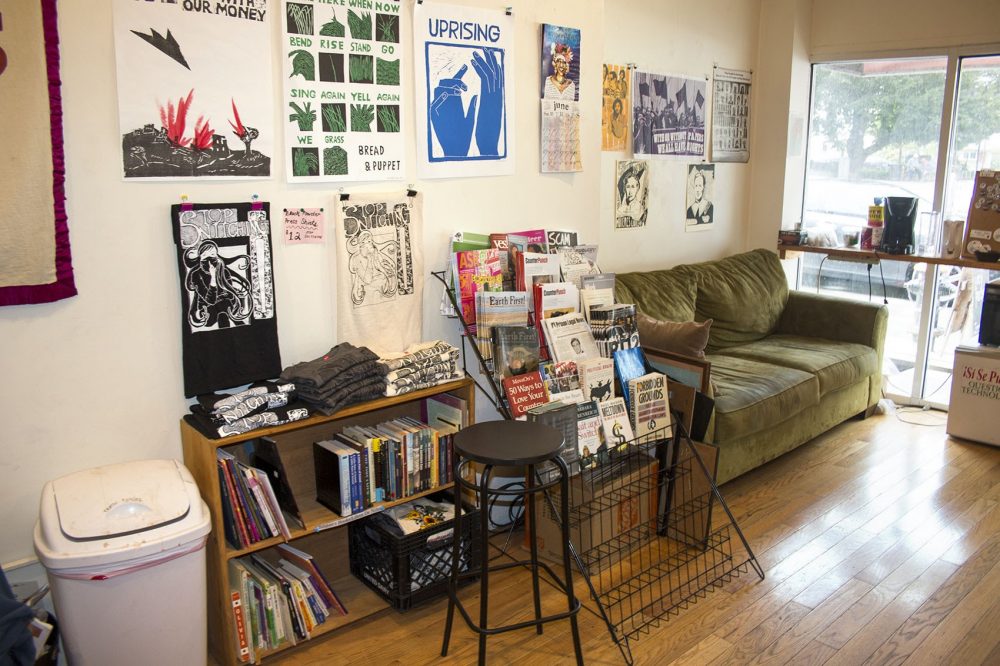 Inside, a "grandma's cottage" vibe permeates, from the Black & Decker coffee maker on the window sill to the rosewood bookcases of different heights and the moss green suede couch. I'm greeted by a volunteer's warm hello from behind a not-so-modish computer, then left to browse; bookstore workers prefer the books, magazines and zines to speak for themselves.
They do, since the center's publications endorse fighting discrimination and injustice, as well as its radical and countercultural views. Artwork includes a "Refugees Are Welcomed Here" poster on the entrance and, on one wall, above a transgender-friendly illustration, a row of vintage revolutionary posters, including one declaring, "Assata Shakur Is Free."
The life of Shakur — a political activist and former member of the Black Liberation Army who escaped from prison after she was convicted of first-degree murder in a police shootout — has some parallels with the shop's namesake, Lucy Parsons.
"[Parsons] was a radical organizer. She was thought to be more dangerous than a thousand rioters because of her ability to speak," explains Jay Scheide, a volunteer at the bookstore for the past 21 years, sharing a common description of Parsons. "History doesn't know much about her — the history that she embodies. We did want to publicize her and what she has contributed."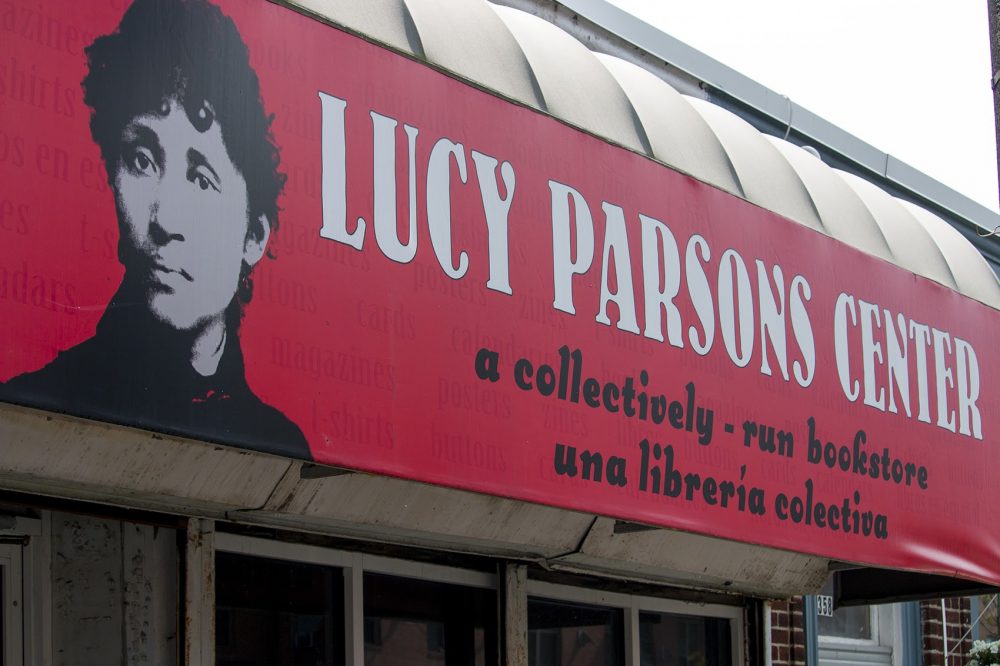 Earlier this summer, three young women on a road trip found the Lucy Parsons Center's bookstore when one of them Googled "odd bookstores."
"I get a lot of used books and I was getting a lot of the same kind of perspectives," said one of them, who gave her name only as Kyle. A native of upstate New York, she wore a red dress and a crossbody bag illustrated with a skull. Her long black hair had remnants of turquoise on top. "So this is me trying to round out my collection. I'm particularly interested in queer stuff, lesbian, trans and perspectives that are different from my own ... so African-American, Latina ... especially things I don't know a lot about like economics and politics."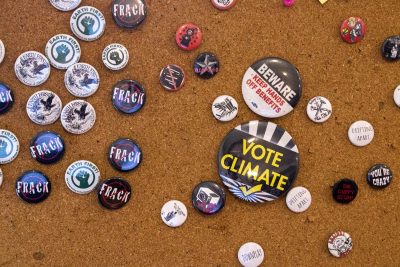 Kyle was traveling with her sister and a friend. At Lucy Parsons, she said, she noticed a lot of books about violence, especially in Latin American countries, and how "violence might be a way of reclaiming identities."
"That's something you don't see in a lot of bookstores," she added with a fist pump into her palm. "You have to know what you're looking for [at mainstream bookstores] and what I like about here is, I just came in here and found these subjects."
Born in Texas in 1853, Lucy was her real first name. But she used various surnames in an attempt to thwart prejudice toward her Afro-Mestiza background. Her family was Mexican, African-American and Native American. Reportedly, her last name was Gonzalez.
In 1871, violating miscegenation laws, she married Albert Parsons, a socialist, anarchist, reporter and former Confederate soldier. Together, they were castigated by police and politicians for their tireless efforts to elevate workers' rights and fight all forms of repression.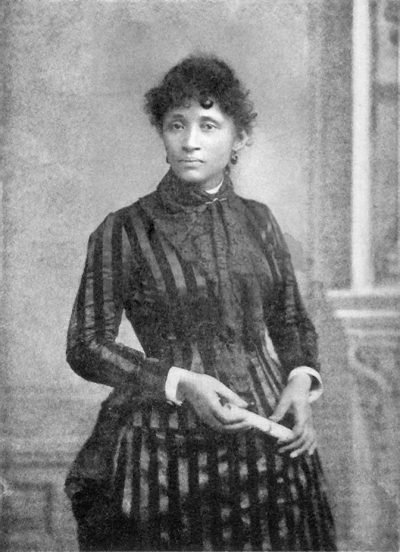 In early May 1886, the couple was involved in two historical events. On May 1, the Parsons joined the first May Day parade in Chicago, demanding an eight-hour workday. Three days later, Albert and other labor leaders spoke in support of the 2,000 blue-collar Chicagoans protesting police brutality. Later in the night, as 500 civilians remained, a bomb was thrown and exploded in the crowd. Albert and seven labor leaders were unjustly charged with conspiracy. On Nov. 11, 1887, he was executed — and 130 years later, the bomber's identity remains unknown.
Lucy Parsons continued her calling as a rebellious orator, socialist, writer and activist, and in 1905, she helped establish the labor union Industrial Workers of the World. In 1942, she died in a house fire at the age of 89. (By then, she had no immediate surviving family members. Her daughter Lulu and son Albert Jr. had both died by 1919.) After her death, the Chicago police allegedly confiscated a majority of her belongings and letters, making it harder for future historians to find information about her.
Acknowledgment of her legacy wouldn't manifest in the Boston area until the Red Book Store, which opened in Cambridge's Central Square in the early 1970s, revamped itself with Parsons' likeness in 1992. In 2011, the store moved back (it had been located in JP briefly) to Jamaica Plain, continuing as the Lucy Parsons Center.
The staff is constantly reordering Howard Zinn's "A People's History of the United States" and newer books by prize-winning authors like Junot Díaz and Chimamanda Ngozi Adichie can easily be found on shelves. There is a lending library birthed out of Occupy Boston and books in Spanish. "We would like to have more Spanish-speaking people that are volunteers," Scheide noted. "But we do have some here."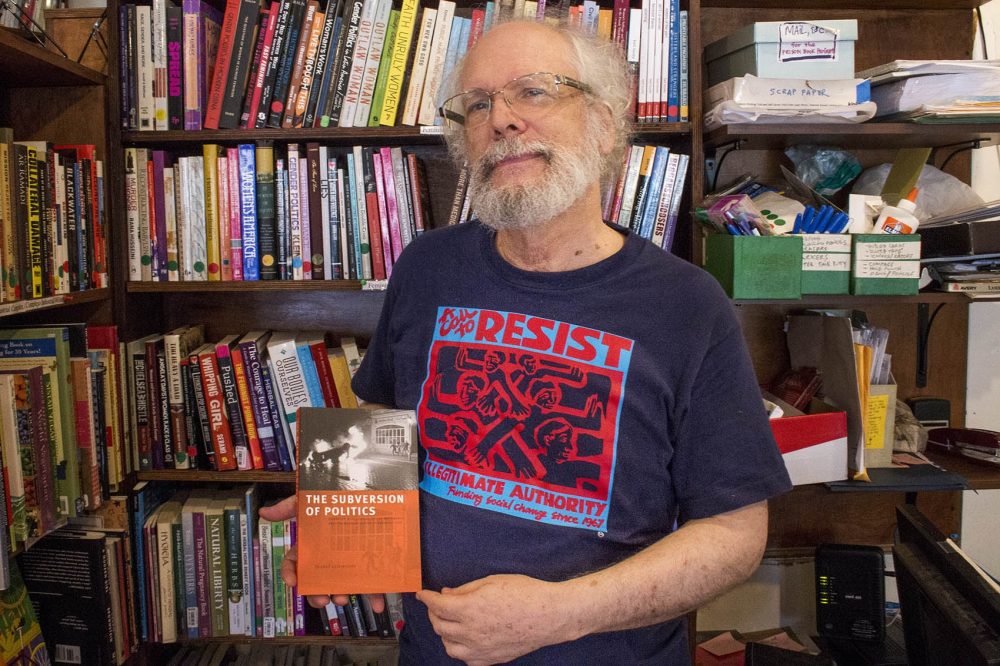 Boston "infoshops" — storefronts where political or alternative literature is distributed to activists — have dwindled, and in 2002, the feminist New Words in Cambridge closed. But fellow independent bookstores like the Brattle Book Shop, More Than Words and Porter Square Books remain. Across the country, the number of indies has been growing significantly.
Business at the Lucy Parsons Center has been steady, Scheide said, with a mix of regular and curious consumers.
"People read less," Scheide concluded one day, as he adjusted a soundtrack that went from "Fight the Power" to Bessie Smith on low volume. "Because of all the other media, getting books through Kindles and stuff like that … even the bigger bookstores are feeling it. People, who know who we are, often have a plan for the type of books they want."