On North Carolina's Outer Banks, A Preview Of What Might Be In Store For Mass. Barrier Beaches
Resume
The first truly global disaster resulting from climate change may come from rising sea levels.
The United Nations Intergovernmental Committee on Climate Change has projected sea level rise of 1 to 3 feet by the end of the century, and more recent estimates by NASA and other scientists have projected a rise of up to 8 feet.
In Massachusetts, the rising sea will mean more frequent flooding, more severe storms, and dramatic change.
It's a problem we will share with every coastal community on every continent. A bit farther down the Atlantic Coast, there's a place that's on a faster track to where we too may be headed.
'These Beaches Are Doomed'
Leonardo Da Vinci wrote that "water is the driving force of all nature."
Fascinated by great storms and terrible floods, DaVinci would have loved the Outer Banks of North Carolina. Nearly 200 miles of low-lying, shifting sand islands link into a high energy system of waves and storms.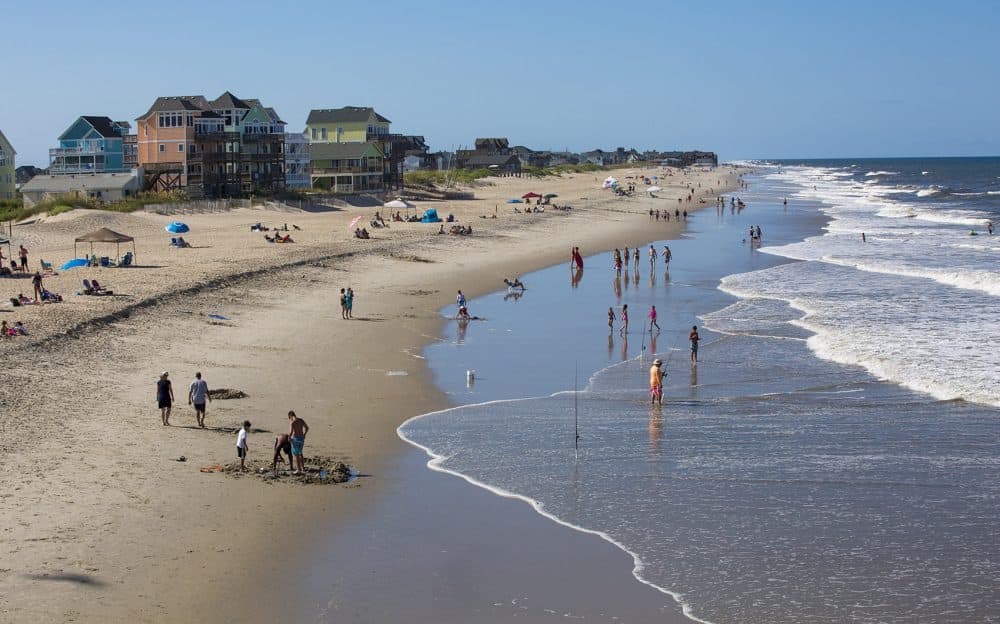 "These beaches are doomed," says Orrin Pilkey, a professor at Duke University and an octogenarian prophet. "The buildings are doomed too."
Traveling through a shanty town of triple-decker McMansions on stilts, motels and condos too close to the sea, we stop in the town of Nags Head. Pilkey predicts catastrophe in vacationland.
"The future is one of retreat," Pilkey says. "It's the only way to save the beach. It's the only way to save the buildings."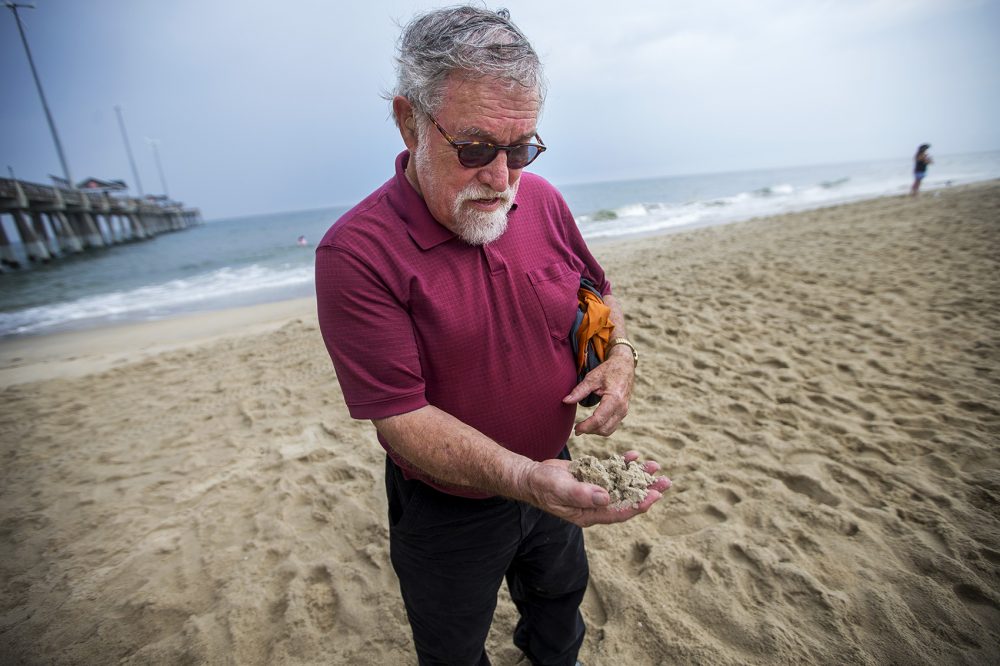 The islands of North Carolina's Outer Banks want to migrate west, and normally that happens when waves and wind along the island's ocean side carry sand over the dunes to the back side, where the waters are quiet. Trouble begins, though, when people build big houses and motels close to the shore along the ocean side, like the Comfort Inn at Nags Head Beach.
Pilkey says the hotel is a symbol of the problem.
"There is a one, two, three, four, five, six story building that's right next to the beach," he says. But he missed the ground floor, which makes seven stories. Either way, the Comfort Inn is too big to move. Past storms swallowed both its pool and its deck. And Pilkey says there's no comfort from the prospect of future storms.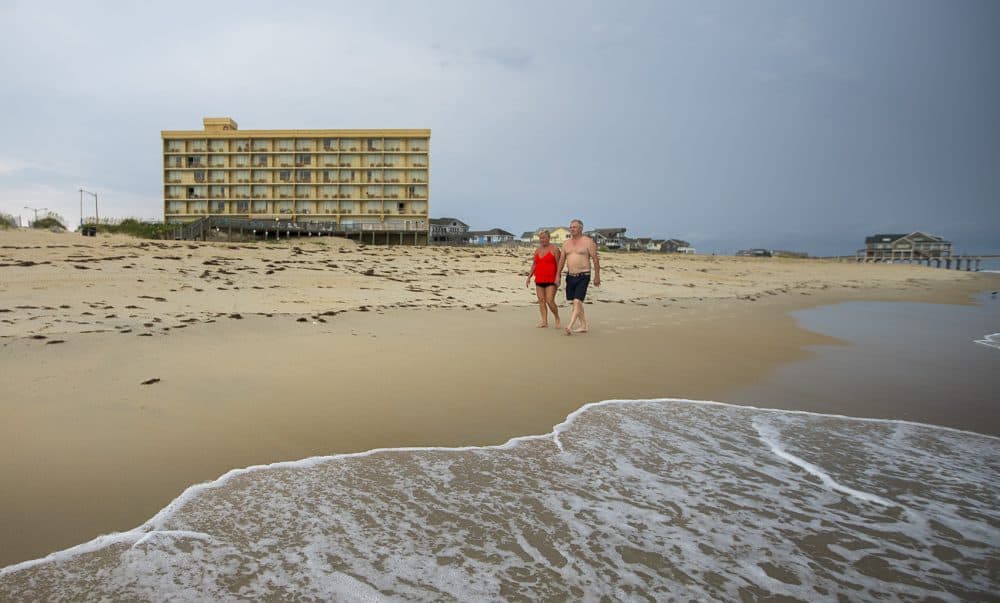 The shoreline in the Outer Banks has lost 1,500, in some places 3,000 feet in the last century and a half. Hurricanes and nor'easters routinely swallow homes.
As for the Comfort Inn, Pilkey calls it "a future disaster. The time will come when that will be a good offshore fishing reef."
Retreat Or Entrench?
The old-timers used to live on the backside of the barrier islands. Coastal geologist Stan Riggs, of East Carolina University, has spent half a century studying the dynamics of the Outer Banks. He says those old-timers knew that building on the ocean side of the islands is like building on railroad tracks. To protect themselves from that train, current owners and investors place their hope in engineering. But it's the storms that bring sand in the first place.
"You can engineer this system, but at some point you don't have a barrier island," Riggs says. "And you surely won't have a beach unless you pump sand."
Down the chain of islands, at Buxton Beach, they're doing just that: Bulldozers are moving sand that's spewing out of a pipe. Riggs points offshore to a dredge ship 2 miles away that's piping it in.
"It comes from that dredge across the bottom," Riggs explains. "That's what he's sucking out of the bottom out there."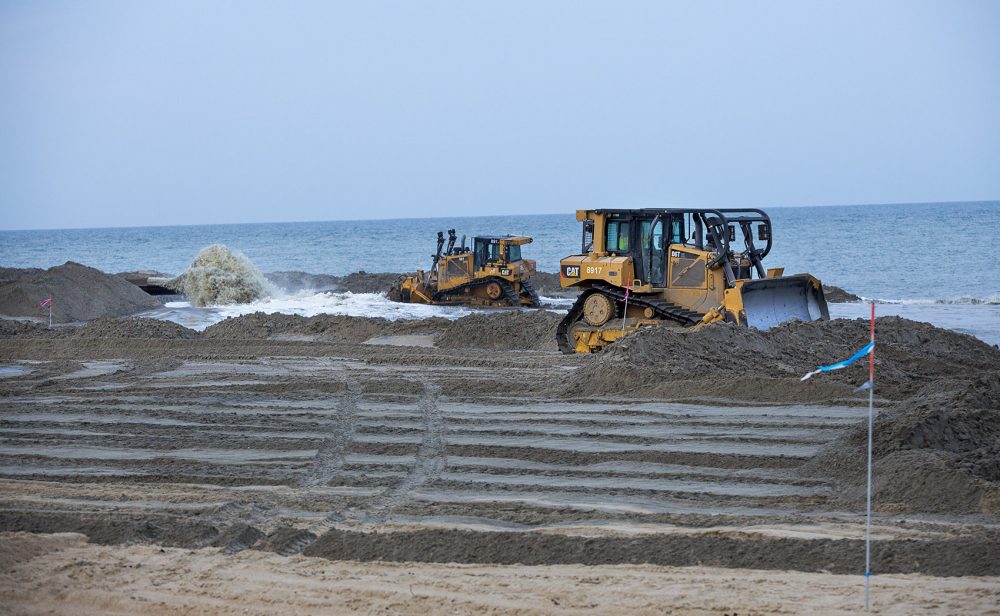 It's called "beach nourishment," as if it's therapeutic. But it's a high-cost prescription to replace the sand that's gone from the natural beach. This project costs over $7 million a mile — $22 million in public money in all. The engineers guarantee a life of five years, but Riggs says the sand is generally gone in two years.
"These land masses are moving," Riggs says. "They've always moved, they always will move. They're storm dependent systems. They have to have storms. If you don't let them breathe, you're going to kill them."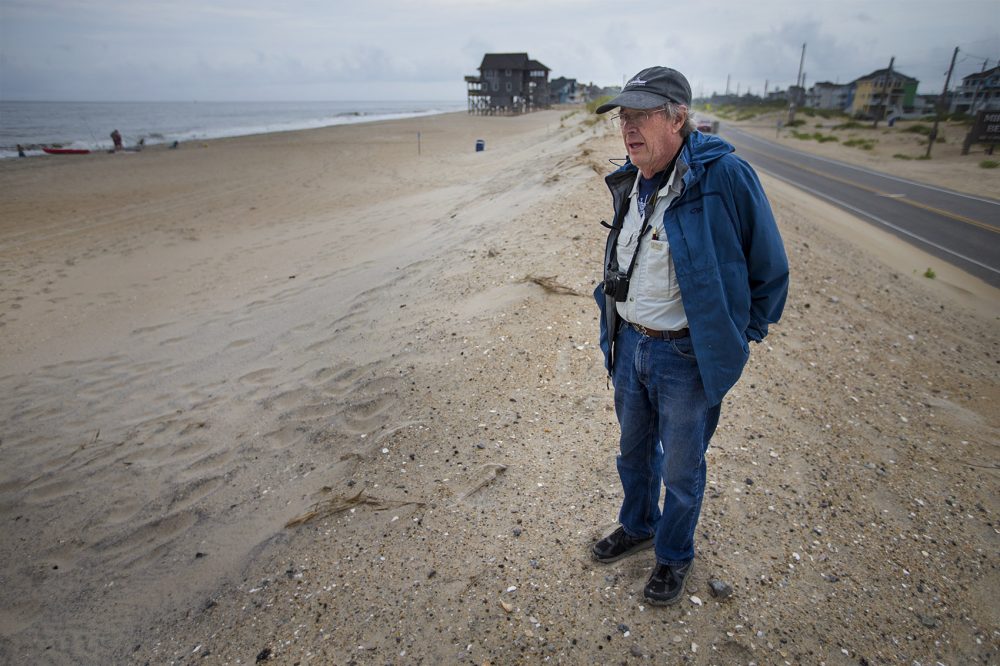 The principle is no different for barrier beaches in Massachusetts like Crane Beach and Plum Island. Ipswich author William Sargent has written prolifically on marine ecology and sea level rise, and he says North Carolina is instructive as to what might happen here.
"I think it is [instructive] because things are happening faster down there," Sargent says. "Places like Cape Cod are going to start breaking up. Within the last 10 years there have been areas of the outer beach on Cape Cod that have broken through. Places like Chatham will be hit hard."
So will Marshfield, Scituate and Hull, as well as Sconset Bluffs on billionaire row in southeast Nantucket.
"As you get more and more storms, you get more and more erosion," Sargent says. "People have to decide what they're going to do."
Decide whether to retreat, or to entrench.
A Bridge To Nowhere
In North Carolina, as we drive down Highway 12, coastal geologist Riggs shows us where the road has been buckled, broken, breached and rolled over by storms.
At Oregon Inlet we watch the construction of a new bridge, 3 miles long and at the cost of nearly $250 million. A hundred year bridge that connects two islands that won't be here in a hundred years, Riggs says. He warned against building it and called for a ferry system instead.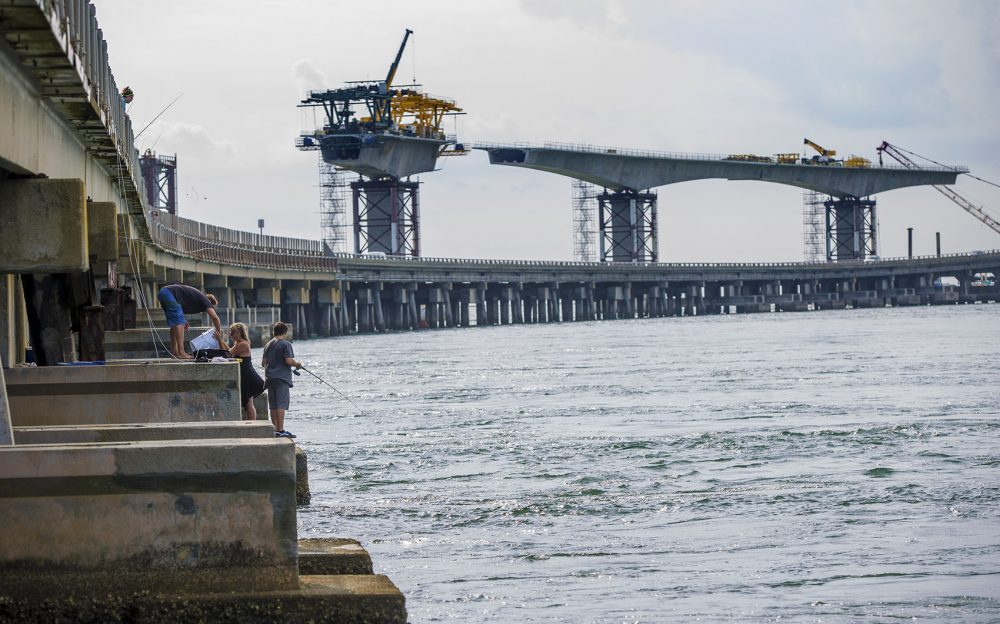 From there we drive to Rodanthe, where a real estate sign close to the beach beckons: Dare To Dream The Impossible Dream. On a normal tide the surf here reaches the stilts of a high rise home that stands alone like a man awaiting the firing squad.
Farther south, at Buxton Beach, Riggs shows us where five homes once stood and now there is nothing but narrow beach at the base of a steep bank.
"This is the first time in two weeks I've been able to sit on this beach, because the water has been right up here, low tide and high tide, every single day," says homeowner Freve Pace.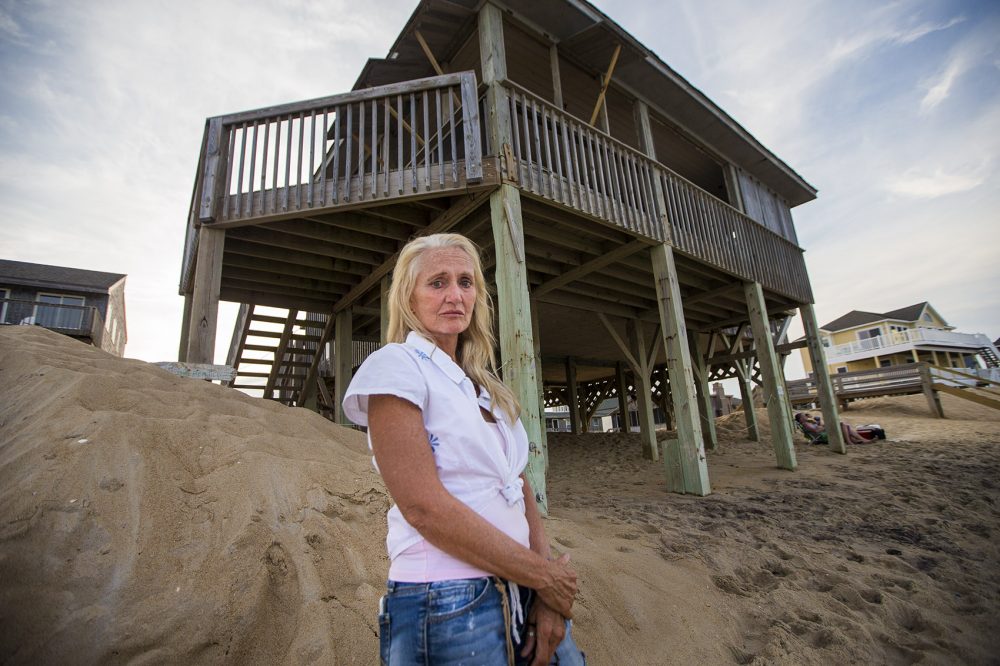 The beach used to be 200 yards wide, says one of the anxious neighbors, and Pace has one big question of Riggs about nourishing the beach: Will it work?
"We don't know," Riggs replies.
Nearby, you can throw a rock from one side of the island to the other. Riggs tells Pace if the beach nourishment does work, it will buy her a little time.
The last stop Riggs brings us to is Seagull Drive, back in Nags Head.
"They were probably 75 houses here," Riggs recalls. "Fifty of them which are in the ocean and gone."
Sandbags stacked up to their decks couldn't save them. A lone house, leaning derelict, is nearly ready to go — its septic tank exposed on the beach like a sunbather on her towel.
If the sea level rises 3 feet by the end of the century, Riggs says, no amount of sand nourishment will provide even a temporary stay for the Outer Banks. By then the beaches and the barriers will be gone and our children will be worrying about their homes in the city and the suburbs.
Correction: Due to an editing error, an earlier version of this digital story misattributed Pace's quotation to Riggs. We regret the error. 
This segment aired on August 9, 2017.