'It's Alive!' — Movies, Monsters And Metallica's Guitarist Meet At The Peabody Essex Museum
Resume
Dr. Frankenstein's famous exclamation from the 1931 classic film is now also the fitting title of a new exhibition at the Peabody Essex Museum in Salem.
"It's Alive" displays a trove of rare, vintage horror and sci-fi posters that's been passionately amassed over decades by a consummate collector, Kirk Hammett, lead guitarist for Metallica.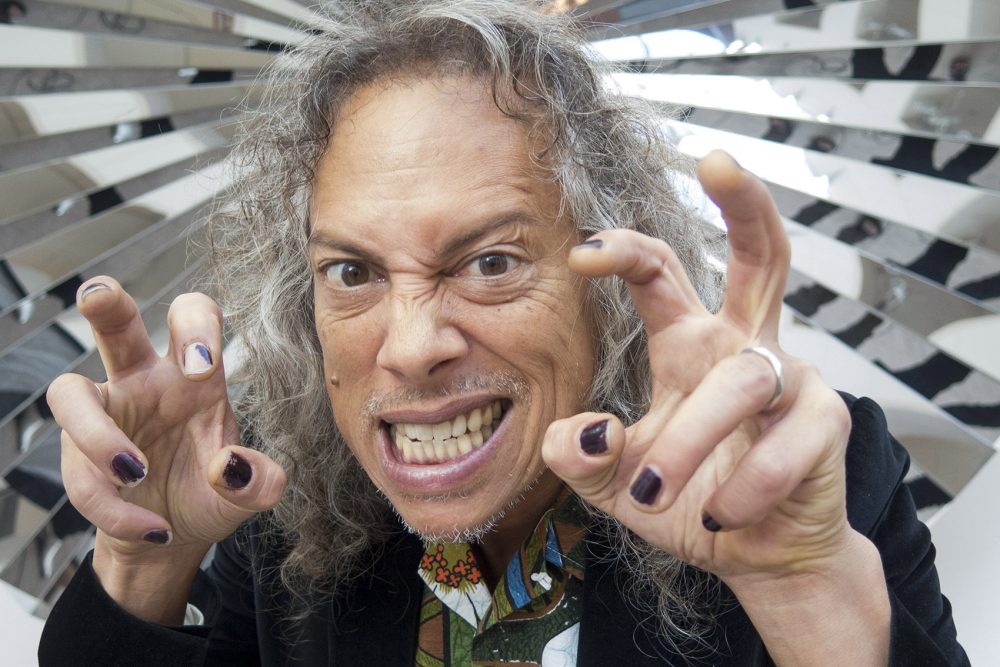 The 54-year-old musician says the seeds for his creepy, but stunning poster collection were sown early.
"I've been obsessed with the horror movie genre ever since I was 5 years old," he recalled. That's when he encountered his gateway film "The Day of the Triffids," a black-and-white 1962 spine-tingler about extraterrestrial plantlike creatures taking over. "From that moment on I was hooked," Hammett said.
Over time, the lifelong fan would channel his obsession into chasing, buying and preserving original horror and sci-fi movie posters — spanning everything from 1921s "The Cabinet of Dr. Caligari" to 1979s "Alien."
Now more than 100 of his pristine finds are on display at the PEM. It's validating, the collector said, because these artworks have gone largely unacknowledged.
"This has been a goal of mine for like the last 25 years to raise awareness of how beautiful the design and the graphics are in a lot of these posters — especially the posters from the '20s and '30s," he said.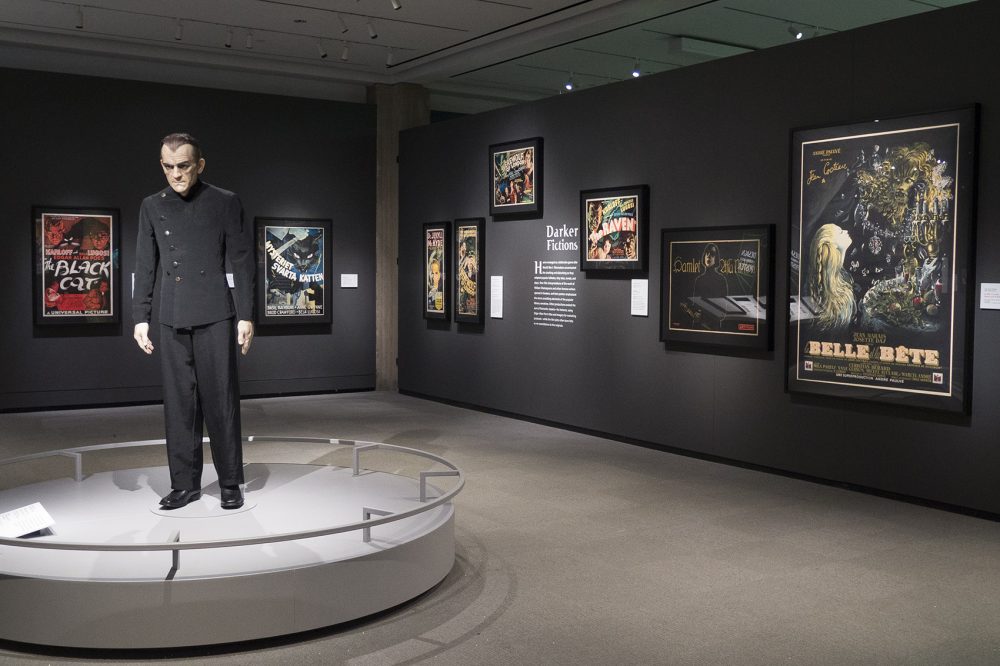 "Dracula," "The Mummy" and "Frankenstein" were released within a year and half of each other, in 1931 and '32. They spawned a line of spin-offs featuring the monster's wife and son. There's "The Wolfman" from the '40s, and "in the '50s you had all of these wacky sci-fi flicks like 'It Conquered The World,' " Hammett told me.
His list goes on, and on.
Hammett is so clearly taken with the style, emotion and marketing-savvy packed into his vintage posters. If you spend time with the images you'll discover those things too.
He believes they convey a romanticism and elegance that promise more than just a good scare, which he said makes sense because they were created in a time when romance films ruled the box office. The posters are like visual time capsules. They're nothing like what we see today at the multiplex.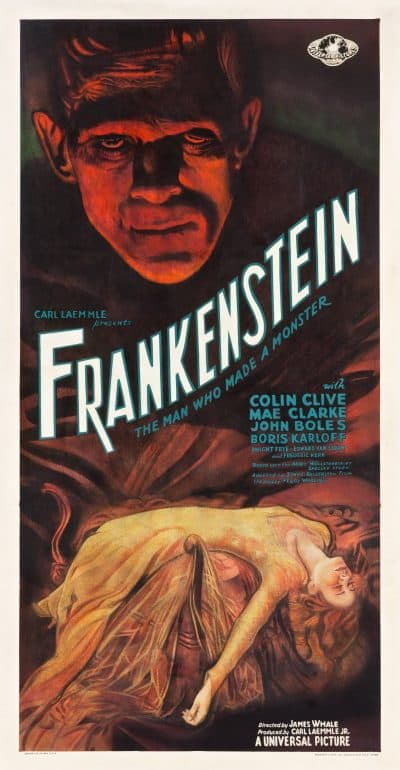 Enter the museum gallery and you end up face-to-face with Frankenstein. His enormous, red-colored face leers out at you through half-mast eyes from the boundaries of a 6-foot-tall frame.
"It is the only surviving example of this poster," PEM curator Dan Finamore explained on a tour of "It's Alive." He said artists created piles of posters for the 20th century Hollywood movie machine, but most were destroyed.
"A lot of these posters are unique," he said. "Many of them are extremely rare. They're unlike anything that I think most people have seen because they just aren't available anywhere else."
This original 1931 "Frankenstein" promo ad survived accidentally after being sealed up in a projection booth. It was discovered in the '70s, Finamore said, when workers knocked down the wall. According to the curator, no other original "Frankenstein" posters have been found since.
Finamore, who usually works with maritime art, is an interesting curatorial lead for an exhibition with other-worldly subject matter.
Turns out a maritime collector connected Finamore with Hammett after the curator explained that the PEM was looking to create unconventional exhibitions with emotional energy. "And he just started to laugh and said, 'I know somebody you need to meet,' " Finamore recalled.
Now Finamore finds himself being pulled into the show of his own making. Standing next to the Frankenstein poster he marveled at the monster's indelible image.
A few steps away he's captivated by an eye-popping poster for the 1932 film, "The Mummy," of a green, wrinkled visage, cracked and dry from embalming.
There's "this very abstracted layering of color — this lithographic crayon work of yellow and orange and red all flaring behind him — yet he actually appears almost serene," Finamore reflected.
For the curator, these visceral artworks have the power to evoke personal reactions, which is the museum's goal.
"With some of the images, when I walk through the show and I look at the collection, I realize that I've seen this before, this has lingered in my brain for a while, and when I saw this years ago it's never left my memory. It's still there," Finamore said. "I find that fascinating. Obviously that's effective advertising — but it's also art with great impact."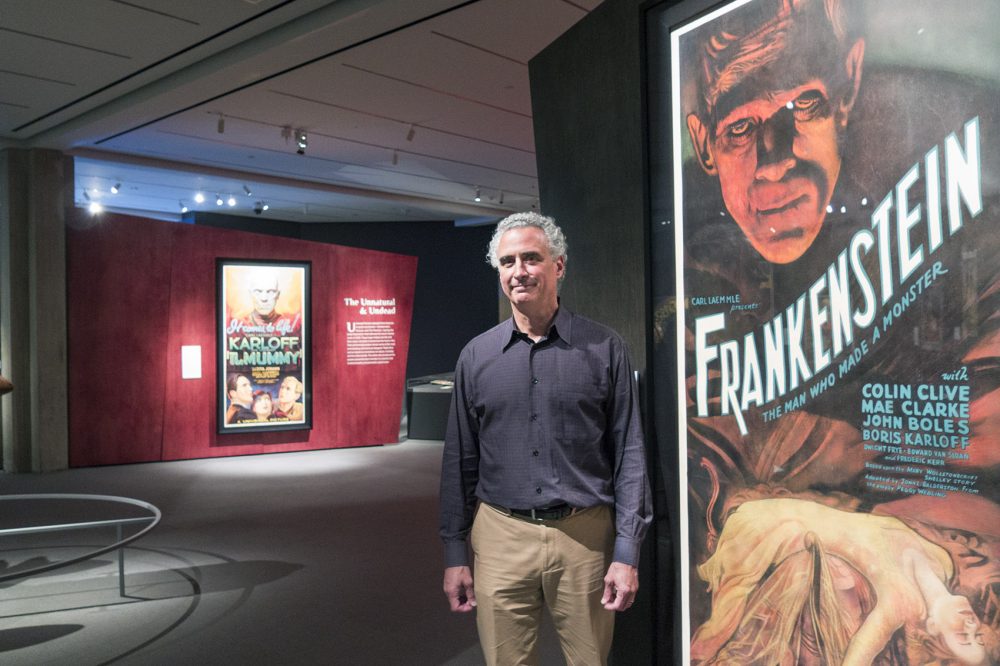 Finamore says he combed through and studied thousands of Hammett's posters to create the exhibition's narrative. He hopes it reaches beyond horror and sci-fi fans to people who haven't seen the original "Mummy," "Creature from the Black Lagoon" or, say, "The Crawling Eye."
The show traces the poster form's evolution as a creative marketing tool. It also explores how society's fears played out on movie screens in different eras — from undead monsters in the Depression to alien invaders during the Cold War.
A flying saucer sound evoking 1951s "The Day the Earth Stood Still" plays in a loop in one part of the gallery. A small sampling of Hammett's film props and costumes transport you to faraway planets and mucky swamps. Select movie scenes are projected on a few walls.
But Finamore said the posters are the star of this show. The artists who poured their talents into them are unknown to most because the major studios wouldn't let them sign their own work.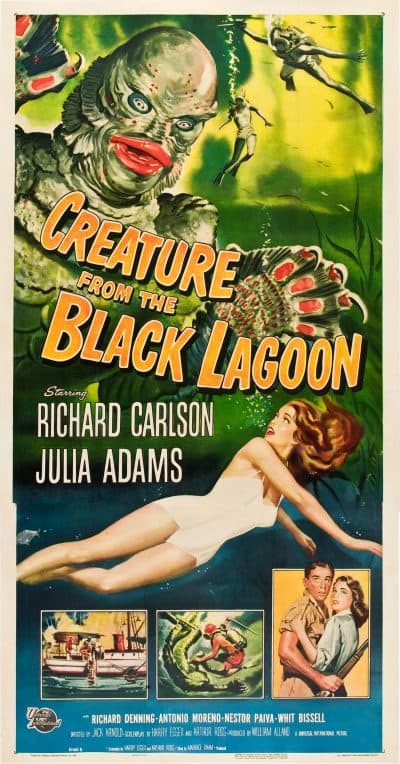 The curator thinks the top notch design work, oil painting and lithography techniques shine through in a museum setting.
"They're properly displayed and well lit — which is very unlike the way they were displayed in their original context," he said. "There's so much in the posters that I think people would have taken for granted if they were just walking by. You can't help but respond to them and be drawn in."
One person who's particularly interested in visitor response is Tedi Asher, the PEM's recently hired staff neuroscientist. Interesting, right? She's been brought on to explore how the museum can engage more intentionally with the intersection between brain research and art.
Asher finds the "It's Alive" exhibition to be highly arousing.
"I'm not overly familiar with this genre, and so this really one of the first times that I've taken a close look at it," she said standing in the section of the show that highlights the way images of eyes are depicted in the posters. "It does get your heart going a little bit, it's kind of creepy."
The neuroscientist hopes visitors will pay attention to what happens to them physiologically as they make their way through the gallery's sections.
" 'Do their hands sweat, do they get queasy?' Versus, 'Are they actually afraid?' You know, and just to kind of be aware of those two responses as reflections of the systems at play," she suggested. "That's just where my curiosity would go."
Hammett has his own ways of responding to his collection.
"The movie posters are a constant source of musical inspiration," the metal guitarist said. "A lot of my guitar playing is very dark, and that is fed by these movie posters."
Hammett even has a collection of custom guitars with the graphic images of "The Mummy" and "Frankenstein" on them. They're on display in the exhibition, too. But when they're home with the musician, Hammett likes to look at their mesmerizing, undead faces while he plays.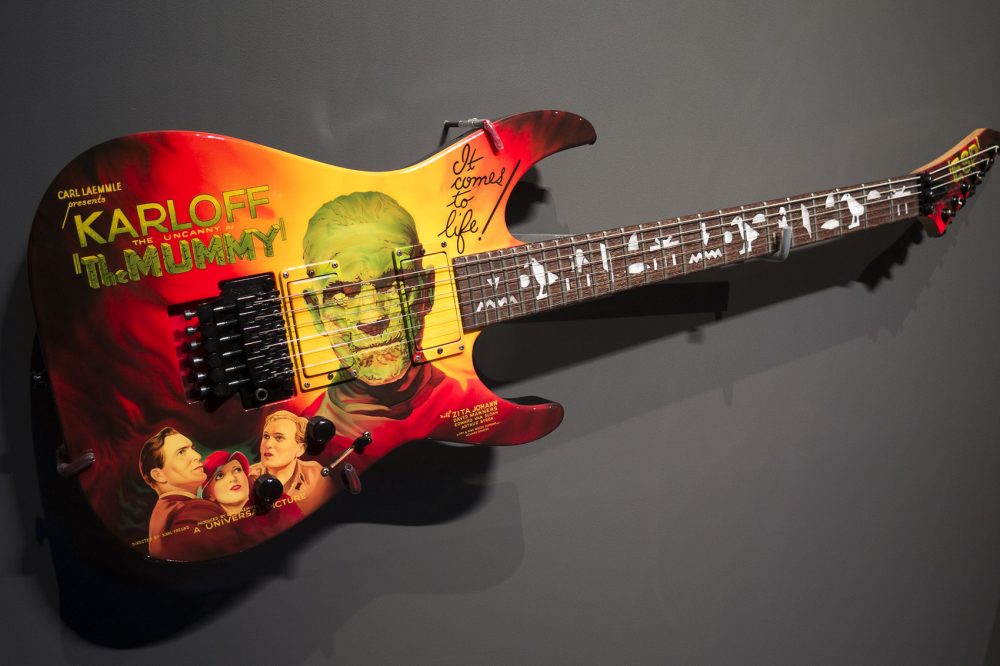 ---
"It's Alive" opens Saturday, Aug. 12 at the Peabody Essex Museum. Hammett will be present on Saturday, Aug. 19 for a book-signing event and performance.