How Wynn Is Building Its Casino To Protect Against Climate Change
Play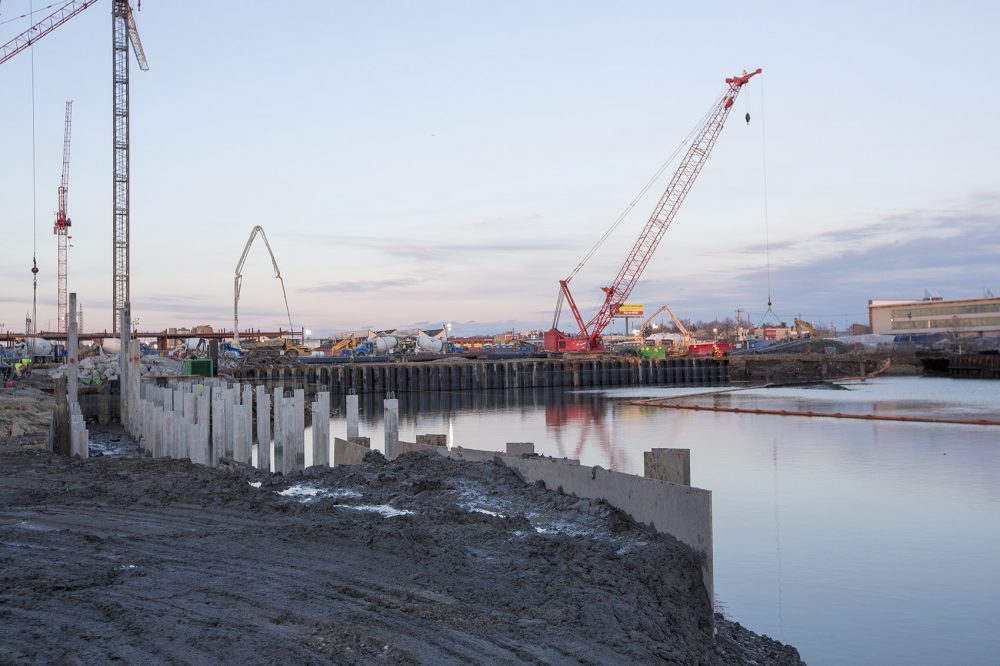 This article is more than 5 years old.
When it comes to real estate, the old phrase "location, location, location" still applies.
And for many, there's no better real estate than along the water. That includes along the Mystic River in Everett.
That's where workers for the planned Wynn casino are transforming what had been home to industrial chemical plants into a glittering, 27-floor Las Vegas-style casino.
But as the tower rises — it's now up to five floors — focus is on the ground and along the water when it comes to mitigating the effects of climate change.
"The irony is ... in the early 1800s, this site actually was owned by the family that owned the Union Oyster House. And this is where they would dig oysters for the restaurant," said Jamie Fay, the co-founder and president of the environmental consulting firm Fort Point Associates. "The water was so clean and so good at that point in time, they would dig oysters and bring them over by boat."
Fay has been in the industry for 40 years, working on projects like the Big Dig, the Boston Convention and Exhibition Center and, now, the Wynn Boston Harbor casino.
That name — Boston Harbor — tells you what you need to know about the Wynn site and climate change. It's along a tidal part of the Mystic River, which means that sea level rise or storm surge that affects the harbor also affects the casino's waterfront.

A Casino On A 'Pedestal'
So to prepare for that, Wynn is transforming the shoreline, using nature as a defense mechanism.
"We were actually able to convince Wynn to give up some land and to pull the existing shoreline, the existing fill out of the harbor, bring the shoreline back," Fay said. "Restore it, replant it," he added. "Create a whole new salt marsh environment at the end here, and then above the salt marsh, create ... a coastal bank."
All of that to make a gradual incline from the water to where the casino will stand.
Bob DeSalvio, president of Wynn Boston Harbor, explained: "Instead of having that sort of constant pounding that you get with a traditional bulkhead ... the concept of the living shoreline is to create much more ease for the water to come up and find its natural point and then go back down to its more natural level."
That accomplishes two things. First, it creates a natural waterfront — something that's been largely extinct in Everett for generations — and something that won't disrupt operations if it gets flooded.
"At the end of the day there, you'd probably have some landscape damage, maybe some damage to the harborwalk, but the [casino] building would be pretty much left untouched," DeSalvio said.
Second, the gradual incline disguises more a dramatic elevation increase as you get closer to the casino itself.
"From a visual perspective, you won't even really know that we raised that building, because it's all been sort of cleverly hidden," DeSalvio said.

To hide that, DeSalvio said the ground level will actually be the first level of a basement parking garage with the actual casino, as he says, on a pedestal above it — above the 500-year flood mark.
"So, we're at nine feet above sea level," DeSalvio said, "the first level of the garage is plus 13, and then first elevation of the resort level is at 24 feet."
Protecting Your Investment
On top of elevating the building, the construction plan also calls for installing utilities on the third floor. Heating, air conditioning and electrical utilities could be knocked out by flooding if they were closer to the ground.
And if power goes out, the building will be able to generate most of its electricity needs through a combination of rooftop solar, generators and other sources.
It's not just Wynn that's taking this sort of action.
Angus Leary, the Northeast president and general manager for the construction firm Suffolk, said developers are increasingly planning for the effects of climate change.
"It is real now, all right?" Leary said. "There was a period of time where people were saying, 'Is it real? Is it really gonna happen?' That's over."
He added: "Now we're really looking at, what are those impacts, projecting out 10 years, 20 years, 30 years, 40 years, 100 years? And then, what can we do now to prevent issues that far out?"
Suffolk is building the Wynn casino in Everett, but has already built a number of other waterfront properties, including a new complex for Partners HealthCare just across the Mystic River in Somerville's Assembly Row.
Leary said a lot of the same steps were used there, such as raising utilities above the flood level. But he said other tactics were employed as well, like elevating certain parts of the first floor to direct water away from key areas.
"Pushing away from certain areas and knowing that you're not going to be able to stop it all," Leary said. "So, how do you relieve it and give it a path to go if this happens? With minimal disruption to the building when it happens."
Leary said as science around climate change has improved, the conversation has shifted from whether to protect against rising seas to how much — be it the 100-, 500- or even 1,000-year flood level.
"You're looking at the life cycle of your building," he said. "Someone like Wynn — that is a long term hold, he's looking much further out. We're typically looking at the hundred [year] — is the baseline — and then we're ramping up from there."
Wynn officials said they're proud of the environmental work they're doing — restoring part of the Mystic River, cleaning up acres of land that just a few years ago were contaminated by chemical waste.
But there's also a monetary angle. The $2.4 billion Wynn project, which is set to open in June 2019, is the largest single-phase development in Massachusetts history.
As the consultant Fay said, protecting against the effects of climate change is good for business.
"This is a waterfront site," he said. "We know for a fact that sea levels are going to rise. We may not know how much and how fast, but we know it's happening.
"This is a really huge investment of dollars and they want to make sure that they were fully taking into account the potential for future sea level rise in building this project."
This segment aired on August 30, 2017.