Cirque Du Soleil's 'OVO' Brings 'Bugs' — And An Inclusive Message — To Boston
This article is more than 5 years old.
Bugs have infested Agganis Arena, and the circus has come to town. Through Sunday, Sept. 10, Cirque du Soleil performs "OVO," a bug love story with a clear point: We all have more in common than we think.
Every show from Cirque, the French-Canadian circus creation, is different. But "OVO" is distinct in that although it's based on bugs, it is not entirely make-believe — it is a reflection of Cirque du Soleil as a whole. The themes and practices of inclusion and acceptance are as much a part of Cirque's company culture as they are of the story of "OVO."
Founded in 1984, Cirque du Soleil is a unique circus experience. Instead of the animal-infused acts of the traditional American big top, Cirque creates modern, whimsical worlds that lean heavily on its street-theater roots — the original company, created by Guy Laliberté in Québec, was a collection of street artists that included stilt-walkers, dancers and fire breathers.
"I think it started at the very beginning," says Tim Bennett, artistic director of "OVO," about the distinctive storytelling and people-centric culture Cirque is known for. "All of that aesthetic was carried through, all of that sense of play, of family, that sense of breaking the rules."
"OVO" premiered in 2009 as Cirque's 25th anniversary big-top show. It now tours as an adapted and streamlined arena show, with all equipment — from the stage to the acrobatic rig to the army of washing machines — entirely portable, and all costuming handmade.
While designing the 25th anniversary show, the Cirque team was drawn to nature, with a desire to do something environmentally supportive. Eventually, the final plot line evolved to focus on insects.

"OVO," meaning egg in Portuguese, creates the world of a bug colony that first rejects — and steals — an egg, but then accepts and loves the foreign bug that enters their home. The love is encouraged most by the budding romance between the new bug and the sassy ladybug.
"What really comes through for me is this message of inclusion," says Bennett. "It's clearly a simple, straightforward message. … It's a universal message that appeals to people of every nation, age and culture."
"And one of the interesting things is it really mirrors what Cirque is."
Inclusion and acceptance, as Bennett notes, are hallmarks of Cirque du Soleil's company and its creative culture. They are palpable backstage in the hours before the show, as the artists rehearse for the evening performance.
Training their trampoline act, the crickets — at this point still athletic men in gym shorts — communicate in at least three different languages, laughing while two men launch themselves off an 8-meter wall, somersault in the air and land on a trampoline. In the back, on one of the portable acrobatic rigs, the Russian flying cradle act — comprising Canadians, Russians and Ukrainians — practices the swings that the performers will use later to launch women through the air to another platform suspended six meters away.


"I was scared at first," says Nansy Damianova, from Montreal. A former Olympic gymnast, she is part of the cradle act but had never done any flying acts before joining Cirque two years ago. "Not like [seriously scared], but like — whoa. This is going to be interesting."
All told, the artists and crew of "OVO" add up to a team of 100 people from 21 different countries.
"Different languages, different cultures, different religions, different cultures — we come together as a team and become a family," says Bennett.
Other artists echo his sentiment.
"We travel as a big family," says Gerard "Gerry" Regitschnig, a clown born in Austria and raised in Switzerland. Regitschnig, who has been with Cirque since 1992, has trained to be a clown his whole life — he decided when he was 12 that he wanted to be like Dimitri, the fatherlike clown in the Swiss national circus. In "OVO," he plays Master Flipo, the father figure of the bug colony and one of the principal characters.
"We have a fantastic team," he continues. "We are many different cultures, many different languages, and it works!"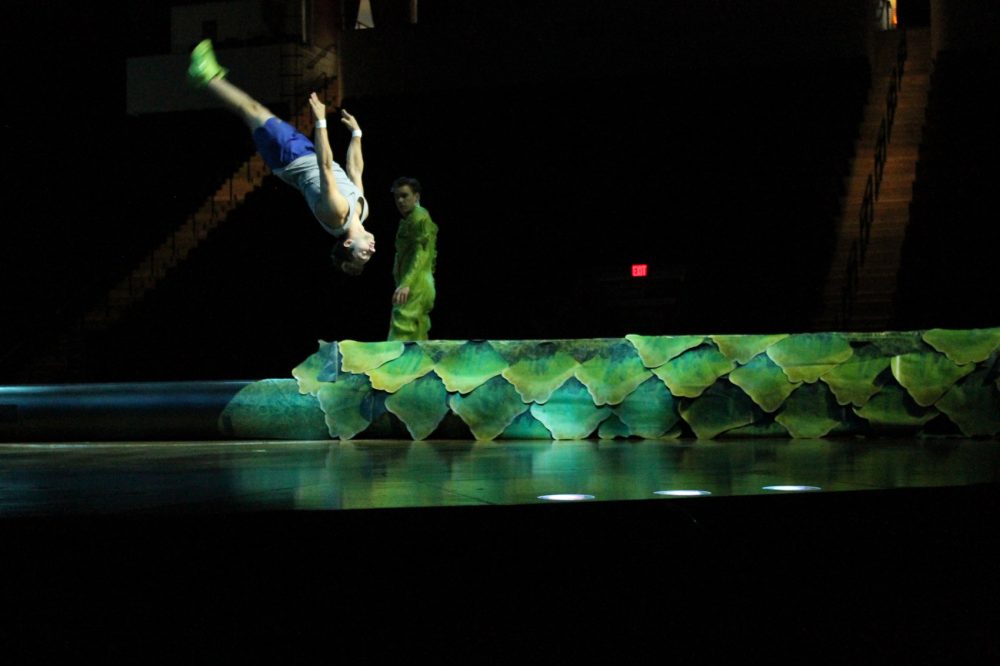 The cohesion is not automatic, but it grows significantly as the group tours and the artists get to know one another. "We always do dinner, and try to do things together," says Damianova of life in the nine to 10 weeks they spend on the road for each tour.
The nature of Cirque's acrobatic acts also embeds inclusion and acceptance among the team: Those feats require absolute trust.
"Many of them literally trust their lives to each other," says Bennett. "Any differences between countries and politics and wars, that all falls aside."
Trust, too, like Cirque's message of inclusion, is something actively practiced and worked toward. It grows as the artists work together, and like any human interaction it can be difficult.
"That was the hardest part, learning how to trust someone," says Damianova, who has to trust that her partner will catch her, and not overcorrect out of fear. "[You're] not just working for yourself — it's a partnership."
"We are such a high level, you have to be 100 percent there, you have to be 100 percent committed," says Regitschnig.
The trust needed between partners Catherine Audy and Alexis Trudel is stunning in the evening show's duo straps act. In a pas de deux as aerial butterflies, at times they soar above the audience, suspended at a height higher than the cricket wall by a wrist strap. The only thing preventing one of them from falling is the grip between their hands. It is a striking display of athleticism and, as Bennett describes it, "a mix of specific, rigid discipline — the highest-level acrobatics — and mind-expanding, wild creativity."
"It's different working with athletes and clowns," says Bennett, who comes from a musical theater background. The process is much longer and the progress more gradual. "It's just by nature of the mechanics of acrobatics, and the encouragement [by the Cirque family] to try things so crazy they're going to fail — until you get something crazy that doesn't fail."
The other "OVO" acts include contortionists, jugglers and the trio of clowns, who will pull you up on stage if you catch their eye in the front row.
"You love everybody around you — they each bring their own incredible talent," says Regitschnig.
The emphasis on inclusion and acceptance in Cirque's culture and in "OVO" itself seem, in today's climate, decidedly political. But for Cirque any political fodder is an unintentional byproduct of their belief that where there is acceptance there is joy — and that is the whole point of circus.
"It's nice to do a job where other people come and watch; you make them happy somehow," says Damianova. "They have two hours of a dream," adds Regitschnig.
"People always ask, is there some political agenda, especially in this day and age, and no, not really," says Bennett. "But when you look at it … finding that ultimate trust, finding that we are much more similar than we are different, is absolutely the message of Cirque."