Tank And The Bangas' Playful, Expert Recipe: Mix Slam Poetry And Rap, Then Stir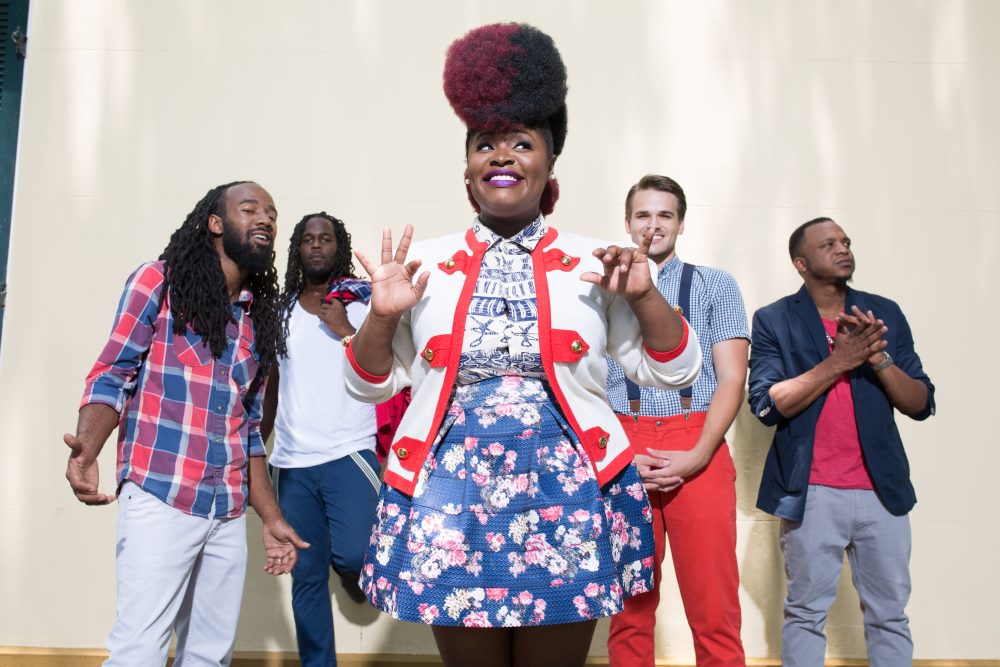 This article is more than 5 years old.
Tank needed some soup.
The frontwoman for the New Orleans band Tank and the Bangas had spent most of the sweltering July day in the asphalt limbo that is the drive from New Jersey to Massachusetts. She and her bandmates were at last deposited at the Museum of Fine Arts in Boston, an hour late for a sound check for the evening's sold-out show there. Now Tarriona Ball, aka Tank, was strolling through the basement cafeteria in search of a snack.
It was a little after four o'clock — closing time — and the spread was being rapidly disassembled as workers whisked away the dregs of stale coffee and the wilted remnants of the salad bar. "Do they have soup?" Ball wanted to know, seemingly unconcerned with the midsummer heat wave that had settled over the city, turning the picturesque museum courtyard into a jungle, the air swollen and the plants practically perspiring. (Later that evening, in that very courtyard, Ball would coax a crowd that was sprawled limply on folding chairs and picnic blankets to its feet.)
But the chicken and dumpling soup had already been cleared. All that was left was a lukewarm broth with vegetables.
"Oh god, vegetable soup," Ball murmured in her husky drawl. "Oh well. I don't need a snack if it's not the snack I want."
Ball had been on tour with her band for the last month, crisscrossing the country in a bus. (Tank and the Bangas return to Boston on Thursday, Sept. 14, for another sold-out show, this time at The Sinclair in Cambridge.) In many ways it had been a typical slog, a monotonous blur of frantic sound checks and disappointing soups. But it had also been a whirlwind, an endless stream of interview requests and internet buzz.
That's because on Feb. 28, Tank and the Bangas were announced as the winners of NPR's Tiny Desk Contest. From that moment on everything changed. The band appeared on NPR's All Things Considered and embarked on a nationwide tour. They became a ubiquitous presence in Facebook feeds the country over (mine included), and their concerts started rapidly selling out.
NPR launched the Tiny Desk Contest in 2014 with the stated mission of providing exceptional independent artists with widespread exposure. The project is an outgrowth of NPR's Tiny Desk concert series, which features musical acts of varying stripes and levels of fame in the stripped-down setting of "All Songs Considered' host Bob Boilen's desk at NPR headquarters in Washington, D.C. Videos of the concerts are massively popular on YouTube, regularly garnering hundreds of thousands of views. A Tiny Desk appearance is a stamp of legitimacy, and it can help launch an artist into the next level of her career.
Tiny Desk Contest entrants are invited to submit a video of themselves performing an original song, with the only real requirement that they not already be signed to a label. In a hat tip to the contest's origins, the video must feature something that can believably pass for a desk. Winners get to perform in D.C. behind the genuine thing itself.
Tank and the Bangas were an independent but polished R&B outfit from New Orleans when they submitted a video of their song "Quick" to the 2017 contest. In the video, which was shot in a classroom at a local high school, Ball appears in the foreground with her bandmates — Merell Burkett on keys, Jonathan Johnson on bass, Albert Allenback on saxophone, Anjelika Joseph on backing vocals and Joshua Johnson, who is also the band's music director, on percussion — arrayed in a semicircle around her. They don't all quite fit into the frame, so the camera bobs lazily among them. Ball wears her hair braided and piled into two cones on top of her head in a look that resembles nothing so much as a Viking helmet crossed with Princess Leia's cinnamon buns. Ordinary classroom items — a textbook, a seemingly endless supply of pencils — make their way into her hands as she sings, to be employed as props or percussion. Most of the pencils end up in her hair.
"Quick" is an eccentric, heavily grooving number that swings between Ball's sing-songy rapping and a full-throated soul soar. She shades each line with a different cadence, morphing between voices like an affable Nicki Minaj. Throughout the video Ball mugs playfully for the camera, deploying a facial expression for each line and a shoulder jab for every beat. She smiles almost the entire time.
The seed of "Quick" is a nonsense song from Ball's childhood. "This started off with that story rhyme," she explains, her voice falling into a familiar patter. "'Down by the river called Hanky-Panky/ Where the bullfrogs jump from bank to bank, like' — that was a childhood game that me and my friends used to play."
That schoolyard chant was reincarnated as one of the more delightful lines in "Quick": "My back is achin', my bra too tight/ My booty shakin' from left to right."
More than anything, though, Ball's musicality is rooted in the New Orleans slam poetry scene. In 2012 she helped lead her home team, Slam New Orleans, to the national title. (The group won again in 2013.) "Being from New Orleans we always used to just incorporate music in our poetry," Ball says. "People thought we were weird. They thought we sung too much."
Tank and the Bangas are similarly grounded in the fertile commingling of music and spoken word. The band emerged in 2011 from the scene surrounding a New Orleans venue called Liberation Lounge, where a regular open-mic night attracted a talented cast of young poets and musicians. Ball, with her knack for speaking in near-poetry, describes it like this: "Old, shotgun New Orleans house, you know. Take out certain walls and just throw in some old couches, a couple of drums for children and teenagers to beat, and man — you got yourself a bunch of happy colored folk."
Ball frequently incorporates her poems into concert sets. Usually it's as an introduction to a song with Burkett vamping softly on keys in the background. As the music ramps up, stanzas merge into a tongue-twisting, hyper-rhythmic jumble. These days it's sounding more and more like rapping, and I tell Ball so. "It's going to always be around poetry," she says. "I just happen to just flow a little more with it, my poems speed up, they go more with the rhythm of the music. And some might consider it rapping, but that's just not all I am, that's not all I do. I flow — I flow with the music of my band."
And how they flow. Tank and the Bangas are, at their heart, a live outfit, as attuned to each other's internal muses as they are to their own. Their music moves on heavy, in-the-pocket bass lines and whimsical jazz inflections: Erykah Badu meets The Roots meets Anderson .Paak. They favor long, meandering forms punctuated by dizzying explosions. This, says Ball, is all the result of extensive, exacting rehearsal — the upshot of which, paradoxically, is an impression of improvisatory looseness. That quality is best exemplified in the rapport between Ball and Anjelika "Jelly" Joseph, who sings backup in the band. Onstage, the two seem psychically linked. Sometimes they evoke the call-and-answer of a gospel choir, other times a rapper and her hype man, still others a sketch comedy team.
"She has such a knowledge of me, watching me, knowing my voice," Ball says. "And the benefit we have is a friendship, going to college together — is even being two thick girls who like our hair to be big. It's just — we just know."
Still, the bulk of the lyric writing falls to Ball. "Quick" is unusual, even with her fanciful tendencies taken into account. (The singer's fondness for elaborate wordplay is well documented in the song "Boxes and Squares," in which a trip to the grocery store serves up a metaphor for a relationship along with a string of delicious takedowns and, of course, a shoutout to soup.) "Quick" is an uptempo number but its lyrics tell a darker tale, chronicling a woman's quest for revenge after she is drugged at a party.
Tank and the Bangas recently released a studio version of the song, along with a music video. In the video the song's protagonist is depicted as both predator and victim.
"It's about a women that works the streets," Ball says. "A woman that was taken advantage of and went to try to go and reclaim her power again. It's a story. I can be a storyteller. You know, I grew up watching a lot of movies and I also grew up in America. It's not this white picket fence — there are all type[s] of women. And they all have a lot of story. And each one should be told."
The woman in "Quick" is mostly a product of Ball's imagination. Her own biography filters through in subtler ways. The song "Rollercoasters," which is really just a spoken-word poem set to music, was inspired in part by Jazzland, a Six Flags theme park near Ball's home that was devastated by Hurricane Katrina. It never reopened. In the band's appearance at NPR's Tiny Desk, Ball spoke movingly about the grief contained in the sight of the abandoned park, and the failure it represents. "There's some areas of New Orleans where the storm has never passed," she said.
Now, I ask Ball: What do you do with that?
She pauses for a long moment. 
"You build," she says. "It's all you can do, is build," even though the rebuilding may be fraught. "That's why it's such a positive/negative of gentrification," Ball continues. "The positive, you see the beauty of people literally coming in and making something ugly beautiful — and useful. The ugly is when you want to raise the prices of what you made beautiful as to whether the people in that community can even thrive or live off of it, or sometimes even freaking work there, unless they're taking out some goddamn trash. And that's when it becomes f----- up."
Ball's voice settles into a near-hush during this somber monologue. But she brightens when I ask what's next for the band. Do they have a new album in the works? Ball nods.
"I wrote all my songs already for the new album I was getting ready to put out. But now — I think I'm about to write all new songs," she says with a note of wonder. "I'm just in such a different place. Like you said — I rap now." She laughs. "I just feel just a little different, and I think I'm just a little ready to explore that."