An ArtsBoston Network Aims To Diversify Boston's Very White Arts Leadership
Resume
On a recent breezy summer evening on the deck of Boston's Institute of Contemporary Art, a group of about 30 young professionals eagerly socialized. They drank cocktails, most of them still in their work clothes, swapping stories about jobs, bosses and life. All of them work at various cultural institutions around Boston — and not one of them is white.
While the city's diversity continues to increase, the leadership at many of Boston's artistic and cultural institutions remains mostly white. This dominance can influence what kind of art is made and experienced. So the nonprofit ArtsBoston is trying to change that by grooming the cultural scene's next leaders.
"In many of the meetings that I had been attending, I would often be probably the only person of color, or one of two," said Victoria George, the audience lab director at ArtsBoston, which helps 175 arts groups develop their audience.
"I would often be probably the only person of color, or one of two."

Victoria George
George started the Network for Arts Administrators of Color to prepare nonwhite professionals in the arts for leadership positions. It quietly kicked off at ArtsBoston last fall with a couple of social events for administrators of color. Bank of America provided seed money and ongoing financial support for the program.
George now plans to expand the program to include professional development workshops about running cultural nonprofits effectively.
"What is it that [administrators of color] need to know? Who do they need to know? What are the connections that are important that they need to make? We need people to be trained on how to hire people properly. We need people to be trained on how to make sure that they have a staff that is working at the capacity that they need, but also a staff that is healthy," she said.
As I met other people of color who worked in the arts, most of them had stories similar to George's.
"As soon as I started working in the arts industry, I realized that I was feeling a little bit alone, sometimes, in many meetings," said Carmen Cadran, digital communications manager for the Massachusetts Cultural Council.
Audrey Seraphin, the community and inclusion advocate for Central Square Theater in Cambridge, said she was the only person of color at her organization when she started two years ago, despite the company's efforts to proactively welcome a diverse audience.
"I've been very lucky to have a lot of female mentors in my life. Currently my leadership at my organization is 100 percent women," she said. "But it's also 100 percent white women."
That lack of diversity means not only navigating a workplace where one feels different, but also struggling to ascend to leadership roles held mostly by white people.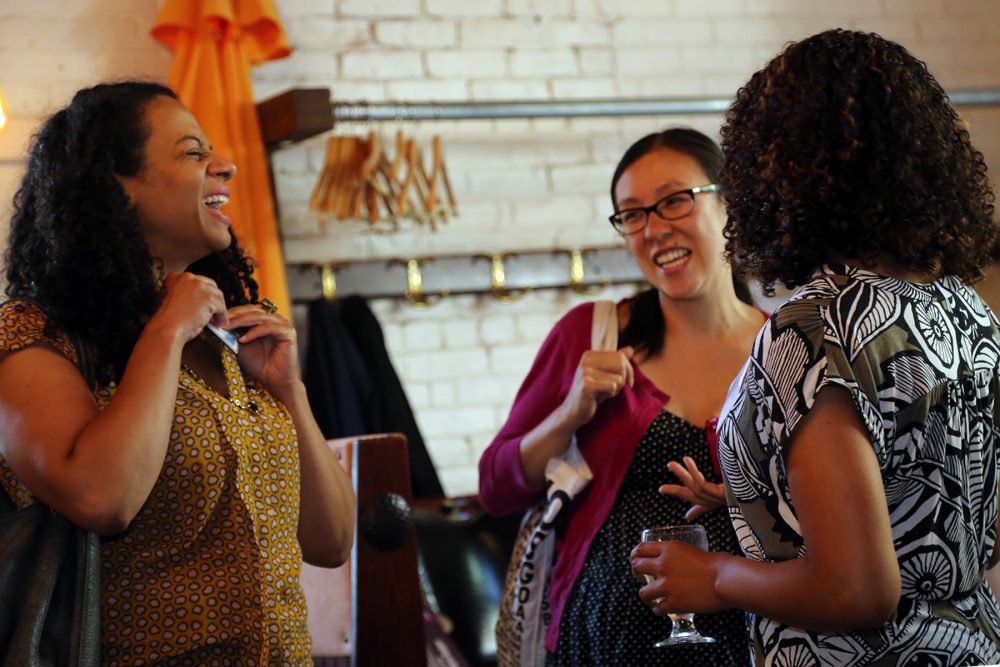 "It's not necessarily asking people who run these organizations right now to step aside and let us take over," George said. "It's really more just saying, 'We have the talent and we have the knowledge and we have the capacity and the skills to work with you and to grow the sector, especially as you know the demographic shift in the country.'"
Currently, there are no statistics on the number of arts leaders of color in Boston. Most cultural institutions seem to make a cognizant effort to be more inclusive of diverse programming, often precisely because there is a lack of diversity in their leadership. Still, George says that the lack of diversity at the top affects the kind of art that's produced and brought to audiences.
"A lot of the work that we do has some sort of cultural connection," she said. "I think it's important to make sure that there are people at the table who might know a little bit more than others about that particular issue who can be able to help create something that is phenomenal for everyone to take part in."
The 130 people who are part of the network — and their résumés — are listed on the ArtsBoston website. George hopes cultural organizations will look to the network at hiring time. That means grooming the current arts administrators of color to be ready for high-profile positions when they arise.
The professional development is one of the reasons the people I spoke with are taking part, but they also said they enjoy having a space where they don't feel out of place.
"As a person of color, you're working in an environment that's not necessarily yours."

Audrey Seraphin
"As a person of color, you're working in an environment that's not necessarily yours," Seraphin said. "So interacting with different people who are also in that same environment is like very therapeutic. You get the sense that you know they're going through the same things as you are, and they can give you advice that your white coworkers couldn't."
These young professionals are building a community they hope will prepare them to lead powerful institutions in the future.
This segment aired on September 11, 2017.