At Gloucester Stage, A 'Monarch' Butterfly Seeks To Take Flight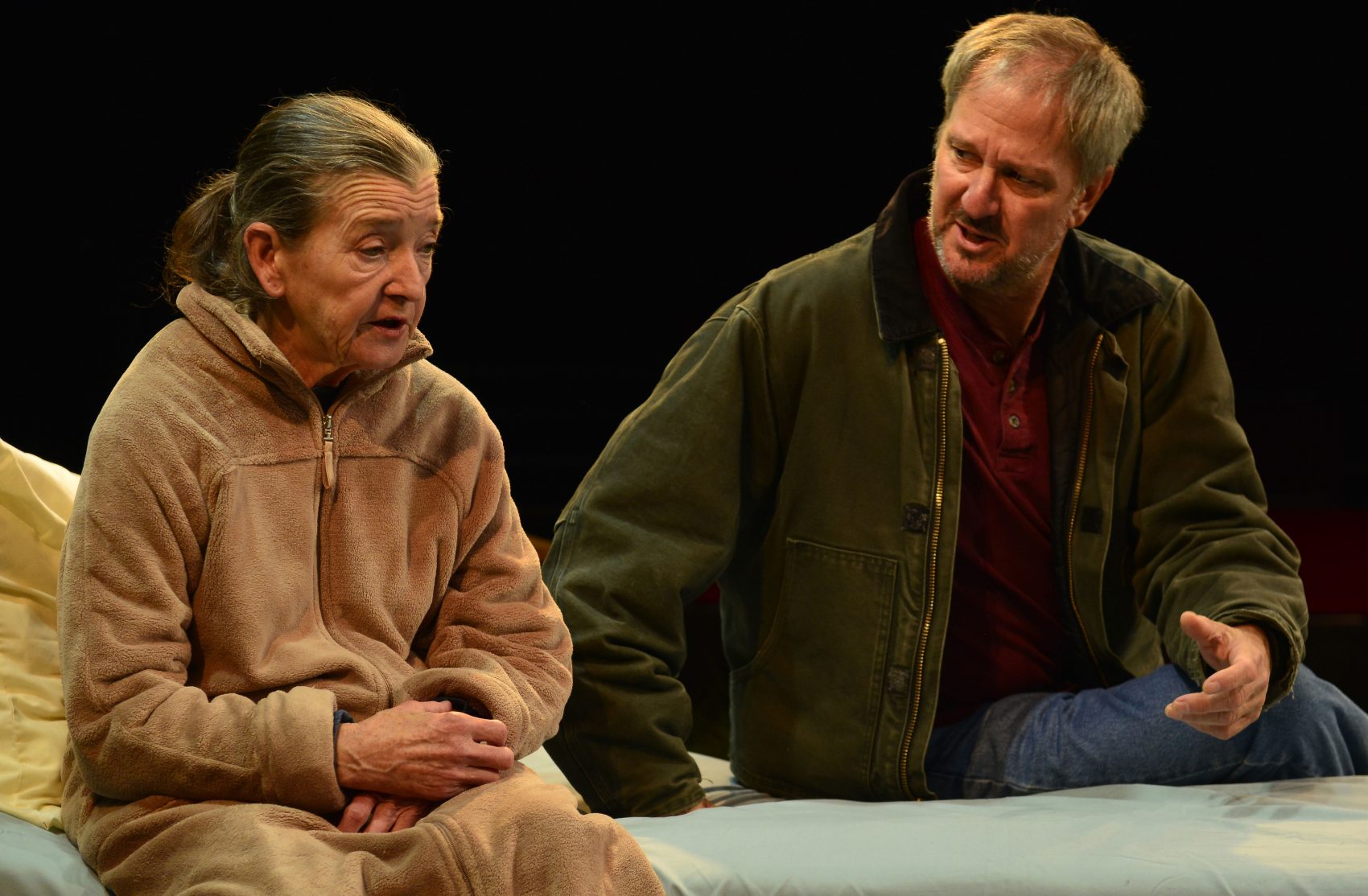 This article is more than 5 years old.
"Flight of the Monarch," a play making its world premiere at Gloucester Stage Company, gestures at a bunch of big, if extremely familiar, topics — the complicated strength of family ties (and inherited guilt) and the ethics of assisted suicide among them. But so much in this play is indeed so familiar, I had trouble locating the artistically urgent need to tell this particular story.
The strength of this production is undoubtedly the performances by its two actors, Nancy E. Carroll and J. Tucker Smith, under the direction of Jeff Zinn, who is also Gloucester Stage's managing director. Carroll and Smith play Sheila and Thomas, middle-aged siblings in a North Shore town that seems to be Gloucester or one of its neighbors. They wrestle with the weight of shared family trauma — their mother committed suicide when they were still kids — and Thomas' obligations to Sheila, who has recently found herself institutionalized for the second time. (There is a third sibling who remains offstage.)

Sheila is a tart one, but in Carroll's hand she seems not bitter but merely pessimistic. "I prefer the cold hard truth of reality," she says. Thomas is a fisherman, played by Smith with the hint of a North Shore accent. Thomas' childhood damage is perhaps closer to the surface; he still lives in the family home and seems particularly haunted by their mother's choice to end her own life. The character is meant to be a little less bright than Carroll, it seems, but Smith's sympathetic performance makes him the compassionate center of the piece.
"Monarch" is written by the actor-playwright Jim Frangione, who does laudable work in Western Massachusetts as one of a trio of co-artistic directors of Berkshire Playwrights Lab, which for 10 years has presented staged readings of new plays, free to the public. This play seems to move through a checklist of things that were once expected in American drama. It's a story about a white, dysfunctional family. (An aside in the script seems to specify that they are Irish-American.) There is a dramatically unveiled revelation from the past — in the form of a long-lost letter whose sudden appearance requires a thicket of awkwardly workmanlike exposition — that throws crucial light on the current dilemma. And there's even a big, broad metaphor embedded in the title and plopped into the story through a self-conscious anecdote.

More problematically, issues are introduced in the first act that are rather unsatisfactorily resolved in the second by the deus ex machina of the letter and an unexpected phone call, the latter containing the sort of surprise news that is too often used as a writerly crutch, particularly in television scripts.
There is a sibling dynamic here that many audience members will likely find familiar. The play has strong performances and some wonderful moments, like a chilling speech by Thomas about the perils of the fishing life, but in the end it feels underwritten. The final blackout, after two acts of less than an hour apiece, took me by surprise; I assumed another scene was coming. Carroll's Sheila and Smith's Thomas deserve a more fully realized telling of their familiar story.
---
"Flight of the Monarch" is at Gloucester Stage through Sept. 30.