Is It Addiction Treatment Or Prison? A Look Inside A State Center For Involuntary Commitments
Play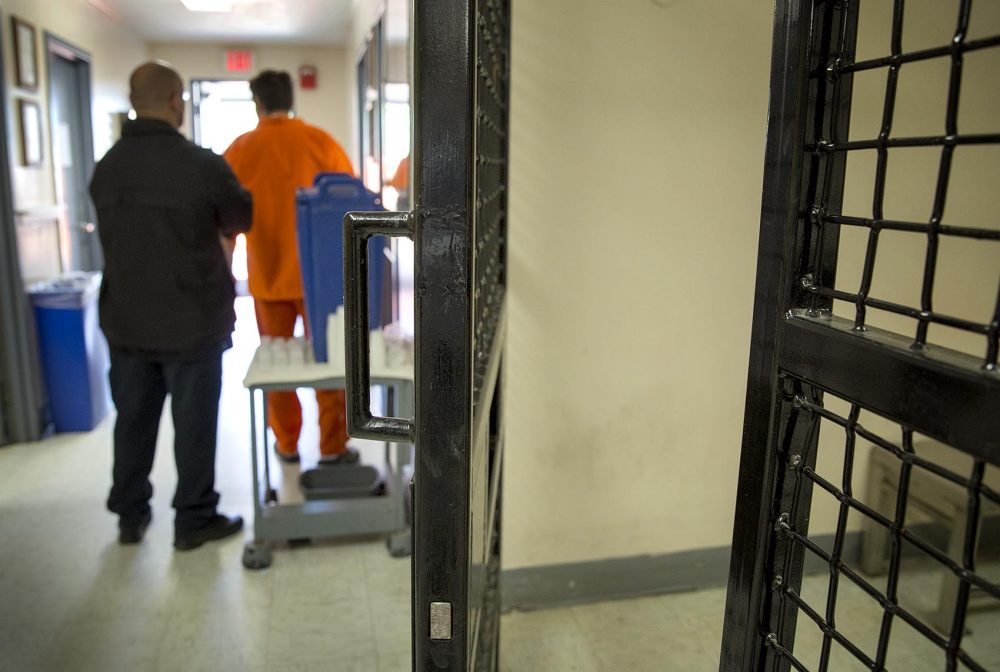 This article is more than 5 years old.
Share your experiences, and follow along with our reporters as they cover opioid use and treatment, by joining our Facebook group, "Living The Opioid Epidemic."
---
Enter the former Massachusetts minimum security prison in Plymouth and you might think it's still a prison. Men arrive in handcuffs, they wear orange jumpsuits, and they're monitored by correction officers.
But the men have not committed any crimes. They're at the new Massachusetts Alcohol and Substance Abuse Center — or MASAC — for court-mandated addiction treatment.
Each year thousands of Massachusetts residents go to court to ask a judge to take the controversial step of involuntarily committing someone else to substance use treatment.
Some say these commitments save lives, while others say forced treatment is ineffective and violates people's civil rights.
MASAC Plymouth opened in May. It's one of five places in Massachusetts where the courts send those involuntarily committed under the state law known as Section 35 — meaning a judge has decided that a person's substance use makes them dangerous to themselves or others. The center is the only Section 35 facility overseen by the state Department of Correction.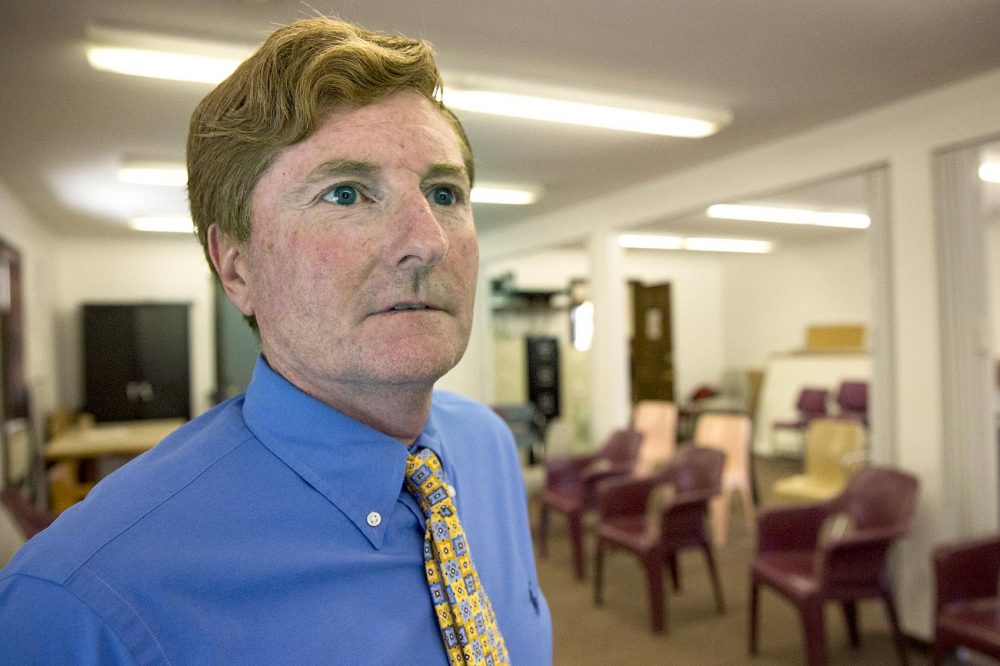 MASAC Plymouth Superintendent Tom Neville says vans full of men arrive from courthouses all over the state at all hours of the day, and the facility is usually operating at capacity, which is 250 men. Most of the men are addicted to opioids and most have been to treatment before.
Neville says the facility is not a prison; the men are dealt with compassionately and are there for help.
"I'm not treating criminals, they're not here serving a sentence," Neville said. "They are here for the sole purpose of treatment and getting them back into society."
The men stay for 30 to 90 days in small rooms, which are former cells with metal mesh on the windows, bunk beds and wooden foot locker-like benches. There are no common areas except for the hallways, which are loud and bustling with staff, medical personnel and patients. Many of the men congregate in a patient's room or in hallways in between their classes, programs and meals.
The treatment is provided by 17 substance use counselors who work for a private vendor. Neville says each man is assigned a counselor and treatment begins after a patient leaves the specified detox unit, which is typically after three to six days.
"Once they're off detox protocol, then can begin the actual treatment phase," Neville said. "First there is an introductory phase to help them understand addiction, second is the recovery aspect, and the last phase is relapse prevention and reentry. There are a number of different meetings here."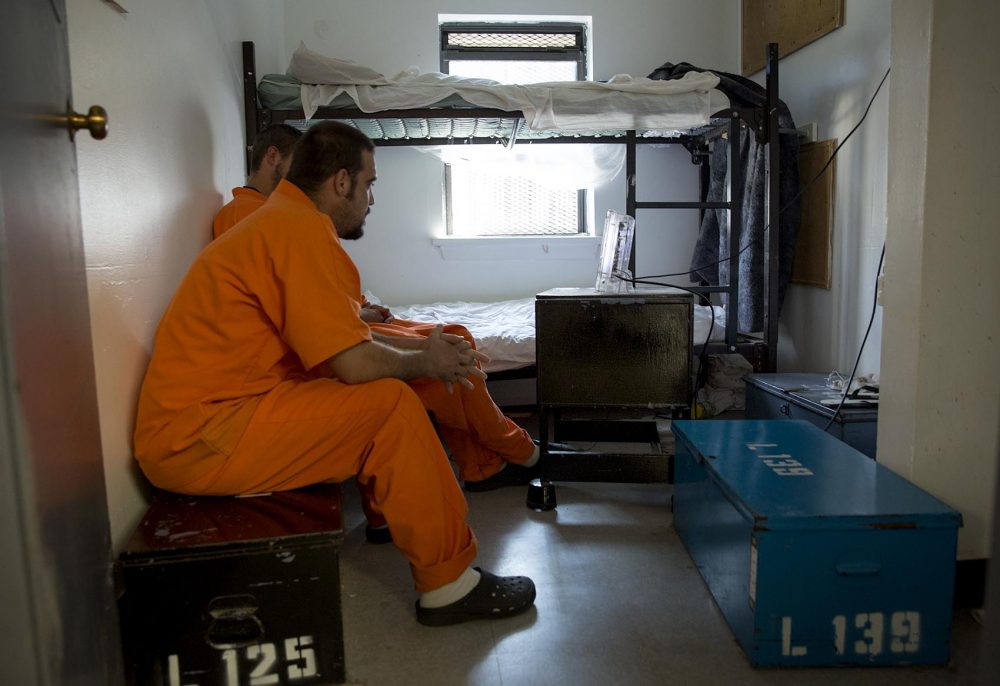 Some 100 correction officers work in Plymouth to help monitor the facility, which is not locked. But if patients misbehave or if there are concerns, there are padlocked solitary so-called "watch cells" to remove someone for a short time.
"[The watch cells are] for the patients' own safety and security," Neville said. "It might be we have information they might be harmed, or harm themselves. We have to take precautions and make sure they're safe. The primary goal is their treatment and their safety when they're here."
The facility was built in the 1950s and was called a "prison camp." It is inside Myles Standish State Forest, a bucolic setting around a rundown complex of buildings.
The prison never had barbed wire fencing, but it does now. Neville says the fencing is required after several men ran away -- or "eloped," as he calls it -- in the first two months after the program opened.
"The initial reason [to] put up the fence was basically the elopements," he said. "It's a bit of a deterrent for guys who just want to wander away and not participate in the program."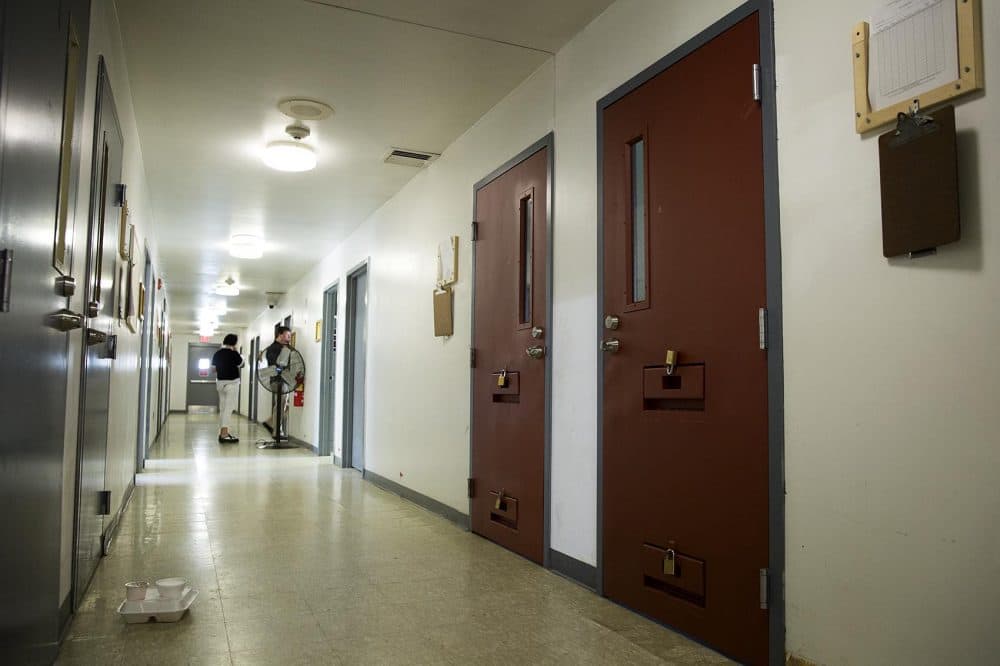 The elopements involved more than a dozen men, including Sean, who doesn't want his last name used in this story for medical privacy reasons.
Sean says he ran from Plymouth after he was there for a few days because of the bad conditions. When he was caught he was sent somewhere worse: a unit for convicted sex offenders at Bridgewater State Hospital.
"So I'm a Section 35 on a civil commitment and I'm housed next to someone who raped a mentally retarded 11-year-old girl and killed her," Sean said. "The whole time he's threatening me, threatening my family. These people are mentally ill and I'm withdrawing from methadone."
Sean says part of the reason he fled from Plymouth was because of his withdrawal from methadone, a medication used to treat addiction. Although many physicians recommend using medication for addiction, it is not offered at Plymouth because it is not licensed to distribute it. Medication-assisted treatment is available at some of the other state facilities.
Sean is not part of a group of men who filed suit after being placed in Bridgewater when they were caught running away from Plymouth. Because of that suit, the Department of Correction agreed only to send men from Plymouth to Bridgewater for extreme disciplinary reasons -- and only for a short time.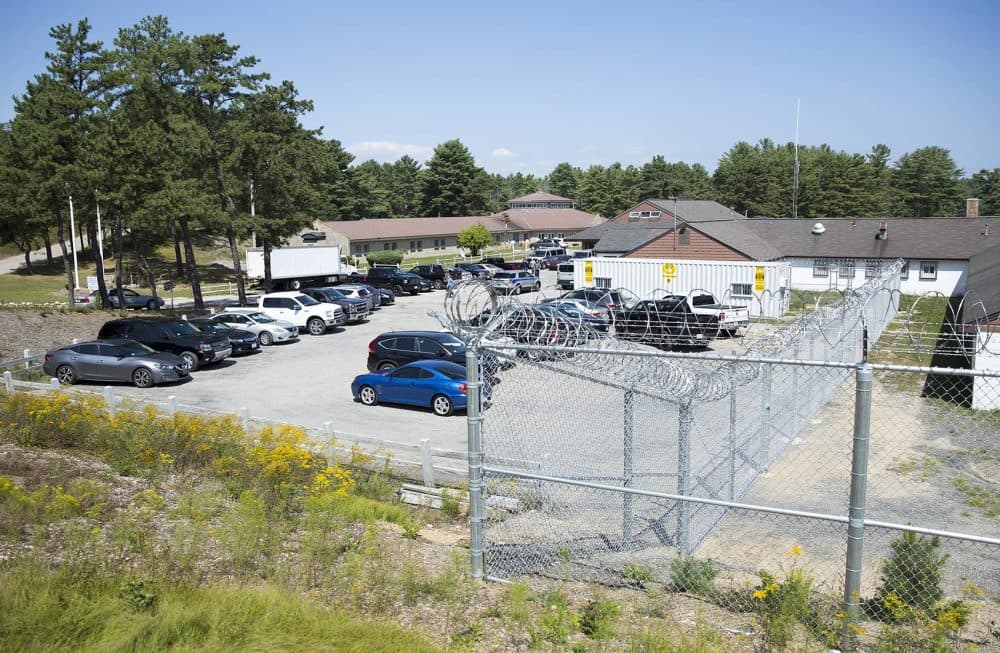 When we met with Sean at his home on Cape Cod, a few days after he was released from Plymouth, he said the overall experience -- which also included solitary confinement — was traumatic.
"I'm praying that I wake up and feel the same as before I went in there," he said. "I don't feel the same. I feel different, I have a lot more anxiety, I'm scared. I feel like I'm going to wake up and be back there."
Sean is now seeing a counselor and looking to get back on addiction medication. His wife Heather says she has concerns about the long-term effects of his experience.
"If families knew what it was really like there, they would never commit them to treatment," Heather said. "The state stopped sending women to the Framingham prison because they thought it wasn't fair to put addicts in prison, so why are they putting men there [in Plymouth]?"
The state stopped sending civilly committed women to the Framingham state prison last year after a lawsuit over their treatment. They are now sent to Taunton State Hospital.
Because of complaints like Sean's, prisoner advocates are interviewing some of the men at Plymouth and say at this point they have concerns about the conditions and about how addiction treatment is being administered in a correctional setting.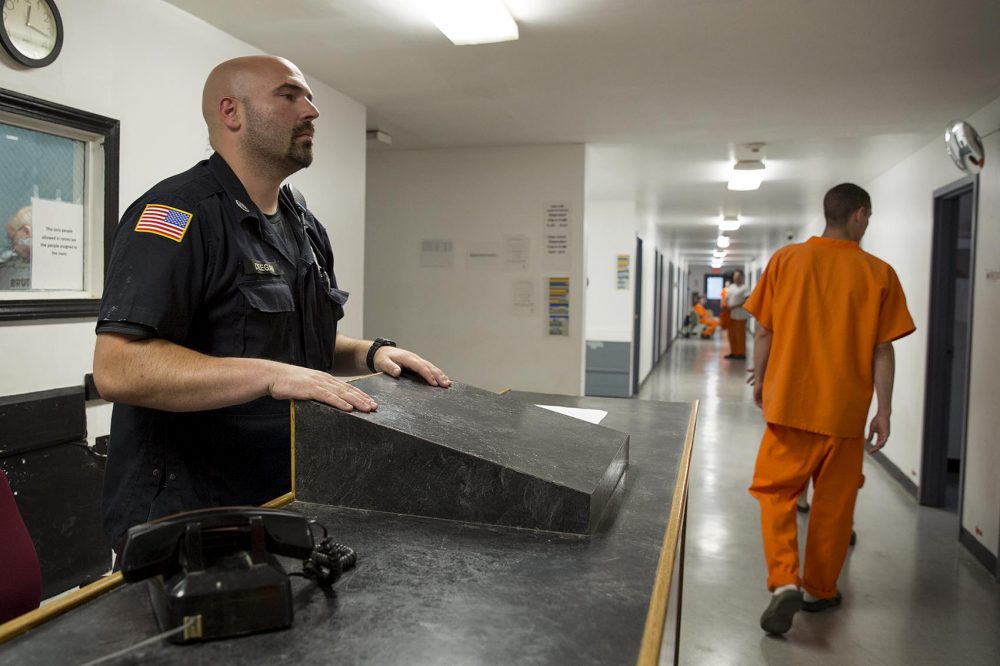 Nonetheless, proponents say civil commitments save lives. Patty Vehmeyer's 28-year-old son is currently at Plymouth.
"I had to do the Section 35 because that was the only way I could get him in somewhere for longer than two or three days," Vehmeyer said. "If I didn't do this for him, he wouldn't be alive today."
Vehmeyer is not allowed to visit him but she has paid for him to call her almost every day. She says her son is grateful that she committed him to treatment even though he complains that the facility is dirty and crowded.
"He's treated like prisoner, he eats awful food like the prisoners, but it's worth it because he's alive," Vehmeyer said. "I wish there was another option but there no other option."
Critics say that's the true problem: access to effective addiction and mental health treatment.
Leo Beletsky, an associate professor of law and health sciences at Northeastern University, says people are so desperate that they are willing to disregard someone's civil liberties to get any type of care, even if there is little evidence about whether it works.
"The treatment sector in the state, as well as nationally, is in dire need of reform," Beletsky said. "The answer is not to keep people by force in bad treatment but to put in treatment that is respectful and effective."
Massachusetts is one of 37 states that allows residents to be involuntarily committed for substance use treatment. An estimated 6,500 people were involuntarily committed in the last fiscal year, according to numbers from the Massachusetts Department of Public Health.
Department of Correction spokesman Chris Fallon says he understands the civil liberties concerns, but he says Plymouth is a last resort for people who typically have been resistant to treatment.
"This is the front line and these are the guys who have checked themselves out of traditional treatment places and their families are at their wit's end," Fallon said. "They come here and we're going to try to keep them here as best we can."
Fallon says using a prison for this type of facility makes sense, as the courts are involved in mandating treatment.
He also says the men in Plymouth are treated with respect and with a focus on drawing up a discharge plan to help them stay out of treatment — and out of prison.
This segment aired on September 13, 2017.