Lowell Man Who Spent 3 Decades In Prison For Fatal Fire Is Exonerated
Resume
A Lowell man who spent three decades in prison has been formally exonerated.
Victor Rosario was convicted of setting a 1982 fire in Lowell that killed eight people, including five children.
The conviction was based mainly on inspectors determining the fire was intentionally set and a written confession that Rosario says he signed because he was under the influence of drugs and alcohol and did not understand English.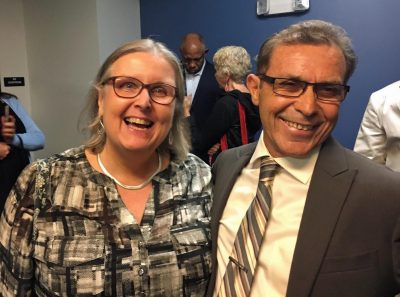 Rosario was released from prison three years ago after the state Supreme Judicial Court upheld a ruling ordering a new trial. The lower court judge said there were questions about his confession and about the fire investigation techniques used decades ago.
Then last week Middlesex District Attorney Marian Ryan issued a statement saying she would not pursue a new trial. That led to Wednesday's hearing. In just about two minutes, a Middlesex Superior Court judge formally cleared 60-year-old Rosario.
He says he's still processing the enormity of what happened.
"Mentally I know that it's over and I thank God for that," Rosario said Wednesday. "But at the same time, the emotional part, I think that's going to take a long time for me to say 'I'm free.' "
Rosario says the biggest change for him after Wednesday's hearing is that he will be able to speak freely.
"It's amazing to see 32 years of my life go away and never had the opportunity to truly come out and say how I feel, because everything you say can be used against you and sometimes it's better to keep your mouth shut."
The statement from District Attorney Ryan announcing the decision to drop the case cited "the passage of time and its impact upon the evidence."
"We have concluded that we cannot sustain our high burden of proof at a new trial," the statement added.
"They didn't want to admit we had won this case," said Andrea Petersen, one of Rosario's lawyers. "They could have reaped a lot of benefit if they had looked at this case and said what happened in 1982 was not evil or wrong — it was because of what the law was at that time and what firefighters believed at that time. Since then, in the 35 years since then, we've learned that the evidence was not correct."
While in prison, Rosario became an ordained minister and he now works at the Tremont Temple Baptist Church and lives with his wife Beverly Rosario. She waited for decades for her husband to be released.
"For me it was just something you do for someone you love. You do it every day," she said. "It's an enormous amount of time now that I look back on it."
Beverly Rosario says the experience did not make her bitter, but has inspired her to help others and help reform the criminal justice system. "There are lots of people in prison who are innocent," she said. "So the idea of making that one less person and making the system recognize ... that people aren't throw away."
Victor Rosario also says he's not bitter. He'll soon start operating a house for former prisoners to help them transition back to society. He also says he'll try to draw attention to wrongful convictions and the time it takes prosecutors to resolve cases.
"Every time you go to court, who pays for that? The taxes. And knowing that it's wrong and continuing to do the same thing. I'm going to close my mouth. It might be used against me."
The Innocence Program in the state public defender's office helped secure Rosario's release. He is eighth prisoner the program helped release in Massachusetts in the past four years.
This segment aired on September 13, 2017.