Baker And 9 Other Governors Ask Senators To Reject Graham-Cassidy Health Bill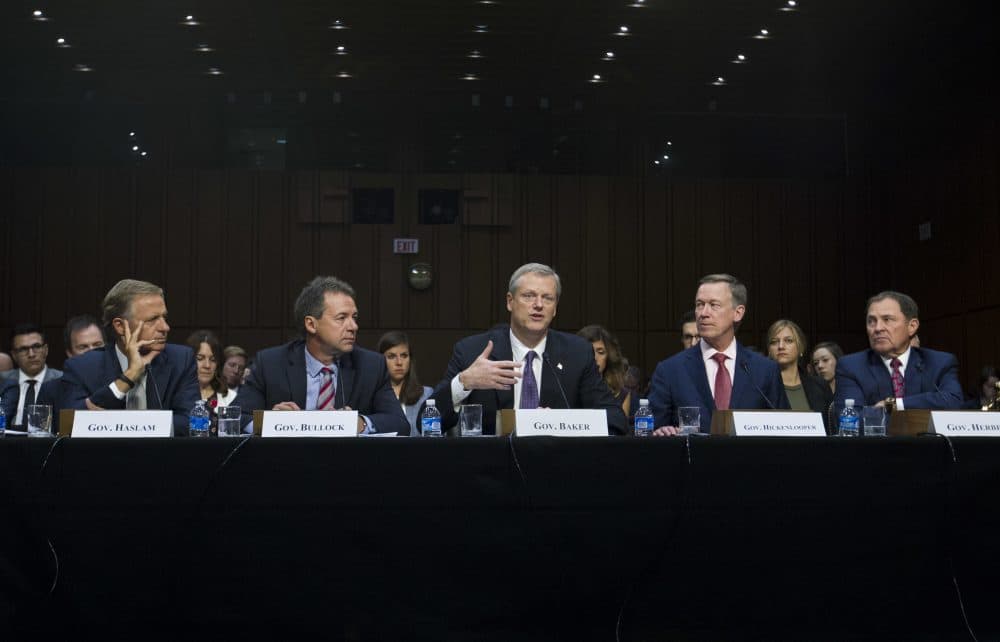 This article is more than 4 years old.
Once again, congressional Republicans are edging closer to a high-stakes vote on a proposal to repeal the Affordable Care Act and overhaul the U.S. health system, and once again, a bipartisan group of governors has asked those congressional Republicans to back away from that overhaul.
The latest effort is aimed at the so-called Graham-Cassidy bill, which may be put to a last-minute vote in the U.S. Senate.
In a letter dated Tuesday, Republican Gov. Charlie Baker and nine other governors ask Senate leaders "not to consider" the proposal. Instead, the governors renew their "support for bipartisan efforts to make health care more available and more affordable."
A day before, on Monday, Baker's office said in a statement that the Republican-led Senate legislation "would be damaging to the people of Massachusetts and cost the state billions of dollars in lost federal revenue."
Here's how NPR health reporter Alison Kodjak describes the bill:
Cassidy-Graham essentially deconstructs all of the major programs created by the Affordable Care Act, gathers up the money, and hands it over to states to run their own health care programs.

...

All the money that currently goes to those initiatives would instead be distributed to the states as block grants that would particularly benefit those states that did not expand Medicaid earlier and those states with lower health care costs.
While the nonpartisan Congressional Budget Office has said it won't have a detailed analysis on the legislation "for at least several weeks," experts expect the proposal would slash federal spending on health care and leave millions more people across the country without health insurance.
Its backers say the bill improves flexibility and financing equity for states. More from NPR's Kodjak:
Graham and Cassidy say their plan restores fairness to a system where currently more than a third of the money spent on the Affordable Care Act goes to just four states: Massachusetts, Maryland, New York and California.

Those states now get a disproportionate share of federal money because they have large populations, have expanded Medicaid, and because they have high health care costs in general.
Indeed, the left-leaning Center on Budget and Policy Priorities estimates that Massachusetts would lose about $5 billion in federal money by 2026 -- behind only California and New York in how much would be drained from state coffers.
Just 2.5 percent of Massachusetts residents were without health insurance last year, according to census data. That's best among states and well below the national uninsured rate, which is 8.8 percent.
In remarks Monday, Massachusetts U.S. Sen. Ed Markey said the Graham-Cassidy measure would "take a machete to Medicaid," State House News Service reported. His fellow Democrat, U.S. Sen. Elizabeth Warren, called the proposal "heartless."
Both Markey and Warren have signed on to a separate, Medicare-for-all bill.
In addition to Baker, the Republican governors who signed Tuesday's letter are: John Kasich of Ohio, Brian Sandoval of Nevada and Phil Scott of Vermont. Democratic Govs. John Hickenlooper of Colorado, Steve Bullock of Montana, Tom Wolf of Pennsylvania, John Bel Edwards of Louisiana are also signatories, as is Bill Walker of Alaska, an independent.
Kasich and Walker are notable because their respective states each have a GOP senator — Ohio's Rob Portman and Alaska's Lisa Murkowski — who is considered crucial to Graham-Cassidy finding the necessary 50 votes among Republicans.
Tuesday's letter follows Senate testimony earlier this month on health care, from Baker and four other governors, where Baker pressed a bipartisan approach to reforming the Affordable Care Act.
And if the letter sounds familiar, it's because it is. Baker and other governors have written many letters on health care to congressional leaders in recent months. For instance: In July, Baker and nine other governors urged Senate leaders to reject the so-called "skinny repeal" of the Affordable Care Act. A month before, seven governors, including Baker, wrote a letter decrying a health care package that emerged from the House.