There's No Big Top, But Today's Circus Performances Share The Same Spirit Of Playful Rebellion
Today's circuses don't look like they used to. A contemporary blend of circus and theater surpassed the animal-centric model of Ringling Bros. and Barnum & Bailey years before its final show.
But through their change and push for experimentation, contemporary circus companies — like The 7 Fingers currently performing "Reversible" at ArtsEmerson — share the same spirit of playful rebellion that once marked the world of the big top.
Traditional American circus, known for its spectacles, animal menageries and train caravans, was a powerhouse of performance in the 1900s. Shows consisted of flashy, cabaret-style acts celebrating the achievement of the performer. It was a very different, and, for some, a very attractive lifestyle of living on the social fringe.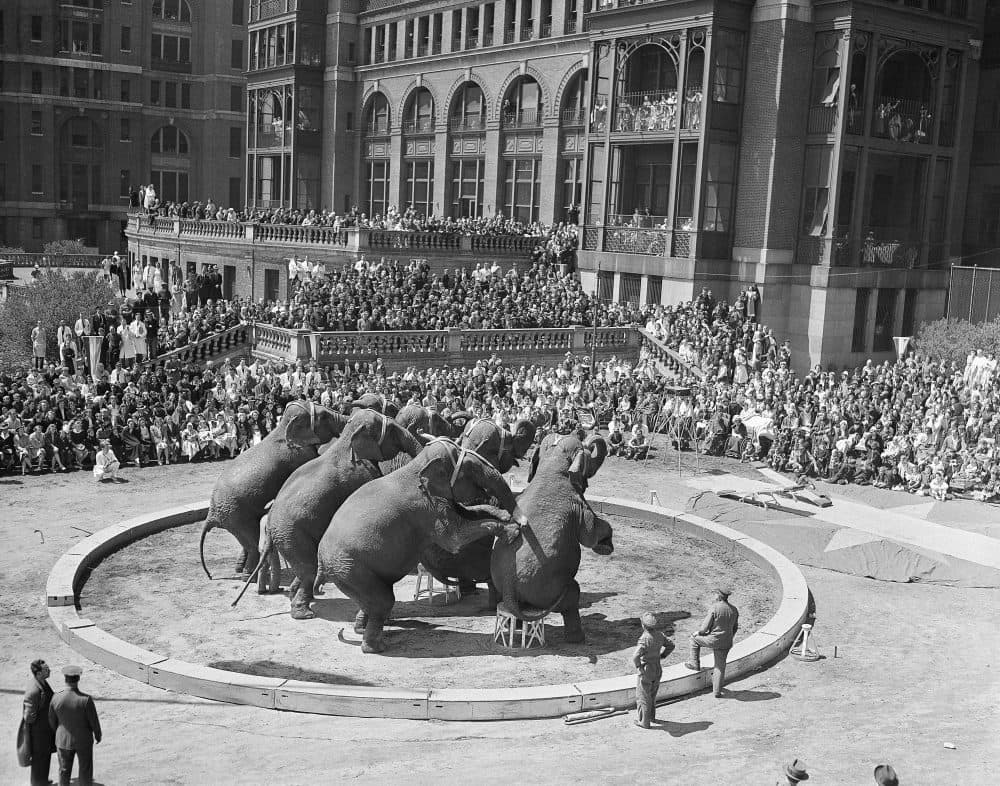 "The root of traditional [circus] is spectacular, death-defying, nomadic, romantic," says Gypsy Snider, co-founder of The 7 Fingers circus company. Snider was raised in the traditional circus — her parents founded the Pickle Family Circus in San Francisco. "Circus existed as a rebellious, outside of society, gypsy-like culture."
The traditional form struggled, however, failing to adapt under the weight of economic depression, war and, later, protest from animal rights activists. While it faded — the giant Ringling Bros. and Barnum & Bailey closed earlier this year — a new interpretation of the genre began to grow in its place.
"Contemporary circus made a real shift when it decided to use the discipline, like trapeze or juggling, to express emotion, not just showcase talent or skill," says Snider. "The woman on the trapeze, she's vulnerable. There's fear, courage, definition between heaven and earth, there's gravity — there's emotion in the theatricality of circus."
The 7 Fingers, or Les 7 Doigts De La Main as it was originally known in its home base of Montreal, fully embraces a foundation of emotional connection and experimentation in its productions. Snider and six friends founded the company in 2002, and together create a range of work from original productions like "Reversible," to Olympic performances and theater collaborations, all with a very distinct signature.
"The 7 Fingers performances are based on individual personalities of the performers — you feel like you get to know them," says David Dower, co-artistic director at ArtsEmerson. He contrasts that to Cirque du Soleil, another contemporary circus that achieves emotional expression through more fantastical creations — its most recent show in Boston was "OVO," which created the world of a bug colony to explore inclusion.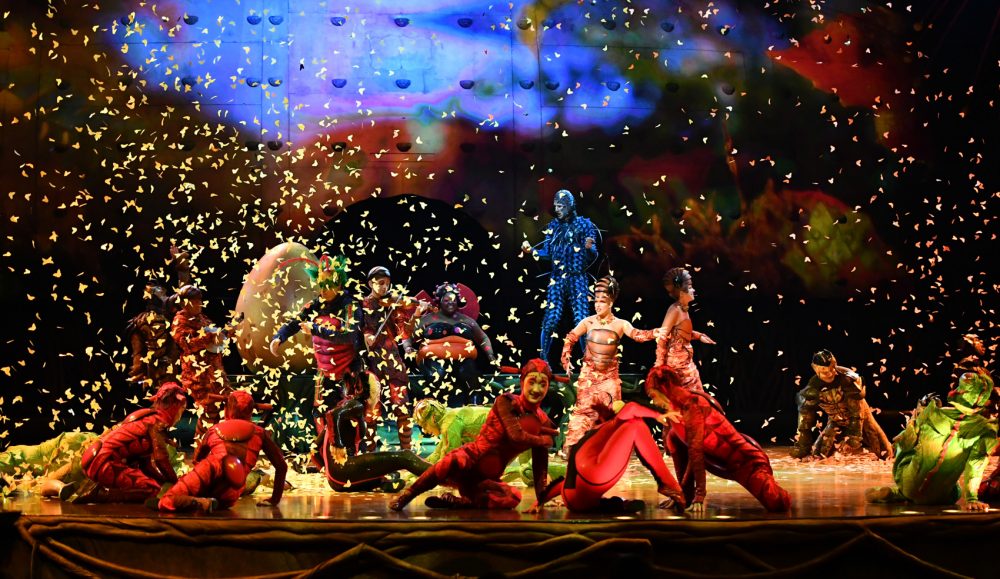 "Reversible" is constructed through personal narrative and circus acts expressing familial connections. The show pays homage to grandparents, and each performer tells the story of their own family members.
"Everything is taken from a true place," says Natasha Patterson, one of "Reversible's" performers. Patterson uses juggling and contortion to tell the story of learning about her grandfather, and by extension herself, for this show — they did not have a prior relationship.
"A lot of the things that happen in the past are both joyful and more somber," she continues. "We're representing life as a whole."
These new iterations of circus, whether intensely personal like "Reversible" or fantasy-based like Cirque du Soleil, are becoming more common. ArtsEmerson has had circus in its programming since its first year, and continues to invite The 7 Fingers for extended runs.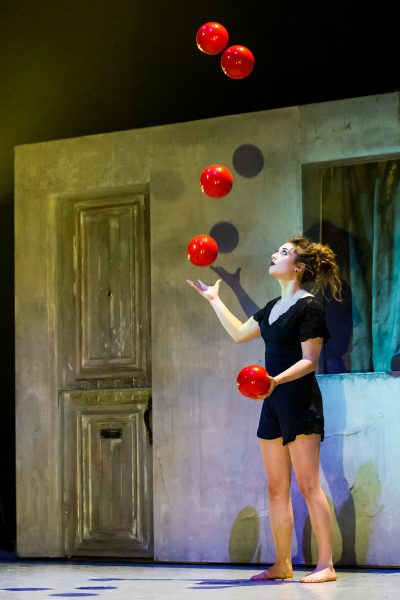 "In some ways, the work over the years has moved circus into the mainstream," says Dower.
"The line is starting to become fuzzier," says Patterson about the distinction between circus and theater performances.
For Snider, the increased popularity and blurred lines means there's more room to embrace the spirit of circus and push boundaries — a rebellion of its own against what an audience can expect of a circus performance.
"There's something very raw about circus: Where is the precipice? Where is the risk? Where is the danger?" she says. "We try to keep it in the way we run things — we try to maintain core values."
"It's disrupting what's expected for a theater to present," adds Dower. "It lives as an exchange of ensemble instead of individuality — and that's sort of counter-cultural in the U.S. where we celebrate the individual."
The disruption is clear in U.S. performances, where the difference from the original big top is obvious, but that distinction walks a finer line in other countries. Canada, home for both The 7 Fingers and Cirque du Soleil, has a history of investing more in circus experimentation — the country has a national circus school, and The 7 Fingers, functioning in part as a nonprofit, receives government funding.
"Circus in Canada is considered an art form worthy of taxpayers' money," says Snider, explaining that while interest is clearly growing, there is no infrastructure yet for widespread contemporary circus to thrive as mainstream performance in the United States.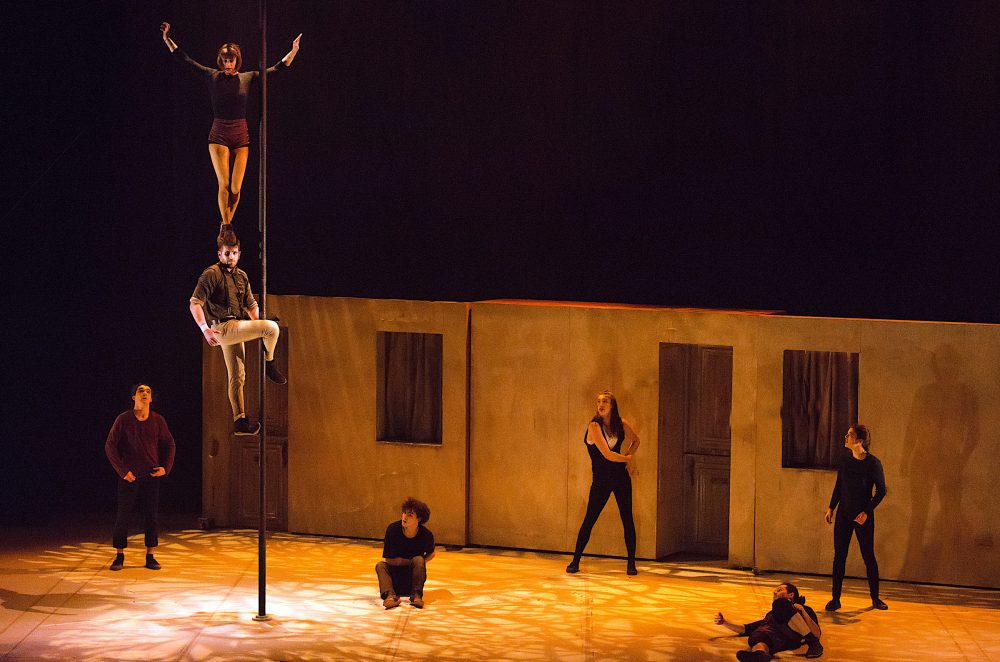 "It's a responsibility," she continues. "How are we going to take this art and give it back to society in a way that will be pertinent and stimulating?"
She is excited to keep pushing her limits, and the limits of circus, to answer that question.
"I think live art has an incredible future," she says. "I'm really excited about circus continuing to transform the theatrical experience — I think the audience is really looking for adventure."
---
The 7 Fingers' "Reversible" is at ArtsEmerson through Sunday, Sept. 24.