The Doctor Will Dis You Now — But With 'Doc Martin,' You'll Love Every Minute
There's a classic "Twilight Zone" episode called "A Stop at Willoughby," in which a middle-aged executive fed up with his life looks out his window and fantasizes what life is like in Willoughby, an old-fashioned Norman Rockwell-like town. He finally gets off there and it turns out that he died on the train with a smile on his face and he'll be spending the afterlife in this gentler, quieter place.
I don't know that I'd want to spend all of eternity in the Cornwall town of Portwenn, but I hope there's at least a pit stop there every year and I can go down to the pub for fish and chips, spend a night in the B&B and — like everyone else in town — get my daily dose of verbal abuse from the resident doctor while trying to convince him that I'm not an idiot.
Not your idea of fun? Then you've probably not seen the great British comedy series, "Doc Martin." For those of us who've joined the cult, the good news is that we don't have to wait an eternity to catch up on Doctor Ellingham, as he insists on being called, though everyone but the swooning local pharmacist goes the Doc Martin route. Season 8, or Series 8 as they call it, has just started streaming on Acorn TV (which is also available on other streaming services) and the DVDs will go on sale in December (just in time for you know what). No word on when it will be on Channel 44, via syndication. The first episode is available now and each of the last seven will start streaming on successive Thursdays (Wednesdays in the U.K.).
Despite being a terrific doctor, the doc was stationed in the small town because of his blood phobia, not a great one for a surgeon to have as phobias go. He's had his chances to leave, but having uncharacteristically fallen in love with Luisa, a local schoolteacher, he decided to stay. There's a family farm in Portwenn, as well, which is now presided over by the pitch-perfect actress Eileen Atkins as Martin Ellingham's aunt.
But then everybody in town seems perfect for their parts, starting with Martin Clunes in the title role. Interviews with Clunes on YouTube show him to be a fun, dog-loving guy who's the total opposite of the anal, cur-hating curmudgeon he plays so riotously on the series.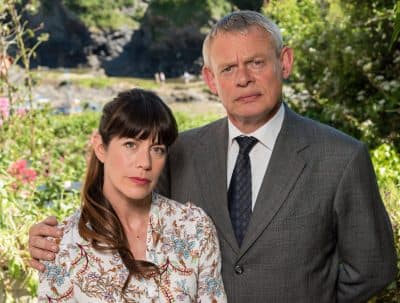 No one is more frustrated by Martin's complete lack of social graces than Luisa, played by the luminous Caroline Catz. "Miss, there's a weird man in the playground," says one of her students and you can guess who pops up in the next frame. Wisely, the writers seem to have lessened the strife between the two and stopped torturing viewers with Luisa's threats to walk away from it all. Not that they will ever be the dictionary definition of marital bliss, but their life together is more settled than unsettling as the new season begins.
Martin has even grown a bit — a bit — more compassionate. Their child, James, has uttered his first word and while it's obvious to us that it's "Doc," Martin tells Luisa that it's "dog" or "duck," hiding the fact that James has so fully bonded with him. If that isn't Bernard Shaw humor, it's played so beautifully by all concerned that it becomes one of those indelible "Doc Martin" moments that define the show.
The humor is broader when it comes to the villagers and if you were to ask Martin to name the No. 1 village idiot, it would no doubt be policeman Joe Penhale who has fallen in love with and is about to marry Janice (Robyn Addison), who could give him a run for his money for honors as the No. 1 imbecile. Beyond that, the two of them have nothing in common, including their age. When the new vicar – a woman, much to Joe's disgust — tries to gauge the depth of their feeling for each other before the wedding she bubbles, "Joe just asked me and I said, 'All right, why not?' " You can tell by the expression on the faces below that the wedding bells might be a little out of tune.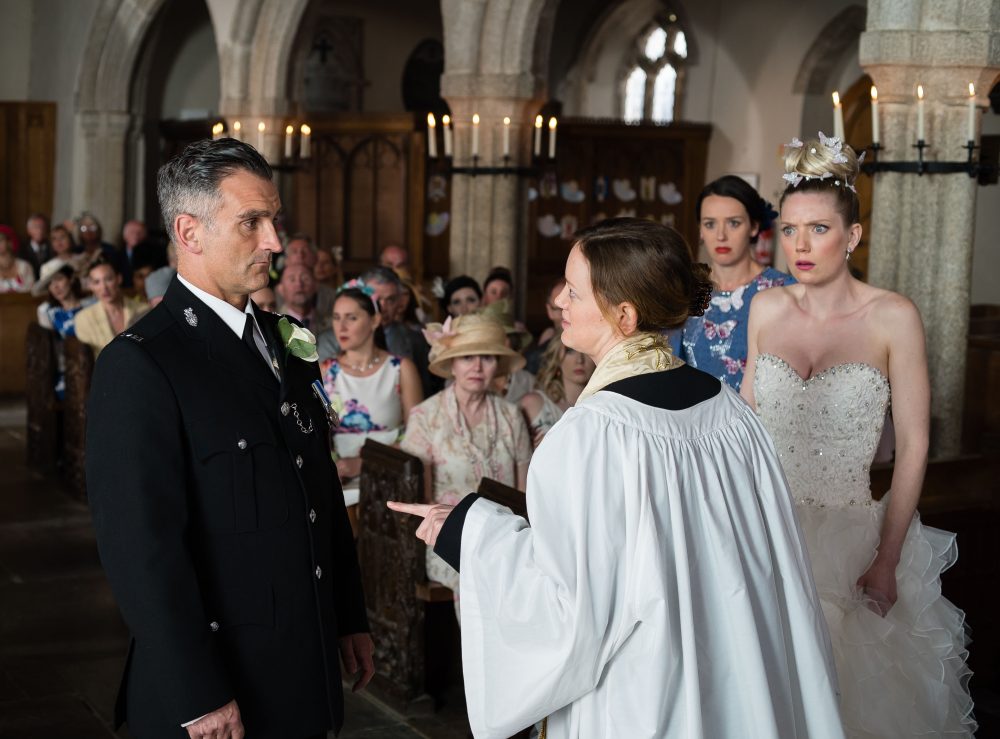 But the last word belongs to Clunes' good doctor, who is tending to a child toward the end of the second episode who, after she's diagnosed with some exotic-sounding problem, asks, "Am I going to die?"
Luisa, ever the nurturer, consoles her with "No one's going to die." Martin, as affect-less and socially clueless as always, counters, "Yes you are. Everyone's going to die." Before adding, "But not today." "Doc Martin" is back; life is good.
---
"Doc Martin" streams on Acorn TV and Roku, Apple TV, iOS, Android, Chromecast and Amazon Prime's Add-On Channels.