It'll Be Walsh Against Challenger Jackson For Boston Mayor
Resume
It will be Mayor Marty Walsh facing off against City Councilor Tito Jackson in November.
As expected, the two were the top vote-getters in a field of four candidates in Tuesday's preliminary election in Boston.
As the incumbent, Walsh is heavily favored to win in November, but Jackson has a chance to make history and become Boston's first black mayor.
At just 14 percent, voter turnout was very light Tuesday. But for Walsh and Jackson, who used to be political allies, it was a big night.
Walsh took 63 percent of the vote to Jackson's 29 percent, and Walsh celebrated with supporters at a union hall in Dorchester.
"We won 212 out of 255 precincts. That's 83 [percent of] precincts and neighborhoods in the city of Boston," he said to cheers.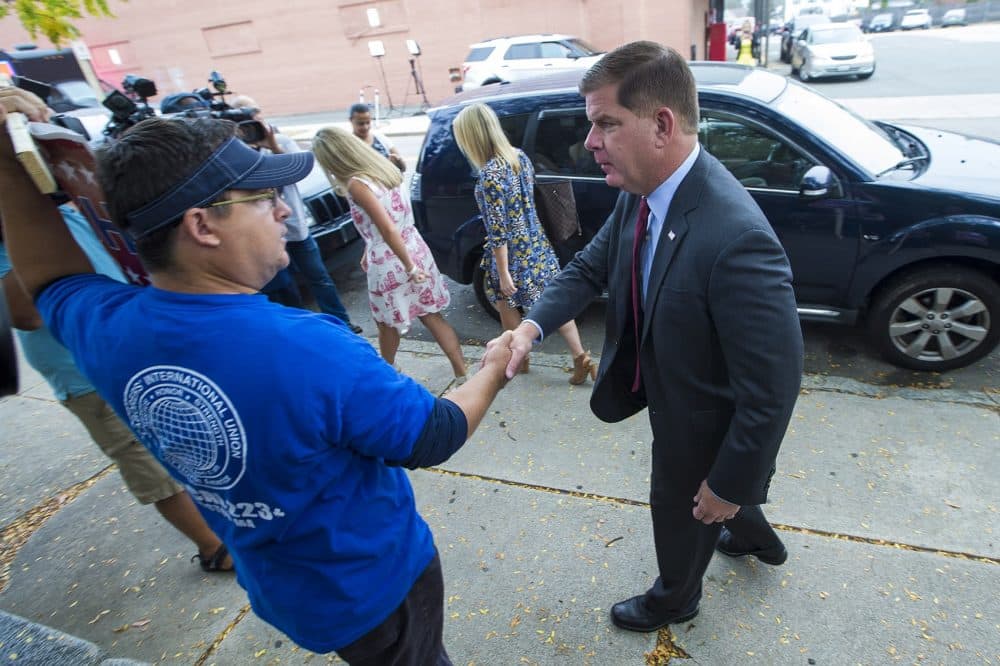 Walsh made a case for a city on the rise under his stewardship. He took credit for new jobs, more housing, fewer homeless people, a AAA bond rating and a booming business economy.
"We have new companies like GE and Lego and Reebok coming into our city and taking our economy to the next level," Walsh said. "We used that growth to fund more of our schools, more job training in our neighborhoods, more resources to our parks and playgrounds and libraries than they've ever seen before in this city's history."
Walsh is asking voters to judge him on his record, and boasted of a thriving city, and of a glass more than half full.
By contrast, Jackson sees a glass half empty — a city that works for some, but leaves too many people behind. The city councilor from Roxbury won less than half as many votes as Walsh, but enough for the right to challenge him in November.
"We don't need corporations to save us," Jackson said. "And what was proven today is that people won over power, ladies and gentlemen."
Jackson's populist message includes a $15 minimum wage, more spending on schools, expanding affordable housing, and abolishing the Boston Planning and Development Agency, which he calls "undemocratic."
"In addition, we have over a 30 percent increase in murders. We have a huge increase in shootings," he said. "And in my administration, we will make sure that a life on Blue Hill Avenue will mean the same as a life on Commonwealth Avenue."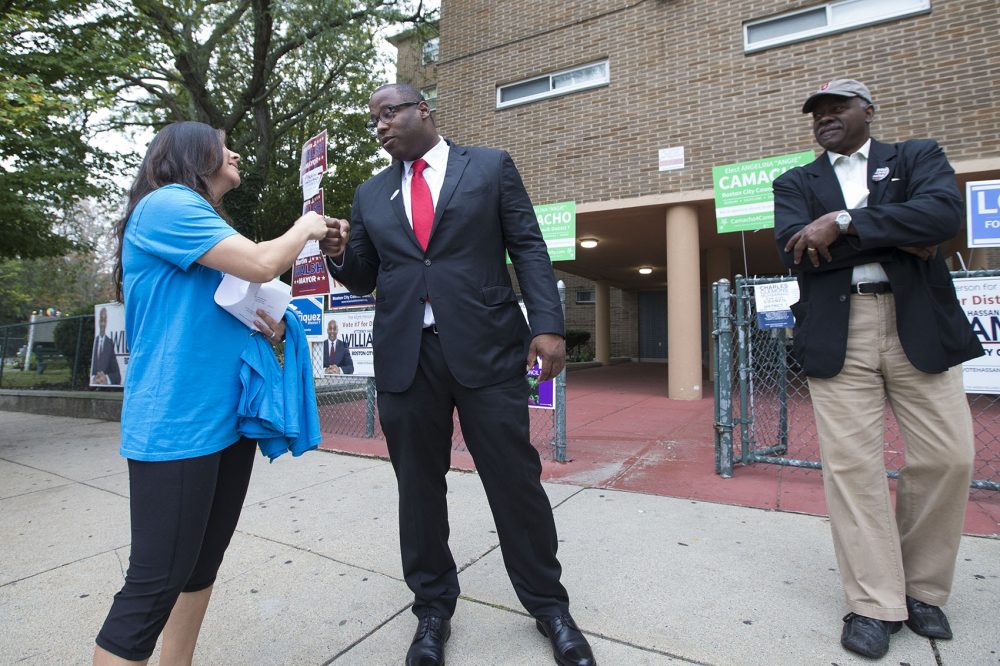 Jackson was former Gov. Deval Patrick's political director, and is now the first African-American mayoral finalist since Mel King ran unsuccessfully against Ray Flynn in 1983. As a councilor since 2011, Jackson has represented Roxbury, parts of Dorchester, the South End and the Fenway.
And he's counting on supporters like Maria Dolorico of the South End.
"He's really going to be the one who fights for those who are left behind by Boston's growth," Dolorico said. "There are all these high rises going up, businesses coming to Boston, and I want to make sure that everybody gets a part of that. And I think Tito Jackson will do that."
But beating an incumbent mayor in Boston is historically difficult — especially when that incumbent is as well-funded as Walsh, who has millions in his campaign account, and support from the Democratic Party establishment.
And as the preliminary election proved, Walsh has plenty of supporters across the city — people like Cassy Martorana of East Boston.
"I love Marty Walsh, and I've been with him from the very beginning," Martorana said. "I like what he's done here in the city of Boston. He had a hard act to follow. I was a Menino girl for 20 years. And he did a good job. Picked up in a tough place and made it work."
There were two other candidates in the preliminary election who will not advance to November. Robert Cappucci, a retired Boston cop, won 7 percent of the vote. And Joseph Wiley, who works for MassHealth, captured less than 1 percent.
For their parts, Walsh and Jackson say they're looking forward to a robust discussion of the issues in the weeks ahead. So the race for mayor of Boston is on.
With reporting by WBUR's Fred Thys
This segment aired on September 27, 2017.