Boston Public School Officials Think Out Loud To Prepare For Students Displaced By Hurricane Maria
Play
This article is more than 5 years old.
Boston Public School officials say they are expecting many young Puerto Ricans to arrive in the district in the wake of Hurricane Maria. On Thursday, the district and its partners got together to anticipate the needs of those students and their families, and brainstorm how they could meet them.
Normally, Sonia Gomez-Banrey runs an early-education program for Boston Public Schools. But today, she's thinking about the destruction in Puerto Rico.
She was born and raised in Boston. But her family, including her mother and grandmother, are stuck, safe but out of reach, on Puerto Rico's southeastern coast — right where Hurricane Maria made landfall.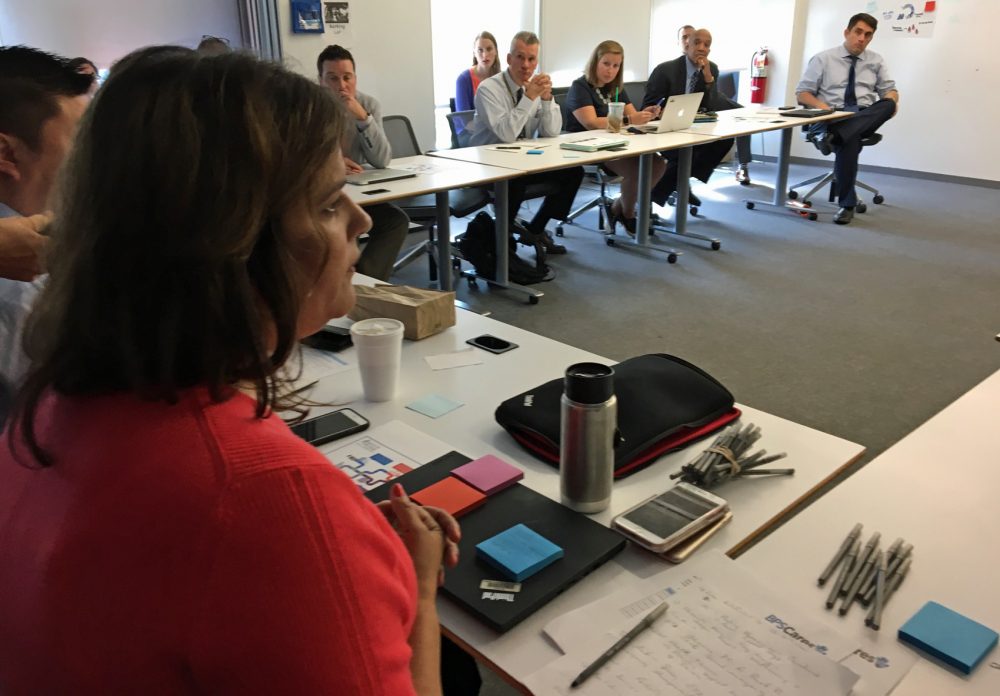 She takes out her iPhone and shows pictures of her family's home before the storm, surrounded by dense vegetation. Then she scrolls to a recent photo. The house sits alone on a hill. The bushes and trees are all gone. It's an apocalyptic picture. "I used to get coconut water from those palm trees, and there's nothing there. So..." she trails off.
She wonders how those scenes of loss must have looked to young people who lived through them -- young people who could be on their way to Boston as early as next week.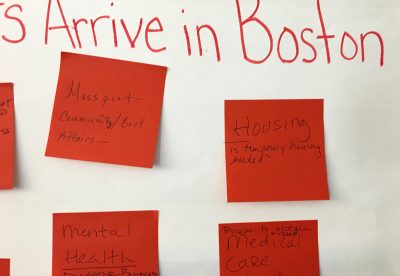 For now, the district and their partners are guessing at the needs of those students and their families. But they're educated guesses, informed by the aftermath of Hurricane Katrina and the earthquake in Haiti.
It starts with a brainstorming session at the district's Dudley Square headquarters. Superintendent Tommy Chang, pastors and city officials walk around the room posting sticky notes on the wall. They're imagining what students might need.
Alexandra Oliver-Davila, who sits on Boston's school committee, reads them off: "We need clothing appropriate for fall and winter. We need Spanish-speaking staff." Also on the board: health records, vaccinations, food and language resources.
Oliver-Davila helped put this meeting together on a tight schedule: "I was at the gym," she laughs. "I was working out and seeing everything that was happening on the news." Shortly thereafter, she says she called Chang to start inviting participants.
Like many others present, Oliver-Davila says she worries about the psychic toll that all that destruction can take on affected young people.
"I just think of my little 8-year-old, and how traumatized she would be," she says. "And how, as an adult, I would kinda have to hold it together so that she'd be OK."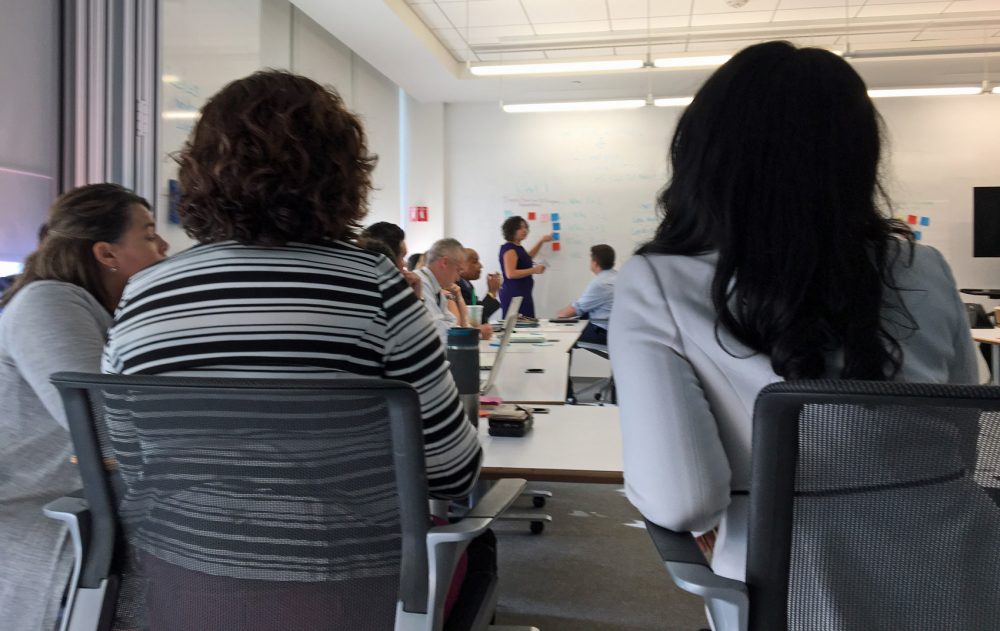 Coping with student trauma is a fact of life for districts like Boston, with immigrant students arriving every week from parts of Central America and Africa marked by violence and poverty.
But then there are the big disasters that send hundreds of students into the district. The district arrived at this all-hands-on-deck brainstorming process — bringing in representatives from across the city's civic leadership — after Hurricane Katrina and the earthquake in Haiti.
But it's not always easy. Farah Assiraj, the director of organizing at the Boston Teachers Union, says the district feels the pain of budget cuts especially at moments like this: "We need more social workers, we need more counselors, we need more psychologists — we need the resources."
As the meeting concluded, all present — from city officials to pastors — pledged to provide services and support to the incoming students and their families.
Sonia Gomez-Banrey says that attitude gives her pride in her hometown.
"When you call people out to help in this city, you will get that, which is one of the things I really appreciate about being a Bostonian," she says.
For now, though, what kind of help will be needed is something of a question mark. No one is sure how big the incoming group of students will be. But given the size of Boston's Puerto Rican population and the scope of the devastation inflicted by Maria, it's expected to be large.
District officials say that they expect the first new arrivals as early as next week.
This segment aired on September 28, 2017.