In An Era Of Protest, HONK! Fest's Activist Roots Come Into Focus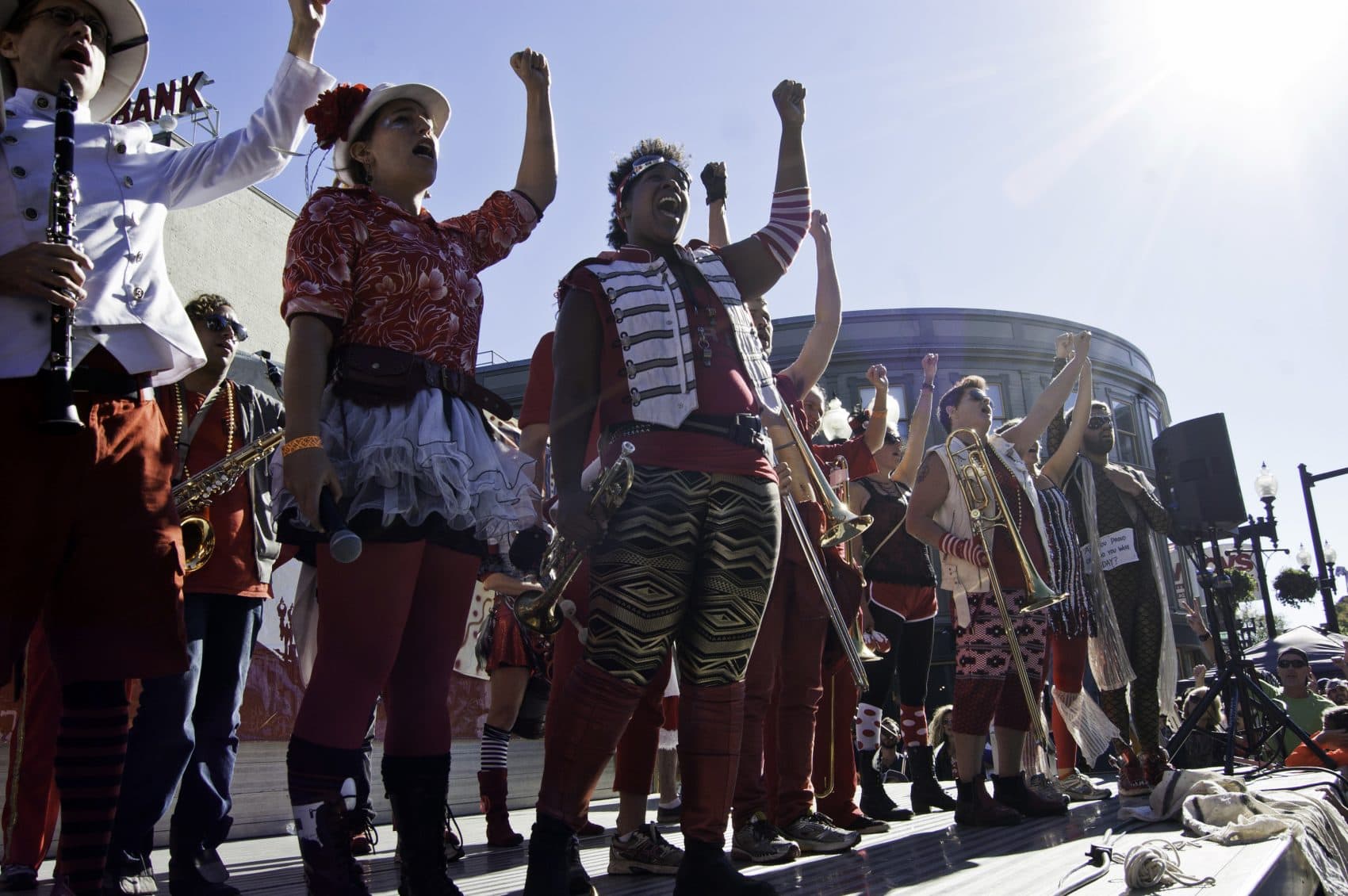 This article is more than 5 years old.
In the aftermath of Donald Trump's election, Nat Hefferman's life followed a path familiar to many on the political left. "At first it was surprise and confusion," he says. "And then a kind of resolve."
Luckily, Hefferman, who is a member of Providence's Extraordinary Rendition Band and the Boston Area Brigade of Activist Musicians, had a ready outlet for such feelings. When the call came, all he had to do was grab his baritone sax, don a pink knitted hat and hit the streets of Boston for the Women's March.
Groups like the Extraordinary Rendition Band — mobile, brass-centric, riffing on the funky heartbeat of New Orleans second lines and the syncopated rhythms of Balkan brass outfits — have been a ubiquitous presence in the past year's equally ubiquitous protests. These raucous, sprawling ensembles are casually referred to as "honk bands," so named because of Somerville's annual HONK! Festival of Activist Street Bands, which returns for its 12th incarnation this weekend. (Here's our guide.)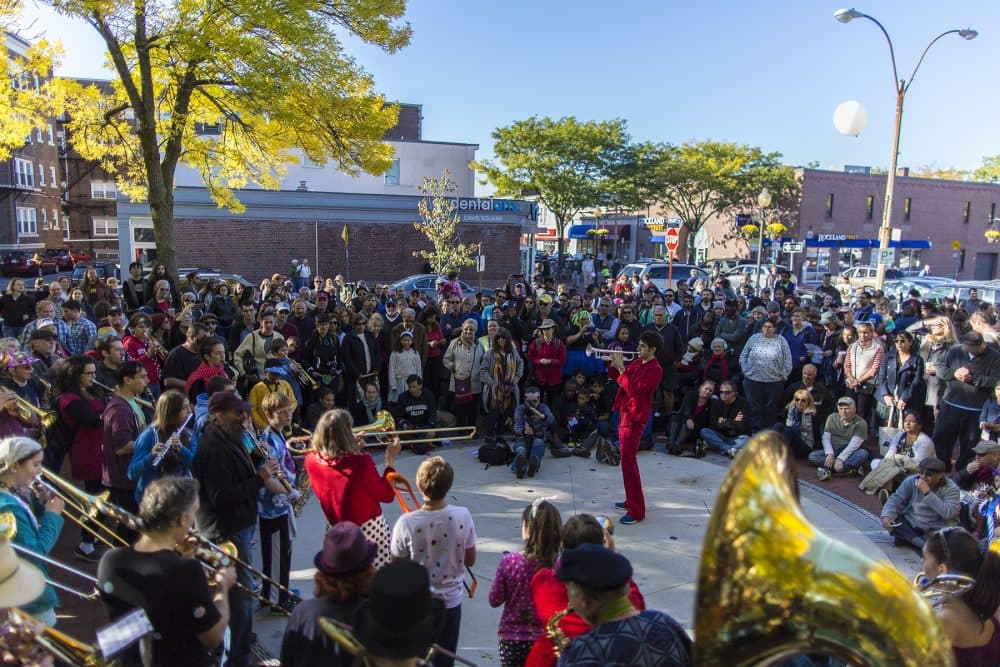 HONK! has always displayed its activist roots proudly, but this year is apt to feel a little different. "I think people are feeling more concerned than ever," says HONK! committee member Ken Field, who plays saxophone in Camberville's Second Line Social Aid & Pleasure Society Brass Band.
After the election, he says, the group was "inundated" with requests to perform at protests and demonstrations. Likewise, many bands will arrive at the festival this weekend exhausted from unprecedented levels of political engagement.
Wander through Davis Square on Saturday afternoon of the festival, and you'll be pleasantly buffeted by the musical crossfire of up to seven different bands at once, each jubilantly dancing to the beat of its own drummer(s). The effect is that of a carnival or a street fair, not a protest. But follow many of these bands home, and you'll find them on the front lines of climate marches, heading up anti-eviction protests and supplying the soundtrack for pro-DACA rallies. Looked at this way, the giant musical block party that is HONK! is also a celebration of what is probably the most vibrant incarnation of the protest music tradition in America today.
And, as bands have gained experience at larger and more frequent protests, their techniques have begun to evolve. Players tend to share a certain amount of repertoire, much of it based in the New Orleans brass band tradition. But few of the common tunes are protest songs per se. Instead, bands have begun to integrate marchers' slogans into their performances, every now and then dropping out a melody and letting the rhythm section carry the chant. In this way a rendition of "When The Saints Go Marching In" morphs into a rallying cry — "Show me what democracy looks like/ This is what democracy looks like!" — and back again, a seamless intermingling of joy and dissent.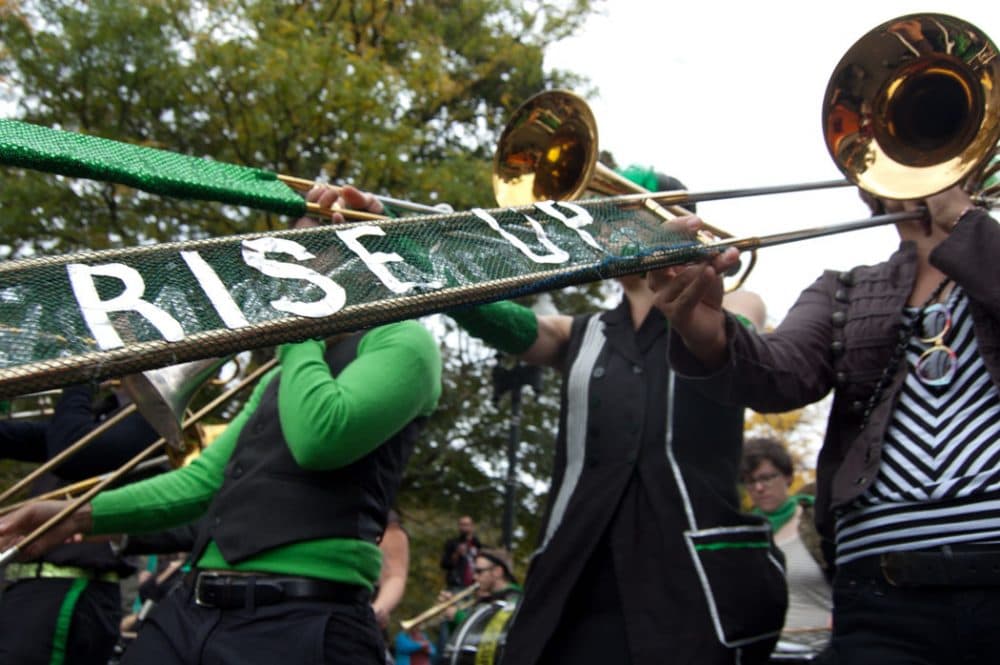 HONK! was founded in 2006 by members of Second Line. Originally conceived as a meeting place for mobile street bands aligned with lefty causes to network and jam, the festival has since ballooned into a three-day extravaganza bookended by celebrations in Lowell and Providence, and spawned a movement of like-minded festivals as far afield as Seattle and Rio de Janeiro.
You don't need a honk band in order to protest, but it definitely helps. For one thing, the bands attract media attention. For another, they increase turnout. Add a 20-piece marching band to a small gathering of striking workers and you've doubled the size of the demonstration. But most importantly, honk bands are loud. "It draws attention from the neighborhood," says Marie Ghitman, who plays trombone in several Boston-area brass bands. A few weeks ago Ghitman joined some fellow musicians at a vigil for tenants facing eviction in East Boston. As the protesters wound their way through the streets, the band struck up a tune. "People came pouring out of their houses to find out what was going on," Ghitman recalls.
Ghitman finds herself at many such protests thanks to the Boston Area Brigade of Activist Musicians, or BABAM. The group was conceived in 2016 by Reebee Garofalo, a drummer in Second Line and a member of the HONK! organizing committee. Garofalo wanted to create an easy way for musicians to mobilize for protests when a full band wasn't available. He imagined something akin to an emergency fire brigade — a ragtag collection of activist musicians ready to answer the call at a moment's notice. Some fellow players took up the project, and BABAM was born. After the election, the group was flooded with gig requests. "We could've played four times a week this year," Garofalo says. "You could feel the temperature rising." BABAM membership increased from a dozen or so musicians to nearly 200.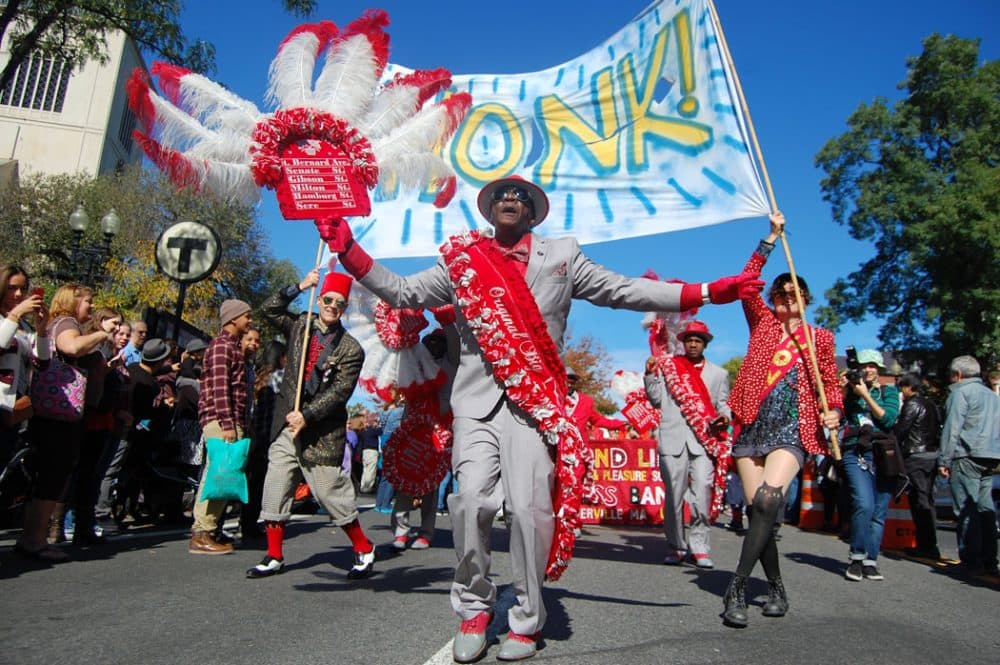 This weekend, BABAM will be one of a number of bands to participate in political actions coordinated by HONK! and local activist organizations. The HONK! committee began including elements of protest to the festival only a few years ago. "As the festival grew, we thought, well, if we're calling this a festival of activist street bands there should be some kind of activism and political statements within the festival itself," Garofalo says. This year, HONK! bands will perform at a protest against rooming house evictions in Revere on Friday and a rally at the ICE detention center in Boston on Sunday.
"It's a particularly moving demonstration," Garofalo says of the ICE protest. A highway overpass brings pedestrians level with the rooms where detained immigrants are held in the looming Suffolk County House of Corrections. "Once the bands start playing, you can see the lights going on and off in the cells to the beat of the music," Garofalo says. "It's really quite amazing."
The ICE detention center demonstration has been a HONK! mainstay for the past few years — well before the activities of the federal immigration agency were regularly front page news. Still, the first several months of the Trump administration have proven galvanizing for many honk bands, some of whom, like Providence's What Cheer? Brigade and the Extraordinary Rendition Band, have begun to put more emphasis on activism and think more deeply about protest praxis.
But even in the wake of massive demonstrations and amid a heightened political climate, HONK! organizers say that little has changed about the mission of the festival or its bands. Like a volunteer fire brigade, they've always been prepared to act. "We were doing, I think, the right thing before," Field says. "And I think we're doing the right thing now."