'The Florida Project' Is A Boisterously Funny Heartbreaker Of A Film
Dedicated to the memory of George "Spanky" McFarland, writer-director Sean Baker's "The Florida Project" is a modern day "Our Gang" set in a tacky welfare motel on the outskirts of Orlando, just a stone's throw from Walt Disney World. This boisterously funny heartbreaker of a movie follows three little rascals making mischief and wreaking havoc during a poverty-stricken summer in the shadow of the happiest place on Earth. I laughed and I laughed until all of a sudden I couldn't stop crying.
Baker's previous picture, the bawdy and beautiful "Tangerine," spent a rambunctious Christmas Eve with transgender sex workers on the skids of West Hollywood. He and his regular screenwriting partner Chris Bergoch have got a gift for spotlighting marginalized people without any of the po-faced handwringing that sinks so many well-intentioned depictions of the downtrodden. Their movies buzz with the grungy electricity of lives lived on the hustle, suffused with sincere curiosity and compassion. Though often foul-mouthed and filthy, these films feel decent in the best sense of the word.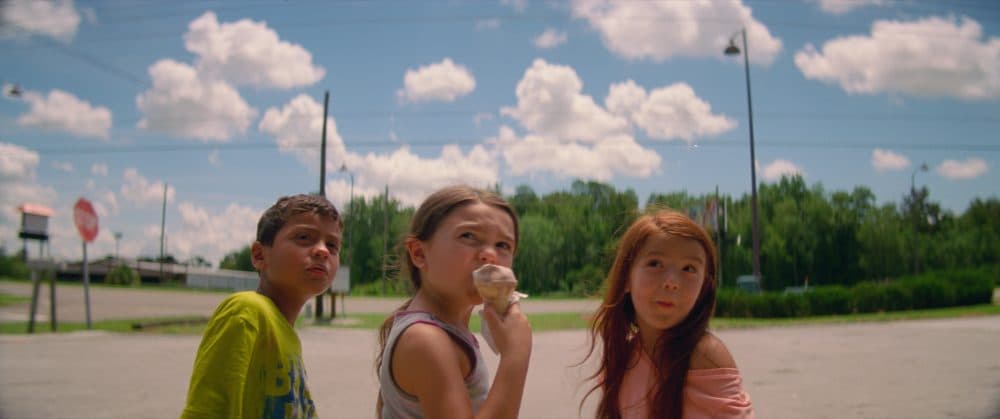 Six-year-old Moonee, played by the indomitable Brooklynn Prince, is the terror of The Magic Castle Inn — a $38-a-night, electric-lavender eyesore out on Route 192, where a nearby helicopter pad offers vacationers 10-minute rides for $15. Bratty Moonee and her pals Scooty (Christopher Rivera) and Jancey (Valeria Cotto) spit on cars, torment tourists and generally make life miserable for Bobby, the motel's exasperated manager, played by a delightful Willem Dafoe. He's like Mr. Wilson with a building full of Dennis the Menaces.
"The Florida Project" is rather remarkably able to maintain two points of view at the same time. Through Moonee's eyes, we see The Magic Castle and its run-down surroundings as a massive playset aglow in shimmery, ice cream colors. The abandoned housing developments nearby offer untold opportunities for adventure, as do the everyday swindles and scams to which these families frequently must resort to get by. Kool and the Gang's "Celebration" serves as the movie's theme song, but the party goin' on right here ain't built to last throughout the years.
Moonee's mom Halley (the fine first-time actress Bria Vinaite) recently lost her job dancing at a local gentlemen's club and has been making rent by borrowing money from friends while selling knock-off fragrances in nearby country club parking lots. Halley's a real handful, often as obnoxious and immature as her daughter, but also a genuinely loving person who was never quite equipped to handle this much responsibility. Then Bobby notices all the extra cash she's suddenly started flashing around without ever seeming to leave and go to work.
It may be impossible to overstate just how wonderful Willem Dafoe is in this film. Bobby's had it up to here dealing with bedbugs and broken ice machines, but he clearly loves these little brats even when they're driving him nuts. It's from his clear-eyed perspective that we see The Magic Castle's ragged edges and the dangers lurking all over what these kids perceive to be a playground. There's a scene in which Dafoe spots a creeper lurking around the children that ranks with some of the finest, most layered work of his formidable career. But he's just as indelible in the movie's lighter moments, like when Bobby's shooing flamingos out of the driveway and cracking up at his own jokes.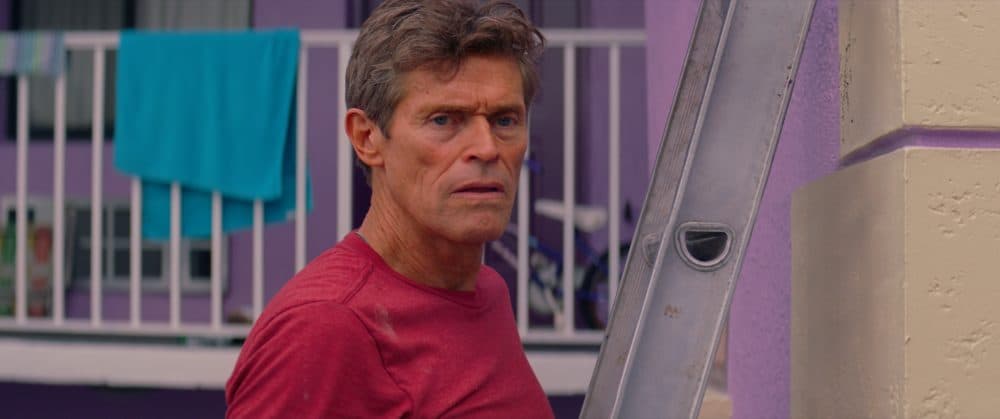 Baker famously shot "Tangerine" with an iPhone 5, but "The Florida Project" swaps out that movie's raggedy handheld camerawork for precisely framed 35mm compositions. Whereas the previous picture looked like it was always running to catch up with its characters, this one carefully positions them within the area's gaudy environs, the kitschy colors attaining an off-kilter beauty once your eyes finally adjust.
A gutsy flourish in the film's closing moments has caused a great deal of debate since "The Florida Project's" Cannes Film Festival premiere, and without giving anything away, let's just say I admired the idea more in theory than execution. Still, when a movie is overflowing like this with such great generosity and kindness, it's hard to begrudge these folks one final wish upon a star.