New Hampshire Knocks 'Congested' Boston In Its Amazon HQ2 Bid
New Hampshire says Amazon should choose the state's "Live Free Or Die" lifestyle over the "congested, decaying roads" of Boston for the tech giant's second headquarters.
In its 78-page proposal for the headquarters, released Wednesday, New Hampshire says it can offer Amazon the "benefits of Boston without all the headaches."
The Granite State touts its low-tax business environment, while painting a somewhat bleak picture of Boston — which is seen as a top contender for Amazon HQ2.
"Boston is known for congested, decaying roads and overcrowded subways," the bid reads, before adding a jab about Boston's failed Olympic bid:
Commuting into downtown Boston has become a congestion nightmare. It has grown beyond capacity to the point where Boston actually had to withdraw from Olympic consideration because of the citizen's fury over current untenable traffic congestion.
Amazon announced plans for a second headquarters back in September. The company plans to invest over $5 billion in constructing another headquarters and eventually bring up 50,000 "high-paying" jobs. Cities and states have until October 19 to submit their proposals.
In its bid, New Hampshire says Amazon could make the "predictable" choice with Boston or the "authentic" choice with New Hampshire:
Choose Boston and next year when you leave your tiny $4,000-a-month apartment only to sit in 2 hours of traffic trying to make your way to an overburdened airport, you'll be wishing you were in New Hampshire. Or ... choose New Hampshire and invest in your high-growth future.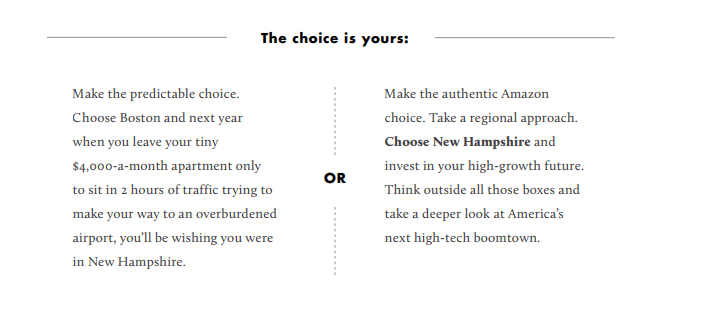 For all its jabs, New Hampshire's proposal noticeably highlights its proximity to Boston as a big selling point.
The bid points to Londonderry, which is south of Manchester, as the ideal site for Amazon's HQ2, noting that it is located off Interstate 93 and is less than an hour from Boston Logan Airport.
The bid also highlights Boston-area attractions. It says within a 90-minute drive, residents in southern New Hampshire could be hiking through mountains, surfing in the Atlantic Ocean, or "having dinner before a concert in Boston's Italian North End."
And while highlighting its own universities, New Hampshire's bid also notes the state's proximity to Massachusetts' brain power — namely Boston-area institutions like Harvard, MIT, Boston College and Boston University.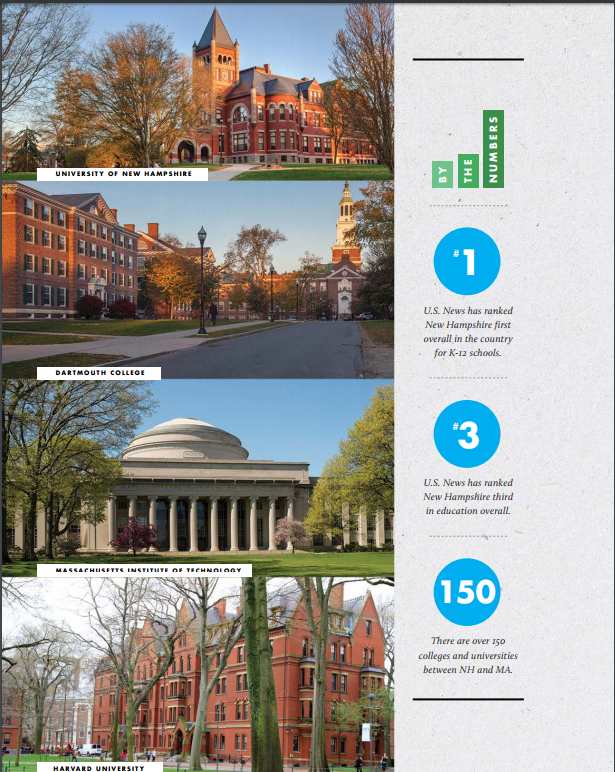 Another major component of New Hampshire's bid is the fact that the state doesn't collect many taxes — including no capital gains tax, sales tax, use tax and broad-based personal income tax.
"New Hampshire does not rely on complex and contingent special tax deals because New Hampshire never collects the tax in the first place," the bid reads.
The bid estimates that Amazon would receive the equivalent of over $1.45 billion from tax benefits that are already in place in New Hampshire. This includes $300 million from having no sales tax, another $300 million from having no income tax and over $10 million from business tax rate reductions.