'Everyone Should Beatbox': Harvard Hits A Rhythm With Beatboxing Residency
This article is more than 5 years old.
"People don't sing, because they don't think they can, but wouldn't it be a great world if everyone sang? If everyone could feel the power of their voice? Everyone should sing, everyone should dance and everyone should beatbox," beatboxer, poet and Broadway actor Chesney Snow says.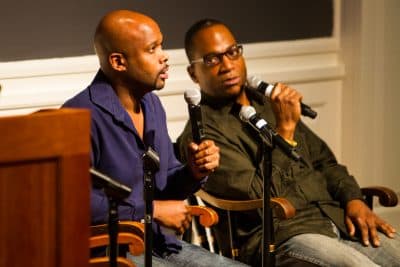 Snow, along with film producer Rich McKeown, have spent years spreading the art of beatboxing to new audiences. And this week, they're bringing that endeavor to Boston and Cambridge through the Fall 2017 Beatboxing Residency. This is McKeown's fourth beatboxing residency and Snow's third at Harvard.
As part of the residency, they'll be showing their 2013 award-winning documentary "American Beatboxer" (on Friday, Oct. 20), which features beatbox legends Kenny Muhammad and Rahzel (Rahzel M. Brown), formerly of The Roots. In the film, viewers get a history lesson while following the final eight contestants angling to win the first American Beatbox Championship in 2010.
The urban art form is rooted in the birth of hip-hop, which emerged in New York in the 1970s. Though there's no definitive answer on who the very first beatboxer was, by the 1980s, The Fat Boys, Doug E. Fresh, Biz Markie and others were enjoying the fame they garnered from beatboxing. But, over time, the art form's popularity overseas seemed to outpace the U.S. with countries like Germany and the U.K. hosting organized competitions for more than a decade.
Snow wanted to make sure that beatboxing's beginnings weren't forgotten.
"A lot of black music, people try to rewrite it, the history of it," shares Snow. "I really wanted to make a statement about it. That, even though beatboxing had spread around the globe and was certainly becoming very popular, particularly in Europe, [that] it was an American art form that had a history that was rooted in something that was spiritually profound — something that was borne out of necessity. As it grew abroad, it was probably done unconsciously, I want to think, but there was this moment, where people were trying to write black people out of that history and particularly trying to write America out of that history."
Now, with the success of the film, and the annual championships, America is getting respect overseas, according to McKeown. What's more, New York-based Kaila Mullady became the 2015 World Beatbox Champion.
A taste of Kaila Mullady's talent:
"This movie helped inspire and really showcase — and with the ongoing championships, helped cultivate — these kids where we wound up taking it [beatboxing] back. Now, there are American world champions and grand beatboxing champions, and now their eyes have turned back to us," shares McKeown, who grew up in New York.
Creating a way for young beatboxers to showcase their talent, and to grow as artists is important to Snow. The Drama Desk Award-winning actor moved to New York in the early 2000s and got plugged into the spoken word poetry scene. During his early years in the city, he would beatbox his poems to distinguish himself from other performers. Soon, Snow got connected to the underground hip-hop scene and started to meet other beatboxers through online forums.
He co-founded the World Beatbox Association, producers of the American Beatbox Championship, to "make sure there was a platform for the next generation of beatboxers coming up that gave them a space to meet each other outside of the virtual world, and to take pride in their country and their art," he says.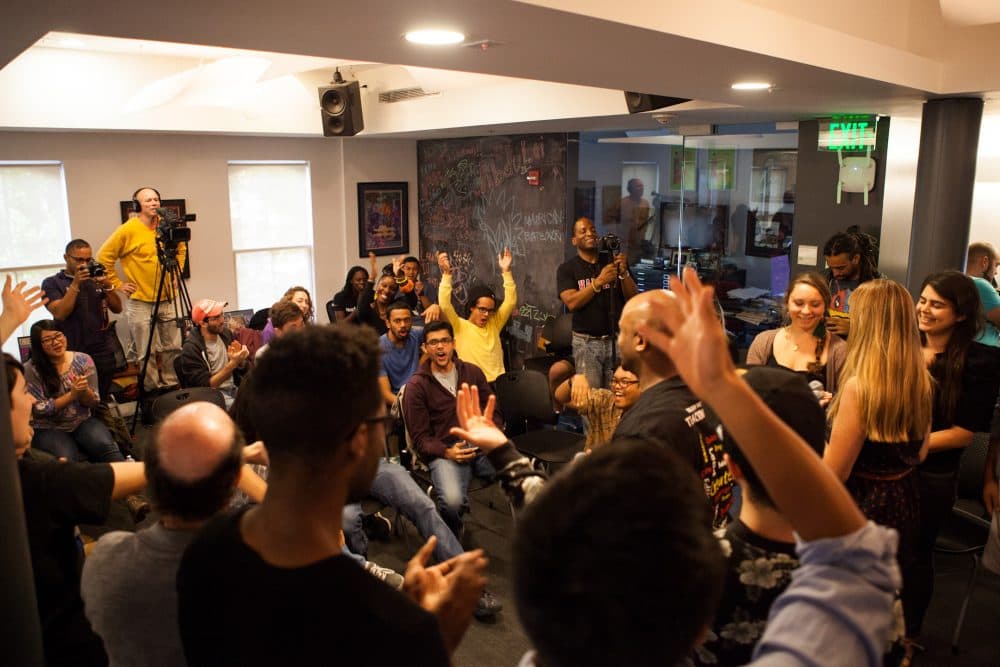 At the film screening and workshops, there will be conversations, a demonstration and a cypher with the community. But, you don't have to be a hip-hop aficionado or expert beatboxer to attend.
"I want to explore the understanding of: How do we take away the parameters that are around our vocal imagination? Part of that is beginning to understand that you are music. Your heartbeat is a drum, it has a rhythm; you are rhythm. So, a lot of beatboxing is kind of like, refining the things you would have naturally vocalized as a child and turning them into music," Snow explains.
The talented performer and teaching artist — who rocked with KRS-One, beatboxed as the opening act for Snoop Dogg and performed on Broadway as Boxman in "In Transit" -- is more interested in helping eventgoers find their own voice versus teaching the crowd how to emulate him.
Here's Snow performing solo:
He hopes the workshops elevate the art form.
"I want people to understand that this is a fine art," he says. "It's not just a novelty art, but it's an art form that has a lineage and a history that is worthy of exploration."
---
Chesney Snow and Rich McKeown's Beatboxing Residency runs from Thursday, Oct. 19 to Saturday, Oct. 21 in Boston and Cambridge venues. "American Beatboxer" screens on Friday, Oct. 20 in Allston.