While A Chelsea Man Remains In Immigration Custody, His Family Struggles With A New Normal
05:24
Play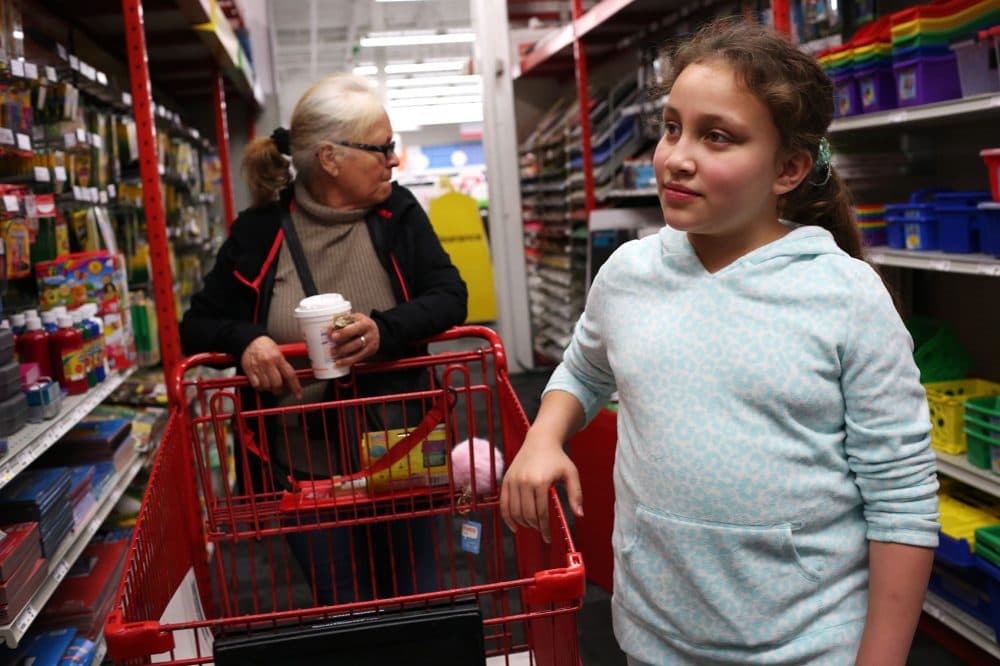 This article is more than 3 years old.
A Chelsea man remains behind bars three months after being arrested by federal immigration officials during a scheduled office visit.
Forty-four-year-old Francisco Rodriguez is at Suffolk County House of Corrections awaiting potential deportation back to El Salvador, the country he fled more than 10 years ago.
But life carries on for his family. There are homework assignments to finish, meals to cook and loads of laundry to be done.
'My Dad Raised Me Up, I Need To Raise My Sister Up Too'
For 10-year-old Mellanie Rodriguez, her father is a martial arts champion who knows just about every kind of martial art there is.
"He has done judo, karate, kempo karate, because they are two different things," she says. Her grandmother, Jesús Rodriguez, better known as Yessi, chimes in, talking about all the trophies Francisco won in competitions in Panama and throughout Central America.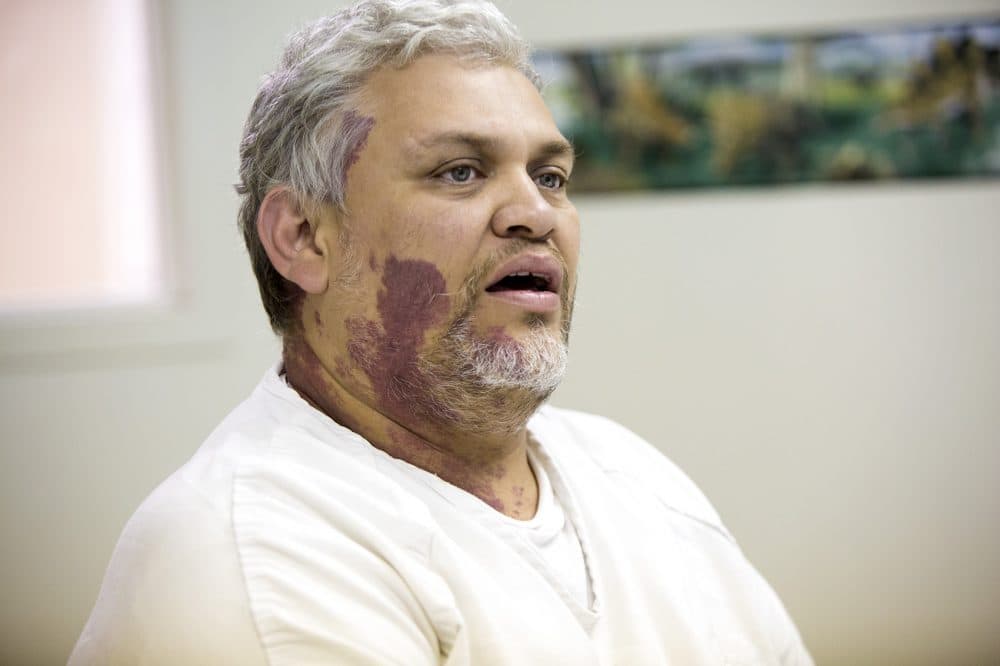 Mellanie takes karate too. She's a purple belt — soon to be blue belt — and had just finished karate class when we meet up. She's wearing a comfy fleece sweatsuit with matching teal sneakers. She and her grandmother are driving to a store to buy supplies for a school history project. Mellanie speaks softly most of the time but with a noticeable boost of energy when sharing stories about her dad.
"Yeah, my dad is quicker than me in math though. He can divide, like, in three seconds. Just fast. When he tries to teach me he does it slow so I could get it," she says with a smile. "So, now I help my sister because my dad is not there right now." Mellanie takes a deep breath before finishing her thought: "My sister needs help and, like, my dad raised me up, I need to raise my sister up too."
'Have Patience, Son'
At the store, Mellanie leads the way. Her grandmother pushes the cart, holding a Dunkin' Donuts cup in her hand. She had a late evening the night before, visiting her son at the House of Corrections after she finished work.
Mellanie sneaks away around the corner, looking at some erasable pens, and her grandmother takes the opportunity to share a little about her visit. Speaking in Spanish she says her son is desperate without his children.
"I tell him, 'Have patience, son. Pray every day,' I tell him."
His attorneys say they're still waiting to hear back from the U.S. Board of Immigration Appeals on a request to reopen his 2009 asylum case. He was denied asylum after entering the country illegally in 2006.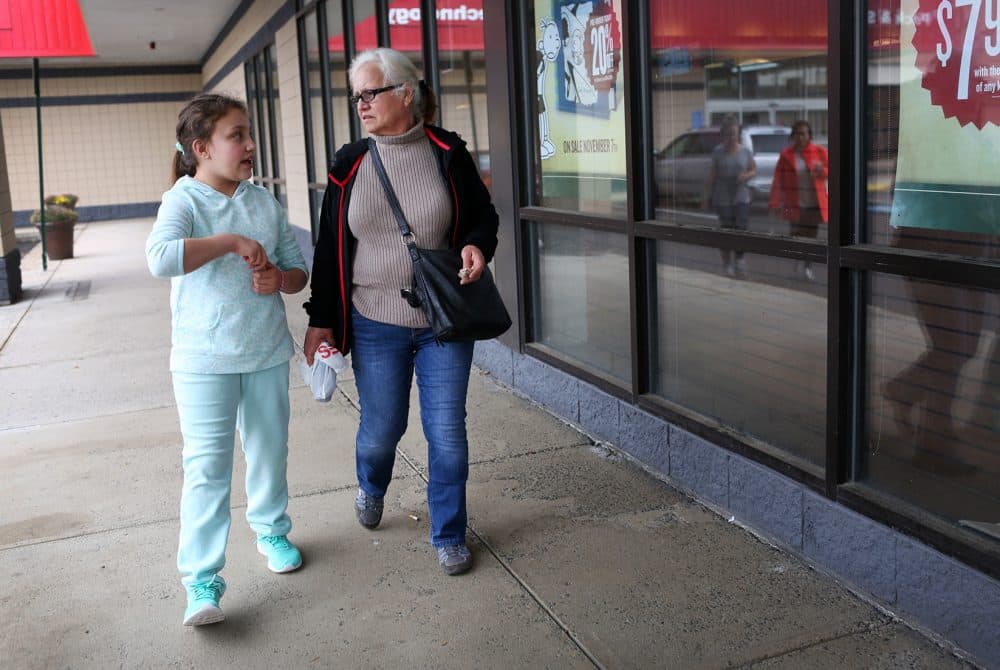 Yessi says she worries about the impact all of this will have on her grandchildren: Mellanie, 6-year-old Jessica and 2-month-old Josué, who's never met his father.
"Psychologically, having a father in the house is really necessary. Broken families can't function," Yessi says. "There are times I can help with things, like today. When I have time, I'll wake up earlier and I'll walk the kids to school."
But the 65-year-old says she also has to work. The Rodriguez family depends on her job packing produce.
For the last several years, Francisco — who has no criminal record — has worked as a janitor at MIT. Federal immigration authorities did not consider him a deportation priority, but that changed this year. The government is opposing his appeal to reopen his asylum case and has kept him in detention as the case proceeds.
'It Just Feels All Normal...'
After running a few errands, Mellanie and her grandmother head to a nearby park. They sit down at a picnic bench. Mellanie started the fifth grade this year and says it's going OK.
"I do pay attention but, like, I don't really have, like, very good relationships with a lot of kids in the school," she says. "Yeah, in school I don't really have no one."
She folds her arms on the picnic bench and rests her head from time to time, staring off into the woods that sprawl out around her. She says things feel a little different now, three months after that day back in July when she stood up in front of a row of television cameras and pleaded with President Trump to let her dad go.
"It feels more, like, lonely... it feels like if there's nothing happening in life. It just feels all normal because we do everything that we need to do but we don't spend time now with my dad and it's a little bit more sad," Mellanie says.
She points out a walking trail nearby that her dad once took her on and asks her grandmother if they can explore it again now.
"We'll come back another time," her grandmother says.
This segment aired on October 19, 2017.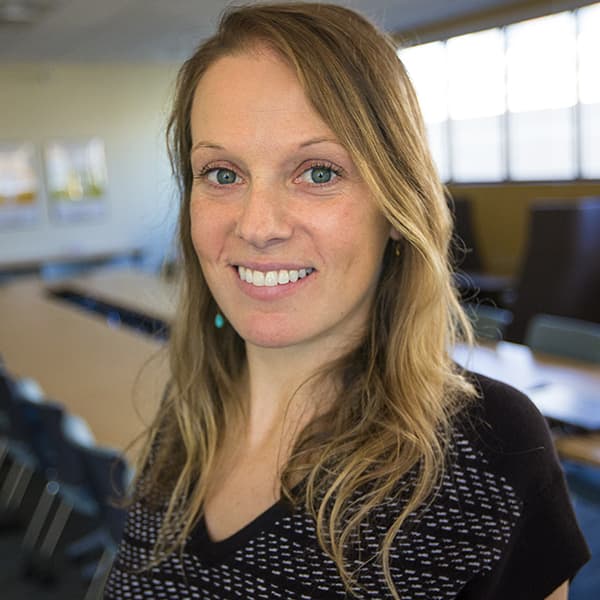 Shannon Dooling Investigative Reporter
Shannon Dooling is an investigative reporter at WBUR, focused on stories about immigration and criminal justice.