SpeakEasy Gets Inside A Teenager's Mind In A Compelling 'Curious Incident'
A great irony of the stage production of "The Curious Incident of the Dog in the Night-Time" is that it seeks to get inside the head of a teenage boy who apparently has a form of autism (that term is never used), but presents a challenging experience for many individuals who happen to be on the spectrum. Its frequent use of bright lights and jarring sound cues — as seen and heard in the touring production of the show, which visited Boston Opera House earlier this year — could indeed grate on anyone, though they do a wonderful job of externalizing what is going on in the protagonist's head.
SpeakEasy Stage Company's production of the show eases up on those fronts, in its necessarily smaller scale (but true-to-the-material) production design and, most significantly, in its central performance. In the touring production, Adam Langdon's embodiment of 15-year-old Christopher (ostensibly modeled on those of the show's prior incarnations on Broadway and in London) fairly shouts at the audience, not to mention the other folks on stage. His piercing bark of a voice rawly channels the confusion and, occasionally, terror that laces Christopher's every day.
Here, in the production that plays at the Calderwood Pavilion until Nov. 25, Eliott Purcell takes it down a few notches. Christopher still has immense trouble deciphering social cues and can't stand to be touched, but it's perhaps easier to feel empathy because his protective armor isn't quite so spiky. At the same time, we don't get as close to his anguish.
Purcell is an inventive and exciting young actor, who was wickedly incendiary in SpeakEasy's "Hand to God" last season (not to mention a total hoot as a sexed-up Cotton Mather, among other characters, in "The Weird" at Off the Grid last month). As written, Christopher is an immensely difficult character and, as of press opening, Purcell seemed in moments to be still digesting the role.
"The Curious Incident of the Dog in the Night-Time" was adapted by playwright Simon Stephens from Mark Haddon's 2003 book; the stage version originated at London's National Theatre before winning the Tony Award for best play in 2015. Its widespread popularity is such that it was the first non-musical play brought to town by Broadway In Boston in five years.
Christopher is a math whiz who is stuck in a school that seems better equipped to accommodate its students' behavioral problems than their academic potential. One plot thread concerns his desire to take an advanced math placement test the school has never before offered; it's a credit to Paul Daigneault's direction that this matter feels very high-stakes. The titular mystery is dispensed with in the first act, and much of the second act is occupied by an extended set piece in which Christopher's encounter with the outside world is rendered as a traumatically draining ordeal filled with sensory overload. (A matinee performance of the show on Nov. 19 is billed as a "sensory friendly" version, for theatergoers sensitive to lighting and sound effects.)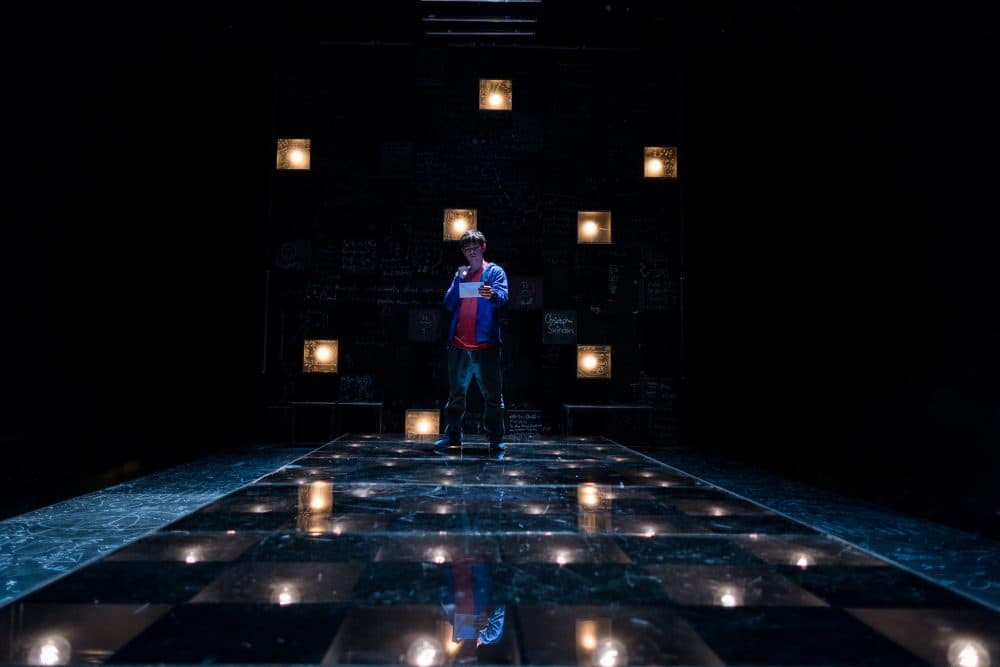 Christopher and Justin Swader's scenic design emulates the earlier productions, with a black, silver and white color scheme, mathematical equations written on all surfaces in what looks like white chalk, and an upstage wall featuring cut-outs and illuminated cubes. Yo-EL Cassell's movement direction is key, with a busy ensemble sometimes carrying Christopher about as if he's flying. Jeff Adelberg and David Remedios handled the effective lighting and sound design, respectively.
Craig Mathers acquits himself well in the somewhat thankless role of Christopher's father, Ed. Laura Latreille is sympathetic as another adult authority figure who cares for Christopher; tellingly, we notice her making self-conscious, silent apologies to unseen outsiders when the boy's public behavior becomes too loud and unwieldy. We get the strong sense of a woman who loves the boy deeply but is just a bit too overmatched by the challenges he presents. Making her SpeakEasy debut, Christine Power finds moments of humor in various supporting roles; she adds a welcome amount of character glue to any ensemble.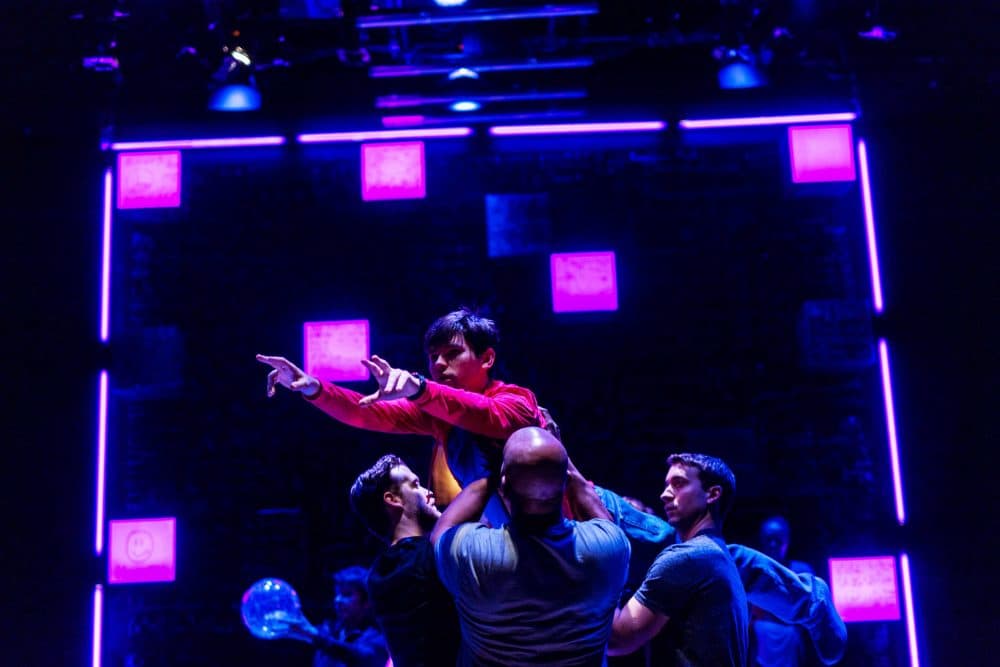 Some of the plot twists in "Curious Incident" feel less than realistic, and it indulges in one tail-waggingly shameless bid for affectionate audience cooing. But this is a compelling production of a play that demands to be paid attention to. It may not make you want to live within Christopher's skin full time, but it makes a strong case for at least making an empathetic visit.
---
SpeakEasy Stage's "The Curious Incident of the Dog in the Night-Time" continues at the Calderwood Pavilion through Nov. 25.