Community Leaders Offer Mixed Reactions To NAACP's Scathing Report On Mayor Walsh
Resume
Just two weeks before Boston's mayoral election, Mayor Marty Walsh is defending his record on dealing with racial inequities in the city.
An NAACP report released Sunday says Walsh has not kept his promises to communities of color. Although Walsh disagrees, some community leaders say the report is a confirmation of what they're experiencing.
Some Suggest Walsh Is 'A Certain People's Person'
The report faulted Walsh on an array of policies, from the lack of diversity in the city's fire department to little progress in the unemployment rate of blacks and Hispanics.
Among the vendors at Black Market in Dudley Square, Mayor Walsh received mixed reviews. LaCarl Russell, of Roxbury, said there's one thing Walsh lacks when compared to his predecessor Tom Menino.
"Menino was the people's person. Marty Walsh, on the other hand, is a certain people's person, you know what I mean?" Russell said. "Menino was in the guts. We consider Roxbury like the guts of Boston, and Menino was down here. I would love to see that from Marty Walsh."
Despite strong pledges from Walsh to support minority-owned businesses, the NAACP report found that, since he has become mayor, the city has provided increasingly less monetary support for minority- and women-owned businesses.
Kai Grant opened Black Market without any help from the city. But now, she said, she's working with the Walsh administration to expand the business — and she gives the mayor high marks.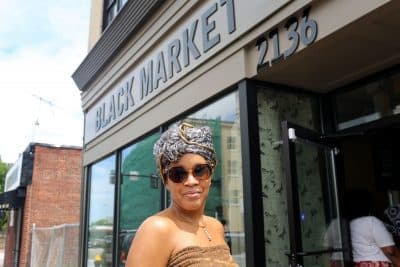 "I believe that his administration really wants to take the heart of Boston, which is Roxbury — it's literally the geographical center [of the city] — and really resuscitate it, in a sense," Grant said. "And I say that to a degree because there is always vibrancy coming out of Roxbury.
"Nobody has to come and save us, we can save ourselves," she added.
A Blueprint For Building Positive Changes For People Of Color
The NAACP report card graded the Walsh administration in four areas: For economic development and public safety, he gets a D. For Boston Public Schools and diversity among city staff, he gets a C.
The word failure appears 22 times in the 175-page report card. It whacks Walsh on not implementing a police body camera program, on not retaining black teachers, and on not pressing companies to diversify.
But, the NAACP report gives Walsh credit for trying.
"Should the mayor still be mayor after November 7th, this is a blueprint for how to make things better for people in the city."

Segun Idowu, vice president of the NAACP's Boston branch
"If we look at just the efforts the mayor gets really great grades," said Segun Idowu, the third vice president of the NAACP's Boston branch, who managed the report card study. "Because for a lot of these areas, the mayor has made a concerted effort to change conditions for people of color in the city."
Idowu said the report card calls attention to issues Walsh himself identified. The criticism is meant to be constructive, he said, and the report should offer guidance.
"Should the mayor still be mayor after November 7th, this is a blueprint for how to make things better for people in the city," he said.
The Walsh administration disputed some of the report's findings as inaccurate. And it pointed to several of the mayor's initiatives ranging from the creation of an economic development cabinet, to a new diversity officer at City Hall.
Walsh said he spoke about the report card Sunday morning with NAACP Boston President Tanisha Sullivan.
"I gave her a call to say to her I'm going to continue to do my work as mayor. I'm proud of the housing we've built. I'm proud of the diversity numbers we've made as far as the command staff in the police department," he said. "We've made some good progress in a lot of areas, but you never settle."
"Boston is one of the fastest gentrifying cities in the entire United States, and the rents have become unmanageable."

Mela Miles
On affordable housing, the report gives Walsh a B for effort — and a D for results. While Walsh created the Office of Housing Stability to prevent displacement, the report finds the creation of affordable housing has been low compared to the amount of high-end housing.
Dorchester community organizer Mela Miles said her alliance with Walsh dates back to his years as a state representative. Now Miles says Boston is experiencing a gentrification crisis, and she thinks the mayor lacks a sense of urgency.
"Boston is one of the fastest gentrifying cities in the entire United States, and the rents have become unmanageable," she said. "Personally, my rent went up $700 in three years, and those kind of things need to be addressed."
Walsh has pursued legislation seeking to collect data and provide resources to people facing eviction. But three-and-a-half years into the Walsh administration, Miles said she would like to have seen more results.
Walsh said there are lessons to be learned in the report card, and that he's going to study it closely in the days ahead. But Walsh pointed out that Boston's racial inequities did not start on his watch.
"You're talking decades of inconsistencies in hiring practices — both nationally and locally — setting people back and not advancing people," he said. "I think we take this report and don't look at it as a criticism but look at it as a way to build upon."
Walsh said that's what he plans to do as mayor, he hopes, in a second term after next month's election.
This article was originally published on October 23, 2017.
This segment aired on October 23, 2017.