Mass. General Dilemma: Separate Conjoined Twins To Save One, Or Let Both Die?
Resume
The East African twins were born conjoined into a sort of a Y shape: They had separate heads and torsos, but they were connected lower down, at the abdomen and the pelvis. They shared a liver and a bladder and other lower-body organs, and had just three legs in all.
And one of them, "Twin A," had heart and lung disease so serious that she was likely to die soon — and kill her sister in the process.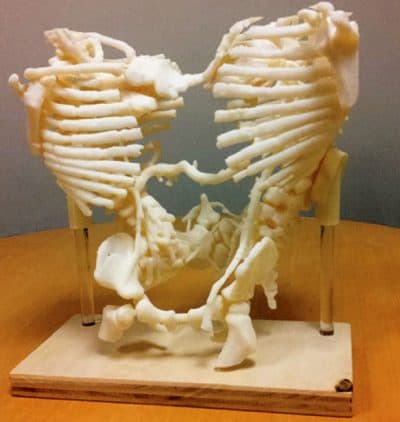 "So if we do nothing, we know they will both die, probably in the next few weeks to months," said Dr. Brian Cummings, chair of the pediatric ethics committee at Massachusetts General Hospital for Children. And "if we act, we'll be able to save one sister from dying, but one will die in that act."
This was the thorny ethical dilemma that doctors at the hospital grappled with last year and now describe in a case report in The New England Journal of Medicine.
Because the twins' circulation was connected, the death of the sicker twin would kill her healthier sister. But operating to separate them would lead directly to the death of the sick twin. The healthier sister was acting as her heart-lung machine, giving her oxygen.
It was a choice between two bad options, said Cummings, who was called in to consult on the ethics of the case.
"No one wants to do something that's going to lead to the potential death of a patient," he said. "At the same time, no one wants to sit here and watch two young ladies die, knowing that we might be able to do something to save one. So how do we proceed where we have really two undesirable outcomes? But we can't change those outcomes."
It's a classic ethical dilemma, Cummings said, that calls to mind the famous "trolley" problem: A trolley is hurtling down a track toward a group of people. Is it morally acceptable to push someone onto the track to block it?
There's no simple answer. Scholars write whole dissertations on various permutations of the problem. Now, the Mass. General for Children surgical team was facing an unusual medical version of the dilemma.
"As physicians, we are trained only to save a life," said Dr. Allan Goldstein, chief of pediatric surgery at Mass. General, who led the surgical team. "And this forced us to think outside of that matrix, to consider that sometimes, saving a life is more complicated."
Surgery to separate the twins would be complicated as well, Goldstein said. The team would need to divide intestines, liver, pelvic bones, skin. But they determined that they could do it, bringing high-tech methods to bear, including a 3-D-printed life-sized model of the twins' unique anatomy.
The question was whether they should. There were a dozen ethical dimensions involved, laid out in a chart in the New England Journal article. They included even the question of whether the weaker twin, Twin A, could be considered an aggressor because she was piggy-backing on Twin B's circulation. In that light, could the operation be considered a form of self-defense?
"Individuals both on the anesthesia and the surgery side said, 'This is not for me. This is wrong. We're doctors. We never end a life.' "

Dr. Allan Goldstein
Ultimately, Cummings said, the team focused on a practical question: What should be the process for deciding?
"And our process was, let's engage all our stakeholders, let's have room for divergent opinion about this, let's think about what we are comfortable offering as a medical facility, and then let's offer that to the family," he said.
The family, after much discussion, chose the operation to separate the twins. Goldstein said medical staffers were free to opt out, and a few did: "Individuals both on the anesthesia and the surgery side that said, 'This is not for me. This is wrong. We're doctors. We never end a life.' "
But most opted in. The operation went ahead last year, and lasted 14 hours. Among the team's techniques, Goldstein said, was injecting fluorescent dye that could show surgeons which tiny blood vessels belonged to which twin's circulation system, helping them figure out how to divide the skin.
Soon after the surgeons divided the major artery that the twins shared, Twin A's blood pressure plummeted, he said. A separate operating room was ready to support her, but to no avail.
"She died relatively quickly after the artery was divided, and before the separation was completed," he said.
Twin B recovered well from the surgery and even came to a presentation of her case at Mass. General. It was a powerful moment, Cummings said.
"She came into the room, and everyone was clapping, and she just loved it," he said. "She waved to the crowd. She was so happy. And I think it really hit home for everyone that was involved that it was the right thing to do, and we did our best here."
Twin B is eating and growing, the doctors said, and her digestive system functions well; she still has a malformed foot and leg, but she can stand with help.
Mass. General is not publicly identifying the family or even the East African country they're from, they said, because they've faced hostility there for their choice.
This segment aired on October 25, 2017.