Revisiting Lin-Manuel Miranda: Wheelock Stages An Ambitious And Vivacious 'In The Heights'
Wheelock Family Theatre kicks off its new season with an ambitious production of Lin-Manuel Miranda and Quiara Alegría Hudes' Tony Award-winning musical "In the Heights." The show, which runs through Nov. 19, boasts a solid cast, a mix of hip-hop and more traditional show tunes, vibrant design and choreography, and a timely social message. More than that, the show is a bundle of high-energy, feel-good fun.
The story takes place right around July 4 in the Manhattan neighborhood Washington Heights. Times are tough and developers are buying up local businesses. Usnavi (Diego Klock-Perez) can barely keep his bodega going, but even so, he offers free coffee each morning to Vanessa (Iliana Garcia), his not-so-secret crush who works just up the street at Dani's Salon. Also up the street is a taxi service run by Kevin and Camila Rosario (Luis Negrón and Rosi Amador, respectively); their daughter Nina (Laura Lebròn Rojas), the pride of the neighborhood because she's now a student at Stanford, currently home for the summer. What nobody knows yet is that Nina has no plans to resume her college education — her scholarships aren't enough to cover the costs of tuition and books, and working two jobs doesn't leave her enough time to study.
Money is a problem for everyone in the neighborhood. Kevin and Camila can't afford to hire anyone new, so they reluctantly allow long-time employee Benny (Darren Bunch) to take over as dispatcher when needed. Dani (Yewande O. Odetoyinbo) is about to close her hair salon and relocate. Vanessa can't save enough to make a deposit on her own apartment because she's trying to keep her mother's utilities from being shut off. Usnavi's younger cousin Sonny (Diego Guevara) is getting impatient for a raise that Usnavi can't afford to give him. The crunch is largely due to the way rents are going up, and this affects residents as well as business owners, including Usnavi's adoptive grandmother, Abuela Claudia (Johanna Carlisle Zepeda). Even local street artist Graffiti Pete (David Alea) is hard pressed to keep himself supplied with cans of spray paint, while the Piragua Guy (Tony Castellanos) — a fixture of tradition in the community who sells shaved ice from a cart — finds he's circling the drain, unable to compete with corporate fleets of ice cream trucks.
The neighborhood's economic situation ties directly into the socio-political status of its residents, many of whom are immigrants or the first generation descendants of immigrants. The surface storylines might have to do with musical theater's usual themes of love and courtship (the show is full of romantic and communal crosscurrents that tie the characters into complex connections of attraction and loyalty), but there's no mistaking a subtext that examines the difficulties of retaining cultural heritage while seeking prosperity and resisting the downsides of assimilation. The clever book and lyrics allude to this in a number of ways, the most overt being a power outage that ends Act 1 (and triggers a night of mayhem that might spell doom for Usnavi's bodega). These people are literally, as well as figuratively, without power. But there's a twist: When it turns out that Usnavi has sold a winning lottery ticket to someone in the neighborhood, it seems as though some lucky person's dreams might all come true. Will those dreams be strictly selfish, or could they carry a communal significance?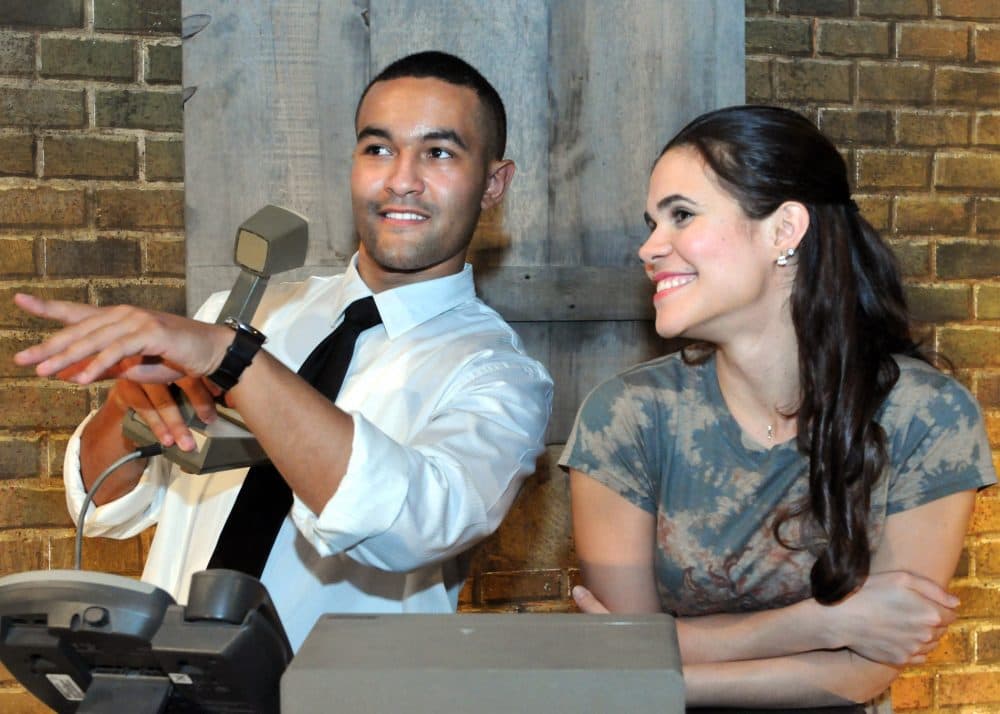 The script and songs meld Spanish and English together in a naturalistic way. Parents should be advised that there are a few mild instances of profanity, though they go by so quickly they aren't especially noticeable. (They do, however, appear in the supertitles on the monitors to either side of the stage.) But even when the hip-hop flow gets speedy and hard to follow, the mood and intention come across loud and clear, thanks in large part to director Rachel Bertone's highly energetic choreography and the cast's enthusiastic, skilled dancing. The singing is mostly excellent (a few individual actors who are not strong singers nevertheless blend nicely into the group effort), and the music direction by Dan Rodriguez is well executed, with a live orchestra providing accompaniment.
The set, by the always-impressive Jenna McFarland Lord, is colorful and practical; it adds something to the show to see actors through the windows of residential levels above the commercial spaces. The set carries the feel of a neighborhood, rather than being a mere sketch. But it's the cast that really sells the show, and Diego Klock-Perez — who has played the part of Usnavi before when SpeakEasy Stage Company produced the show in 2013 — anchors the production. He's a powerhouse on all fronts: singing, dancing and acting. (The night I saw the show, Klock-Perez's microphone had recurring problems, but he easily rose above that distraction.)
It may be a while before "Hamilton" reaches Boston area stages, but this look back at Lin-Manuel Miranda's vivacious earlier hit will serve as a reminder that he's written other shows of note ... and whet your appetite for more.
---
"In the Heights" continues at the Wheelock Family Theatre through Nov. 19.