'Alias Grace,' Margaret Atwood's Chilling Mystery Adapted For Netflix, Is Driven By Ambiguity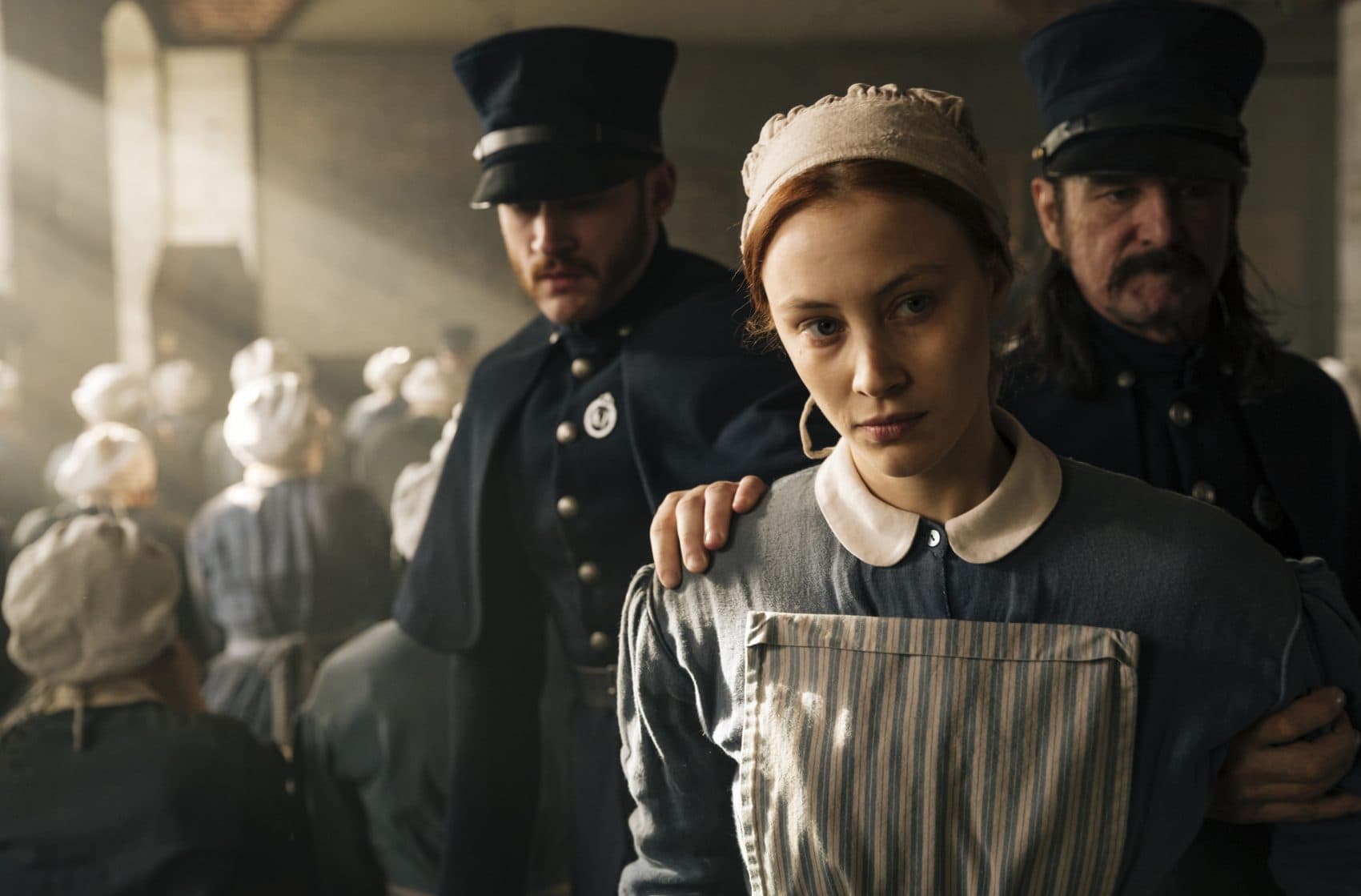 This article is more than 4 years old.
Gaze long at Sarah Gadon in Netflix's "Alias Grace," and Sarah Gadon will also gaze at you.
Over the course of the six episode miniseries, adapted from Margaret Atwood's 1996 historical fiction novel of the same name, the camera pauses on its Toronto-born lead, lingering for a beat as she slowly raises her eyes to meet the viewer's. Her expression is unreadable, which feels appropriate for a show driven by ambiguity.
Gadon's character, Grace Marks, is altogether inscrutable; she is as unreliable a narrator as they come, not the least because her story, as she tells it, is frequently peppered by omissions and lost time. There are gaps in her memories. How much you trust her is determined by which aspect of Gadon's performance you trust best.
And that's as it should be. "Alias Grace" is based on real-world events, specifically the 1843 murders of wealthy Ontario farmer Thomas Kinnear and his housekeeper turned secret mistress, Nancy Montgomery. It's a crime allegedly committed by his two servants, James McDermott and Grace.
McDermott was hanged and Grace was first locked up in an asylum before being transferred to Kingston Penitentiary, where she remained confined for the next few decades and change.
The fictionalized account Atwood spun from the affair involves Grace, made-up doctor Simon Jordan (Edward Holcroft) and his descent into uncertainty as he comes to fixate on her person, her life and her upbringing. He grows obsessed over her background as an Irish immigrant, the abuse she endured as a child, and the injustices dealt her as an adult.

All the while, Grace addresses him with innocent glances that belie the barbarism of her stated crimes. At first he doesn't buy her as a so-called murderess, which, Grace tells us in voiceover, is preferable to being a murderer; the former lends her a kind of celebrity, a curiosity, whereas the latter only suggests brutality, the sound of an axe swinging or blood spilling on the floorboards.
Over time, Jordan becomes less sure of intuitions. That's one of the great pleasures of "Alias Grace" in a nutshell: The gradual, deliberate unraveling of the self-assurance we invest in our own perceptions.
Even in the show's final, haunting shot, as Grace gives one last cool and unwavering look at her streaming audience, you won't know how to judge her. Is she misunderstood? Is she really the monster some believe her to be? Are there truly supernatural powers at work in her tragic tale?
"Alias Grace" blends its qualities as a procedural and as a chronicle of the Marks case with gothic flourishes, embodied mostly by eerie dream sequences, occasional flashes of dismemberment in progress and ominous portents; the genre element is capped off in the series' final episode, with a legitimately spooky hypnotherapy sequence that throws our impressions of Grace off-kilter.
But nothing is as unnerving as Gadon's lead performance. "Alias Grace" hinges almost completely on her ability to imply purity and wickedness at the same time. It's important that Grace is an enigma. Without a firm grasp of who she really is, all we have to go by is the image she cuts: prim, proper, absorbed in needlepoint seemingly at all times. She's the epitome of Victorian propriety.

Image is all she has, of course. Very few of the characters we encounter in the show's present tense actually treat her like a human being; Simon treats her like a caged animal to study, and polite society, represented by the men and women passing through the governor's mansion where Grace is employed as a domestic servant during her incarceration, treats her like a freakshow attraction.
Perhaps her decorum is genuine. Perhaps it's a performance unto itself, a production she puts on for her observing public. In either case, it's a mask she consciously wears, whether to hide her suffering or veil her guilt. Grace's impenetrability eventually reads less like a choice and more like a necessity. It's a survival tactic.
For fans of Hulu's "The Handmaid's Tale," released earlier this year and subject to uproarious praise (culminating in the receipt of eight Primetime Emmys last September), "Alias Grace" may come as a disappointment. Where "The Handmaid's Tale" is a dystopian thriller, "Alias Grace" is a chilling mystery; directed by Mary Harron and written by Sarah Polley, the show is determined to give up nothing, and in so doing leaves everything to interpretation.
Put less delicately, it isn't blatantly obvious at every turn. The plot requires unpacking. The characters, even the very worst of them, demand empathy. Polley and Harron are both such rigorous storytellers that patience is an absolute must. "Alias Grace" is in no hurry to get where it's going, allowing us to luxuriate in its finer details: Its set dressing, its craftsmanship and the contributions of its superb ensemble, including Anna Paquin, Paul Gross, Zachary Levi and Rebecca Liddiard.
But good as they are, try as they might, they can't crack Gadon, who stands alone, undaunted and unknowable. As Grace outlasts her spectators and custodians, so too does Gadon outmatch her costars. This is a career-best work for her, and that's saying something given that her filmography is littered with top notch efforts in film and on television, from "Belle" and "A Dangerous Method" to "11.22.63."
You'll probably walk away from "Alias Grace" shaken and riddled with doubts about your sense of who Grace really is, but you'll have no such misgivings about its star: Atwood, Polley and Harron might be the authors, but the stage belongs to Gadon. Just don't make eye contact with her.