Tech Could Make New Bedford's Fish Cutting Jobs Obsolete
Play
This article is more than 5 years old.
This story is part of a BostonomiX series called "The Future Of Work" that examines the jobs of the future and the skills needed for those jobs.
The mighty fleet of scallop and groundfishing boats is the first thing you notice from the docks of New Bedford. But on land, in factories all along the waterfront, hundreds of workers toil away in fish processing plants, washing, cutting and packing more than 100 million pounds landed in the port each year.
Pat Hughes started cutting fish in 1969.
"I've been down here my whole life involved in the fishing industry going on 50 years," he says. "I've done it all, seen it all, met a lot of people."
Nearing the end of his career, Hughes still works in the business, at a scallop processor in the city.
He stands on a pier where he recalls several fish houses once stood.
"This was just loaded with people and it was just a hopping, hopping place," he says. "You had all different nationalities: Spanish, Norwegian, Portuguese, American. ... It was just one big melting pot."
Back in his day, Hughes says, there were plenty of blue-collar jobs in New Bedford. You could work in the textile mills, but cutting fish paid significantly more. It was back when fish cutters were unionized and could make $100 a week — a big payday.
A strike by the fish cutters eventually led to the demise of the union and by 1981, Hughes had gone to sea to make better money.
Labor historians say wages plummeted, and the largely Portuguese workforce was slowly replaced by indigenous Mayans, who preferred the hard cold work of fish factories in New Bedford to their lives in rural Guatemala.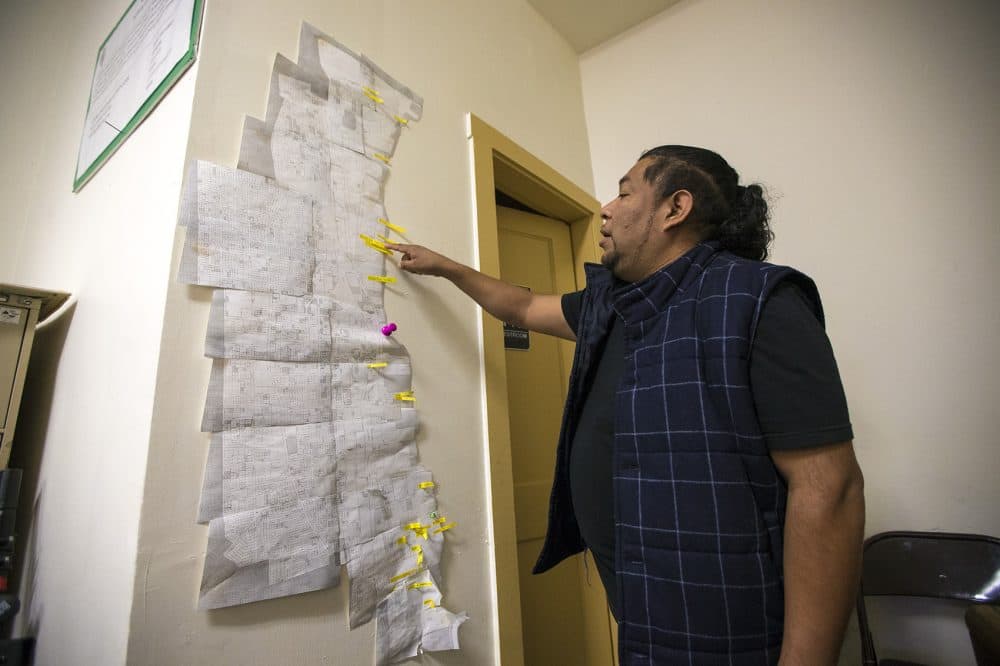 Tomas Calel has been at Bergie's Seafood for 17 years. It's one of about 40 processors in New Bedford, where the cutting machines and conveyor belts hum while dozens of workers in white aprons and hairnets quietly focus on cutting fish.
"I like this work because this is why I came to the United States," he says in Spanish. "To work."
Calel may be content at Bergie's, but the New Bedford fish houses are described by some labor advocates as 19th century-style sweatshops. Complaints range from wage violations, to the coercion of undocumented workers under the threat of deportation, to people getting mangled and even killed in fish processing machines.
Efforts to unionize have failed over the years, though with the help of local labor groups, some cases have led to restitution for workers.
Otoniel Riz Benito, 38, introduces himself in his native Quiche language. He came to New Bedford from Guatemala in 2001 and has worked on and off in the fish houses ever since. Benito says he got fired from his most recent job for standing up to his boss.
"I didn't say anything the first three or four times [he yelled at me]," Benito says. "Then I approached him in good faith. ... I said 'Sir, you need to think about how you treat us. We are not slaves.' "
Benito said he was given his last paycheck, and told not to come back. He hopes one day he doesn't have to come back to any fish house. Benito wants to save enough money to go to truck driving school, but he says he works in the fish houses because he doesn't have many job options.
In the years ahead, technology might do away with even the option of cutting fish.
A promotional video from the German firm Baader envisions the fish processing of the future. Proponents say today's fish cutters will become tomorrow's machine operators.
Dennis Schreiber of Baader North America says New Bedford's fish processors are well behind their peers in places like Denmark. Baader calls itself the worldwide leader in fish processing machinery, and it wants to bring the latest in technology to the most lucrative port in the United States.
Schreiber estimates as much of 70 percent of processing is now done by machines. His dream is to conquer the final 30 percent.
"That's basically the name of the game, to ... eliminate manual labor and also increase the value of each fish," he says.
Schreiber says it's already possible to process a fish by machine — from cutting the head off to serving a boneless filet. But the cost of technology — like X-rays, robotics and water-jet cutting tools — is still too expensive. Schreiber says as the technology gets cheaper over the next decade, 100 percent automation will be within reach.
"We are all striving towards that full automation," he says. "It's just a matter of time."
Of course the company that sells the machines wants the machines to take over. But fish processors say the need for human labor is not likely to go away any time soon.
This segment aired on November 3, 2017.