It's Walsh: Boston's Mayor Is Re-Elected
Marty Walsh has comfortably won re-election as mayor of Boston.
Walsh beat back a challenge from Roxbury City Councilor Tito Jackson, who had hoped to become Boston's first African-American mayor.
But no incumbent Boston mayor has lost an election since 1949.
And Walsh, a former state representative from Dorchester, was buoyed by a bevy of political endorsements, and held a massive advantage in campaign funds.
According to unofficial results, Walsh had 65 percent of the vote, to Jackson's 34 percent. About one in four of the city's registered voters turned out.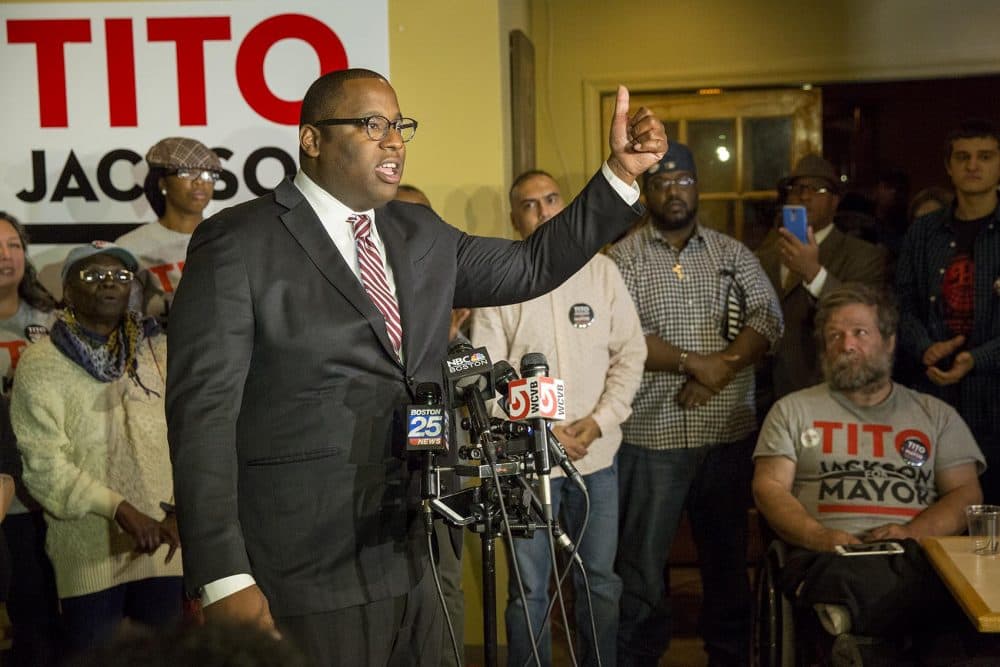 The match-up was set in September, when Walsh topped a low turnout preliminary election with 63 percent of the vote. Jackson finished second with 29 percent.
The two Democratic candidates then squared off twice in debates, and over issues including education, economic disparity and race relations.
Walsh won his first term in 2013, besting 11 other challengers to capture the mayoralty long held by Thomas Menino.
Boston City Council
There will be three new faces on the Boston City Council, including two more women of color.
Lydia Edwards edged Stephen Passacantilli by about 700 votes in the open District 1, which includes Charlestown, East Boston and the North End; and Kim Janey is taking Jackson's District 7 seat, in Roxbury, after topping Rufus Faulk.
In the open District 2, which covers Downtown, South Boston and the South End, Edward Flynn beat Michael Kelly, 52 percent to 48 percent.
The incumbent councilors who faced challenges were all re-elected Tuesday: Josh Zakim in District 8; Mark Ciommo in District 9; and the quartet of at-large councilors: Michelle Wu, Ayanna Pressley, Michael Flaherty and Annissa Essaibi George. Wu was the top vote-getter among the four at-large councilors.
This article was originally published on November 07, 2017.