An 'Underground World': This Urban Tent Community Is Dangerous For Heroin Users
Resume
A woman named Kristin strides down a bike path near bustling restaurants and shops. One side is lined with luxury condos. On the other, ducks paddle across a pond into a field of cattails.
"I love coming here, through this beautiful marsh. It's really gorgeous, right?" Kristin says, pausing to look past this retreat toward a grove of trees.
She moves on. Kristin is here on business -- the business of finding a tent that's someplace in those trees, a tent that was the last place she called home.
Kristin, an active drug user, is homeless. That makes her up to 30 times more likely to die after an heroin or fentanyl overdose, according to data analyzed by the Massachusetts Department of Public Health. Kristin has beaten the odds so far, but a tour of the small urban tent community in Greater Boston where she stores things and often stays illustrates the risks.
"It's definitely like playing Russian Roulette out here," Kristin says, as she turns onto one of a dozen paths pounded down by deer, underage drinkers or hikers that now lead to single or clustered campsites.
Poking her head back out of the trees, Kristin glances at the pond.
"Isn't it baffling that there is this grimy, filthy, intriguing underground world amongst such a beautiful place?" Kristin says. "It really blows my mind."
We're only using first names for Kristin and her fellow tent dwellers because they buy and use illegal drugs.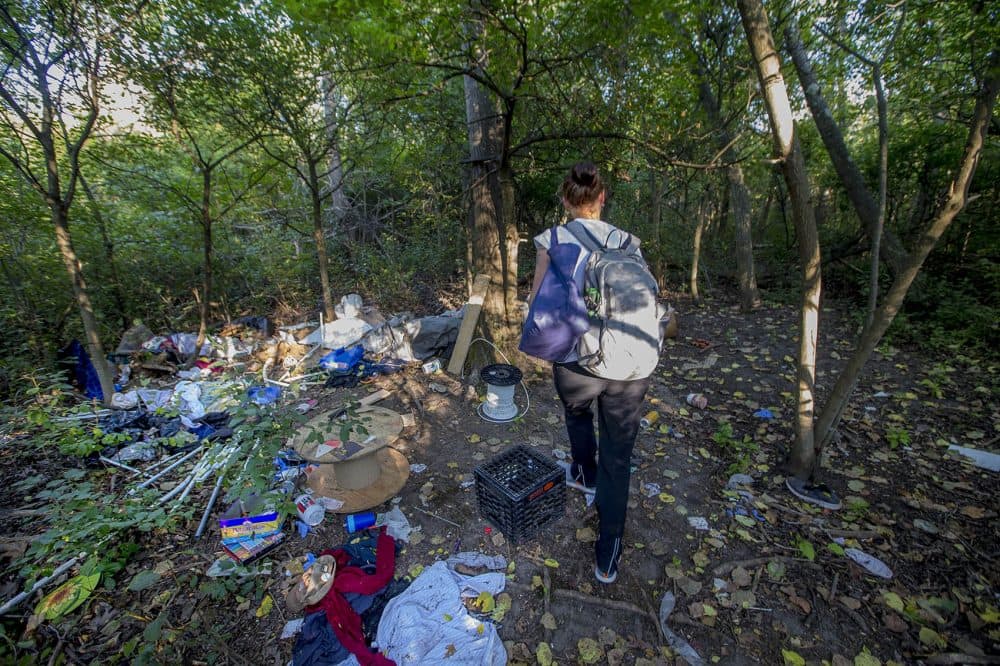 Kristin scrambles down the wrong path twice, once hitting a dead end and then winding up at a site occupied by methamphetamine users. The heroin and meth cultures clash sometimes in these woods. Meth users tend to stay up for days on end, in contrast to the sedated heroin or fentanyl community. Kristin blames the meth users for tent sites littered with microwave ovens and other appliances that won't be of any use out here.
"I mean, who's going to clean up all this s---?" she asks, walking past an abandoned tarp, twisted PVC pipes and a mound of clothing.
Kristin hasn't been here for a few weeks. She says she was detained on outstanding warrants and then hospitalized for an infected injection wound on one arm.
She walks a plank across a muddy stretch, up a small hill and there, finally, is the maroon and gray canvas dome where she hopes to find a missing bag and some bedding. She pokes her head inside and then quickly back out.
"Ugh, oh God," Kristin says, coughing out the words. The tent is littered with broken needles, tobacco, dirt, trash and various dried liquids.
"It's just like a messed up shooting gallery in there," Kristin says.
This would not have been a clean or safe place to inject drugs, but no place in these woods is.
"Even just walking through here, your arms are getting dirty," Kristin says. "I doubt you're going to use an alcohol wipe. Say someone wants to shoot heroin and they see that spoon there, in the dirt. They've probably just going to give that a quick little wipe, if that."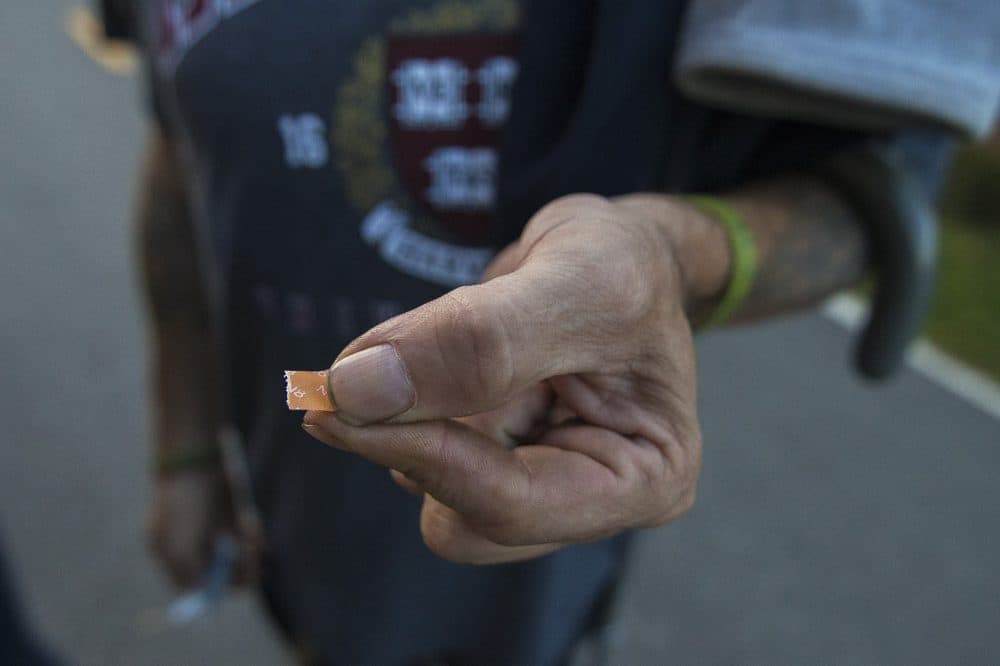 Some users avoid shooting up in the woods. Take Joe, who comes out of large red tent near a creek, a space he's been sharing for about four months.
"I'm tent-sitting," Joe says.
"Like house-sitting, kinda," Kristin adds.
Joe says he hasn't used heroin since the morning last February when he and a buddy went to a nearby Porta-potty and Joe overdosed. The friend called 911.
"They hit me four times with Narcan and the paddles," Joe says, his voice rising, then falling to a whisper. "I was dead, deader than dead."
And Joe might still be dead if he'd overdosed in his tent.
"How would police and EMTs ever find you if you were in trouble?" Kristin asks, rhetorically. She knows the answer. They wouldn't.
Kristin and Joe say they've never seen a police officer, EMT or park ranger in these woods. But a few weeks after this interview, someone pitches a tent too close to the bike path and is spotted. Officers sweep the area, pushing the tent community deeper into the woods.
With heavy bush clippers, a man named Bobby clears dead vines from inside a thicket, creating a cave-like space for a tent that will be concealed by brush.
"Now look at that, that's great, we almost have a water view," Bobby says, peeking between branches toward the creek.
Bobby and his boyfriend Eddie have been in these woods, on and off, for a year and know the risks. Bobby OD'd last winter. Eddie used four pumps of naloxone, all he had on hand, to revive Bobby.
"That was scary," Eddie says, hitting each syllable. "It was dark, we had no phone, and it was the middle of the night. Imagine? No one to call, no way to call anybody."
So why is this better than a shelter?
"Uh," Eddie trails off for a few seconds. "Well, we can come and go as we want and we feel safe; it's ours."
In a shelter, he adds, people take your stuff, they spread head lice, and they deal drugs.
"Shelters are not the place to be if you're trying to stay clean," Eddie says, shrugging, "that's just the reality."
Eddie and Bobby say they're on methadone now and haven't used heroin or fentanyl for two weeks, and getting their new site in order will help them stay stable.
They head for a dumpster near the bike path, where Bobby spots thick laminated doors — leftovers, it seems, from the luxury condos. He tries to shimmy one out from under a box of door pulls. The shiny chrome handles are nice and look expensive.
"They really are," Eddie says, "but we don't have any doors for them."
But thick planks of wood laid flat on frozen ground beneath their tent may help Bobby and Eddie survive another winter outdoors -- two city boys who've come to love the woods.
"Yeah," Bobby giggles, "we had a Disney movie going on in front of our tent down there. It was the cutest thing."
Eddie jumps in. "We had ducklings waking us up and chipmunks and deers and wild turkeys, like at 7 o'clock in the morning, and a raccoon coming through."
In this world of Disney and exaggerated danger, Bobbie and Eddie continue to stock their tent with naloxone, hoping to have enough if one of them overdoses again, hoping they don't both go out at once, hoping they defy the odds of using drugs while homeless.
This segment aired on November 14, 2017.