After Friend's Death, Brown Fuels Celtics Win Over Warriors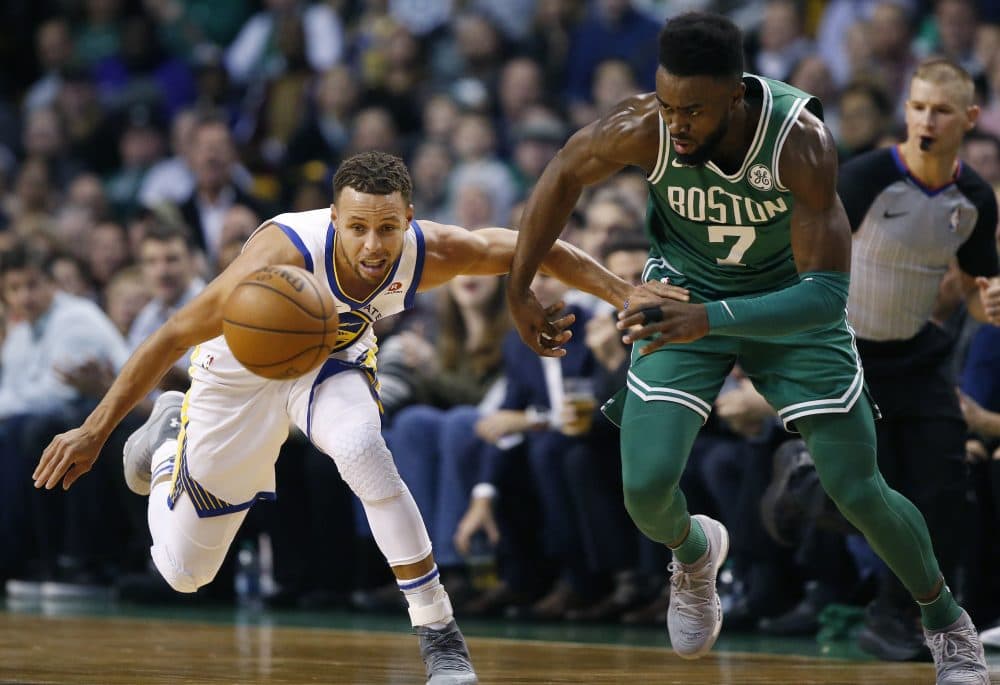 This article is more than 1 year old.
Hours before the Celtics took the court Thursday night to protect their winning streak against the defending NBA champion Golden State Warriors, Jaylen Brown was walking around in a fog.
Boston's second-year forward was not even thinking about basketball after learning about the sudden death of his childhood best friend, Trevin Steede, on Wednesday night.
"It was tough to kind of accept it," Brown said. "Everybody was kind of in shock."
But after talking to his family and having conversations with Celtics coach Brad Stevens, Brown looked to the basketball court to find solace. The 21-year-old ended up playing one of the best games of his young career.
Brown had 22 points and seven rebounds, Kyrie Irving had 11 of his 16 points in the fourth quarter, including two free throws that put Boston ahead in the closing seconds, and the Celtics beat the Warriors 92-88 on Thursday night for their 14th straight victory.
"He inspired me to come out and play and I played in his spirit," Brown said about Steede.
They met after Brown transferred to Joseph Wheeler High School in Marietta, Georgia.
"I remember I didn't have any friends," Brown said. "The first few days I sat at the lunch table by myself - I'm super quiet and didn't know anybody."
Steede noticed Brown sitting alone one day and told him he could sit with him.
"Ever since then we've been best friends. ... He's been my brother." Brown said.
He said the circumstances of Steede's death are still being determined and he declined further comment out of respect for his family. After the final buzzer, Irving walked over and embraced Brown.
"Ky gave me the game ball and said, `This one was for Trevin,"' Brown said.
Kevin Durant had 24 points for Golden State. The Warriors had won seven in a row.
Playing his second game since suffering a facial fracture, Irving shed his protective mask in the second quarter. Then, with the game tied at 88, he was fouled on his layup attempt and calmly made a pair of free throws. Durant then came up empty on his jumper on the other end.
Golden State led by as many as 17, but had to lean heavily on its reserves as its trio of Stephen Curry, Klay Thompson and Durant struggled offensively.
Curry, who returned to action after missing a game with a bruised right thigh, was the most ineffective. He was 3 of 14 from the field - 2 of 9 from the 3-point line - and had nine points.
"It was just one of those nights," Curry said. "We had control of the game despite how bad we all were shooting. We just didn't sustain ourselves defensively."
Curry sat for a long stretch after picking up his fourth foul early in the third quarter.
"We kind of fell out of our rotation in the third quarter," Warriors coach Steve Kerr said. "They were just tougher and smarter than we were tonight
Boston came in limiting opponents to just 94.5 points per game, the stingiest mark in the NBA this season. It did even better against a Warriors team that entered the night averaging an NBA-best 119.6 points.