Tech Is Booming In Mass., But Diversity And Hiring Remain A Challenge
This article is more than 5 years old.
Talent is a big draw for tech companies in Massachusetts, but it's also a big constraint, according to two complementary reports released Friday by the Mass Technology Leadership Council (MassTLC).
The first, the association's annual "State of the Tech Economy" report, provides a comprehensive look at the state's tech booming sector, including key trends.
The second, a new semiannual "Massachusetts Tech Pulse Index," reveals a common sentiment among industry leaders: They want more talent. For that report, MassTLC surveyed 156 tech leaders, including CEOs, founders and senior executives at companies.
Taken together, the two reports show a fast-growing industry with urgent workforce needs. Here are five key takeaways from the reports:
Tech Is A Strong Economic Engine
No surprise here — tech is booming in Massachusetts. Close to 10,000 new tech jobs were added in the state in the past year, according to the tech economy report. The sector employs more than 300,000 people with another 100,000 in tech jobs in other sectors. When you combine that with support jobs in the tech industry, tech represents a third of jobs in the state, according to the report. In fact, in 2016, one out of every 14 jobs in the state was a tech job, the report found.
And many tech-related jobs are projected to grow by double digits in the future.
Additionally, 70 percent of tech employers expect to increase employment at their companies in the coming six months, according to the pulse index. And 66 percent of tech employers believe the next year will be a good time to expand in the state.
Talent Drives Growth — And Threatens It
A key part of the growth of the state's tech sector is talent. But there simply isn't enough of it.
"The faster these industries grow, the quicker we deplete this pool of talent," Carbonite CEO Mohamad Ali said in the pulse index report.
While most tech leaders see the state's talent as an asset, it's also an obstacle. More than half of the respondents to the pulse index say the state's skilled workforce is "the greatest advantage of doing business" here.
But tech leaders also identified a shortage of skilled workers as the industry's "single greatest challenge" over any other issue. A lack of skilled workers received more than three times the amount of responses than any other industry challenge in the report.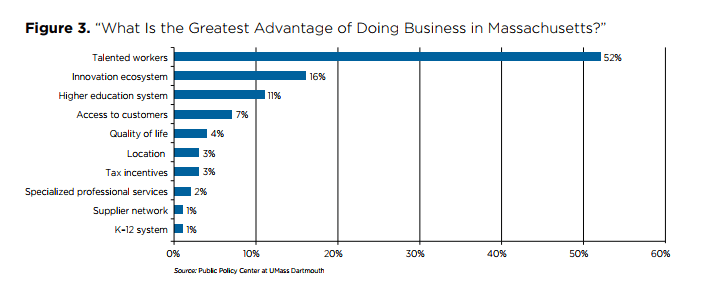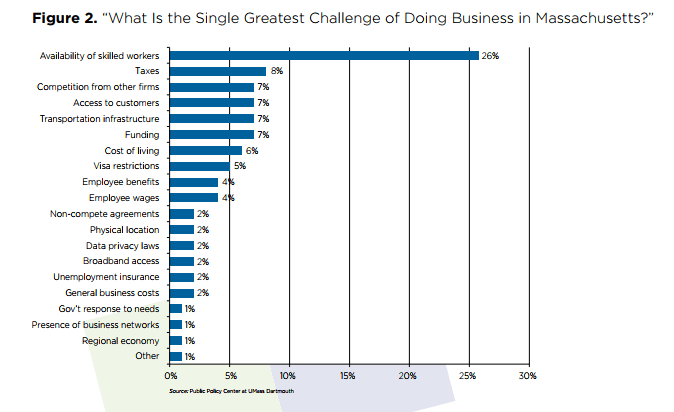 "So what's happening now is companies are forced to expand around the world just to bring more talent to fill more roles," MassTLC CEO Tom Hopcroft said in a phone interview.
Tech companies are recruiting from outside the state, and expanding to places like California, Europe and Asia. Half of respondents specified access to talent as the reason they expanded outside the state, according to the index. This has the risk of dispersing the local tech ecosystem outside of Massachusetts, the tech economy report noted.
Hopcroft said there's a growing need to expand the employable talent pool in Massachusetts — particularly to one that is more inclusive.
Diversity Remains A Problem
Diversity remains an issue in the tech industry. Women in computer and mathematical jobs have remained at just below 25 percent of the workforce from 2007 to 2015 — barely increasing year over year — according to the tech economy report.


In terms of racial diversity, 71 percent of computer and mathematical workers are white and 22 percent are Asian. Black and Latino workers make up only 3 percent each.
Today, 5.3 percent of white men in Massachusetts are working in computer and math jobs, while about 2 percent each of women, blacks and Latinos are working in those fields.
With current hiring rates, it will take decades for women and minorities women to catch up. According to MassTLC, it will take until 2085 for black workers to reach the rate of white men in the industry today. For Latinos, it will take until 2045. And for women, it will take until 2070.
Skills Gap Must Be Addressed
MassTLC says the state needs a "bold new talent development strategy" to cultivate local talent and bring diverse populations into the tech industry. And that means making sure workers have the skills companies demand.
In the pulse index, 53 percent of tech leaders said a STEM bachelor's degree is "very important" for a new hire to have, and improving the pipeline of STEM graduates is critical to the future success of their businesses. The leaders also pointed to analytical skills, communication skills and professional skills as important.
There are training programs that are working to address the skills gap. Hopcroft said businesses, educational institutions and policymakers need to collaborate more to build a bigger pipeline into the tech economy.
"The talent is distributed evenly in populations, but the opportunities aren't," he said. "We need to make sure that every kid has the opportunity to participate."
Education, Transportation And Housing Are Key
Education is a big piece in addressing the sector's growing workforce demands. The MassTLC report recommends heavy investment in education. Hopcroft said computing skills and other "21st century skills" are particularly crucial at early ages.
Transportation and housing are also key to increasing the pool of available talent, according to MassTLC.
"Workers need to be able to afford to live within a reasonable commuting distance and this is accomplished by addressing housing supply and the transportation to connect it with work," the tech economy report said.
Housing and transportation are also important for business operations in the state. According to the pulse index, 66 percent of tech leaders listed transportation infrastructure as a challenge of doing business in the state.
"Tech companies are increasingly seeking to anchor themselves in the density of the Boston/Cambridge metro center. Not coincidentally, these are among the most costly places to live and are surrounded by very expensive suburbs," Steve O'Leary, a managing director at Aeris Partners, said in the index report. "Better rail is a must. We must unlock radial access to the core by rail from all points to maintain the growth. Transportation must improve. Period."
The MassTLC report calls for more investment in transportation infrastructure as well as more affordable housing and commercial real estate options in close proximity to transportation infrastructure.