Give Thanks For Tom Hanks With A Brattle Movie Marathon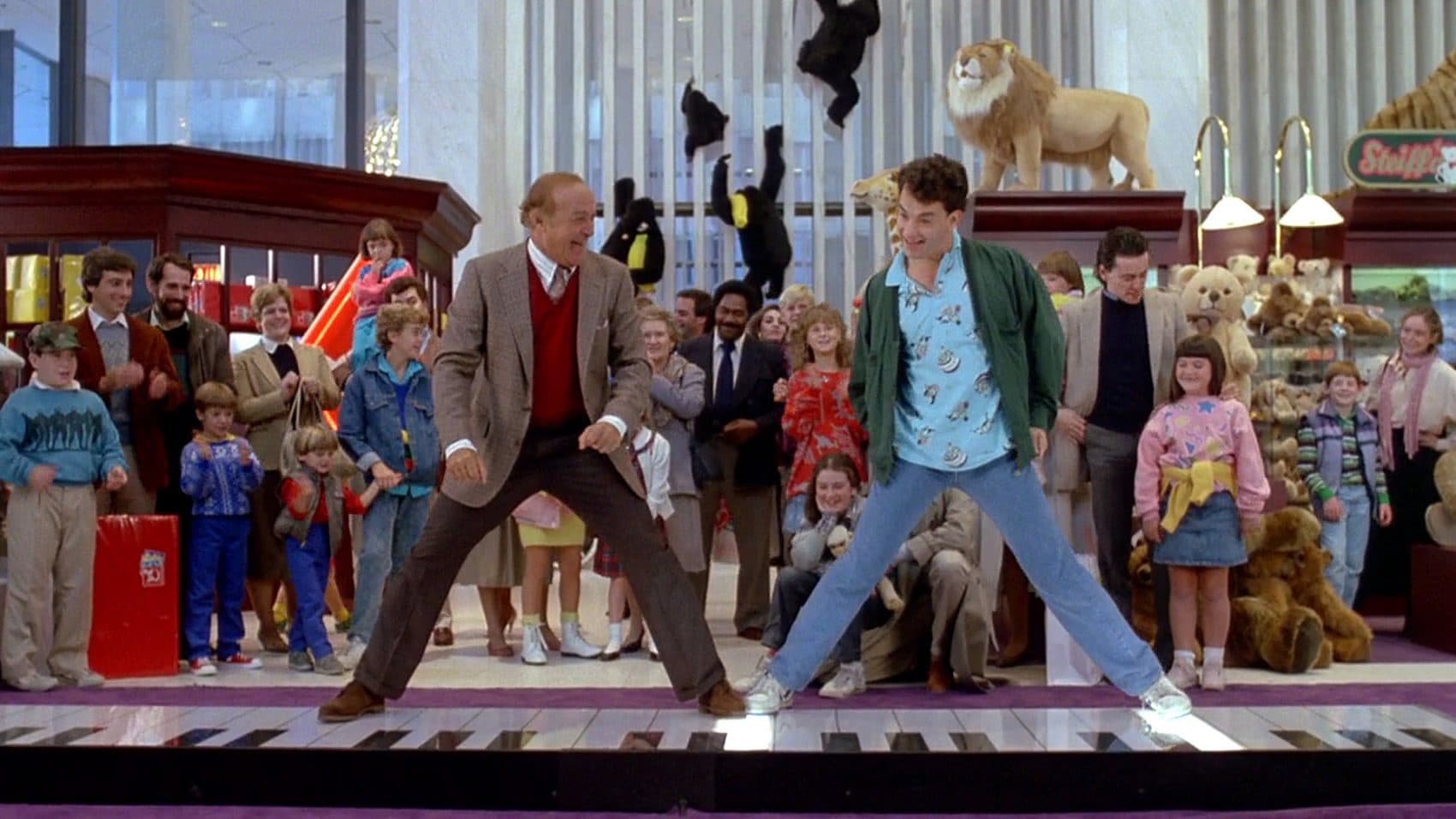 This article is more than 3 years old.
When we think of Thanksgiving we tend to think of family and over-indulgence. So why not spend this holiday week watching 11 films starring America's Dad himself, Tom Hanks?
The Brattle Theatre's " 'Hanksgiving," which runs from Wednesday, Nov. 22 through Tuesday, Nov. 28, spawned from a silly turn of phrase that randomly occurred to the Brattle Film Foundation's creative director Ned Hinkle late last November.
"The idea of 'Hanksgiving just popped into my head," he told me via email. "And then, of course, I had to wait for a whole year to actually put the series together! Now someone just pointed out to me that we should have called it T.Hanksgiving, so I guess nobody's perfect."
What's surprising about the series is that it steers clear of the actor's stalwart, Oscar-favorited Jimmy Stewart roles in favor of the anarchic comic turns that defined his early career.
"I've been thinking a lot about him in relation to the silent comedians," Hinkle explained. "In these films, he's like Buster Keaton but with a face made of rubber rather than stone. His commitment to the physical comedy is astounding, but from the very beginning he was able to connect with the real emotions that drive these characters."
So you won't find "Cast Away," "Forrest Gump" or "Saving Private Ryan" in the Brattle series, but since it's a holiday weekend they're probably running non-stop on cable television anyways. " 'Hanksgiving" instead offers the less Academy-friendly pleasures of the actor's goofball 1980s hits such as "The Money Pit," "Dragnet" and even (gasp!) "Turner & Hooch."
"I grew up watching 'Bosom Buddies' so I always thought he was hilarious," Hinkle continued, referring to the short-lived but endlessly syndicated TV show that starred Hanks and Peter Scolari as two dudes who donned drag to land an affordable New York City apartment in a women's only residence hotel. Straight away you can see the ants-in-his-pants fearlessness with which Hanks throws himself into slapstick, yet he also carries with him a fundamental decency that allows the program to get away with such a questionable conceit.
It was this affable, everyman quality that inspired director Ron Howard to cast him in "Splash," which launched his movie career and kicks off the Brattle's series. The surprise 1984 blockbuster about a man and a mermaid surely would have gotten lost at sea without Hanks to anchor the antics in a wisecracking reality just a few degrees skewed from our own. So it makes perfect sense that "Splash" is being screened as a double feature with 1988's "Big," for which the actor received his first Oscar nomination playing a 13-year-old boy who makes a birthday wish and wakes up the next morning in the body of a grown man.
These are hardly promising plots, and being 13 years myself when "Big" came out I was initially confounded by the film. At the time, I was way more into sneaking cigarettes and trying to get to first base with girls than playing with children's toys, sleeping in a racecar bed or having silly string fights like this little dork. (Had I been in his shoes, the first thing I'd have probably done is go buy some Playboys and beer.) Yet Hanks sells you on the movie with his genuine sweetness and vulnerability. By the time he and Robert Loggia are dancing to "Chopsticks" on a giant piano at FAO Schwartz, even a juvenile delinquent like yours truly couldn't help but be enchanted.
"The Money Pit" (1986) will never be mistaken for a great (or even particularly good) movie, but it's got some tremendous, loose-limbed work from Hanks while he and wife Shelley Long's dream house keeps finding novel ways to collapse all around them. There's an unexpected sight gag involving a bathtub and the living room floor, after which director Richard Benjamin just leaves the camera on Hanks for what feels like an eternity as he laughs -- first bitterly, then hysterically, eventually maniacally gasping for air -- his wheezing exasperation articulating every first-time homeowner's worst nightmares.
Hinkle's favorite of the bunch is "The 'Burbs," director Joe Dante's freaky-deaky 1989 satire in which Hanks and Carrie Fisher become increasingly convinced that the family next door are Satan-worshiping cannibals. The programmer says, "It's an amazing homage to the great horror-comedies of the 1930s and is just so unabashedly goofy that I can't help but love it. Sorry, but I also really like 'Dragnet.'"
Yes, it's easy to forget that Hanks played second banana to Dan Aykroyd's Jack Webb impression in a calamitous 1987 action-comedy update of the long-running radio and television series. As the laconic nephew of Webb's Joe Friday, Aykroyd's straight-arrow detective gets stuck with Hanks' rebellious, wild-man partner (given the glorious name "Pep Streebek") as the two are assigned to investigate a cult calling itself P.A.G.A.N. — People Against Goodness And Normalcy.
"Dragnet" is odd cinema history footnote. As in response to the AIDS crisis, a scene was added after production in which Hanks' oversexed detective appears about to get it on, but opts to take a cold shower instead after discovering he's run out of condoms. This was a huge deal at the time, being the first major studio picture to directly address safe sex. Today the film is perhaps more notorious for its closing credits song, in which Akyroyd and Hanks attempt to rap the plot of the movie. Their music video for "City of Crime" has got to be the most mortifying clip on any two-time Academy Award-winner's resume, and Hanks claims it's the first thing his kids pulled up when they showed him how to use YouTube.
Pep Streebek basically became Joe Friday 15 years later in "Catch Me If You Can," the only film in the series from Hanks' more recent, paternal period, and one of his most amusing performances full-stop. In director Steven Spielberg's effervescent yet stirringly melancholy caper picture, the actor buttons up to play a stuffy FBI agent on the trail of Leonardo DiCaprio's smooth-talking swindler. Hideous New England accent aside, this is an incredibly funny portrayal of an almost entirely humorless man. He also tells what might be the greatest knock-knock joke in the history of movies.
Way too few folks saw Hanks' directorial debut "That Thing You Do!" upon its initial release back in 1996. I'd missed it myself, and then returned from winter break to learn that my college buddy (and current Nashville Scene film critic) Jason Shawhan had gone to see it eight or nine times at a second-run discount theater near his home. The film's casually delightful, low-key evocation of flash-in-the-pan pop stardom spoke to my friend during a difficult personal time. "I don't know why," Shawhan admitted to me again last week, "other than its kindness, spectacular array of songs or measured view of fame, but 'That Thing You Do!' saved the hell out of Christmas '96."
" 'Hanksgiving" comes to a close with one of the actor's most misunderstood movies, the infamous 1990 box-office bomb "Joe Versus the Volcano." Written and directed by playwright John Patrick Shanley, the film stars Hanks as a depressed cubicle drone diagnosed with a rare neurological disorder ("a brain cloud") that will kill him within six months. I'm not sure if I should even try to explain how Joe ends up agreeing to sacrifice himself to a volcano on a remote island in the South Seas where the natives are led by Abe Vigoda and are obsessed with orange soda. But he is assisted on this arduous journey by three wildly different and wonderfully peculiar women (all played by Meg Ryan) and it is only when embracing his impending death that Joe finally begins to truly live. Basically it's Akira Kurosawa's "Ikiru" by way of Rowan and Martin's "Laugh-In."
This is a bold, daring movie with deliberately fake-looking sets straight out of a stage play and a wildly stylized color scheme keyed into the main character's moods. It's playful in its profundity, making smart use of Hanks' ability to ground such outlandish scenarios in everyday emotional truths. Or so I thought. People sure loved making fun of that title, though, and its oddball flourishes were a tough sell to multiplex audiences. Time Magazine said it "may be the worst big budget film of modern times," and The New York Times compared the movie to "Howard the Duck." But "Joe Versus the Volcano" found a tireless champion over the years in Roger Ebert, who said it was "a failure in every possible way except that I loved it."
Ebert kept writing about the film time and again over the years, and booked it at his EbertFest film festival in 2012, saying "I continue to believe it deserves greater recognition, and cannot understand why I gave it 3.5 stars instead of four." My favorite was when he got all pugnacious about it, addressing the film's "so-bad-it's-good" reputation by writing, "It is not a Good Bad Film, but a Good Good Film, and I even propose for it a new category: Good Movies That Ignorant People Think Are Bad."
In his festival notes Ebert wrote, "As you will see, John Patrick Shanley's film is so visionary and epic in its conception that it really requires a big screen." The rare chance to see "Joe Versus the Volcano" projected on 35mm at the Brattle makes this a very happy 'Hanksgiving indeed.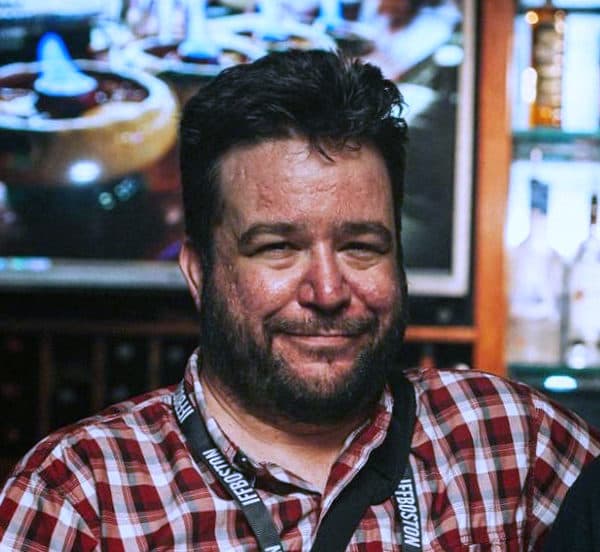 Sean Burns Film Critic
Sean Burns is a film critic for The ARTery.