Forecast: A Cold Front Will Cross This Weekend, But Very Little Moisture With It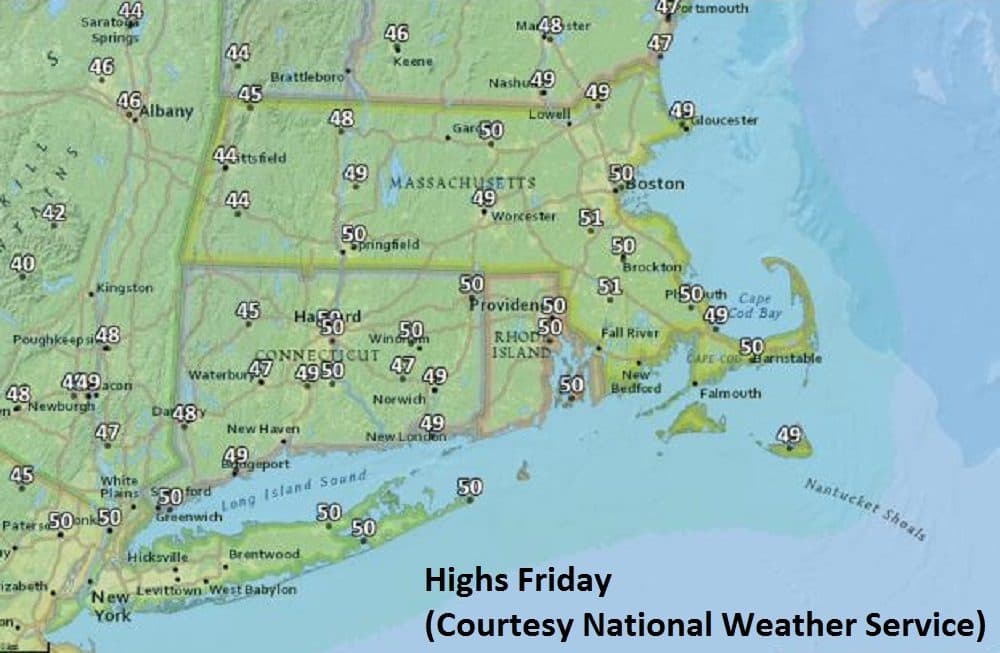 This article is more than 1 year old.
I hope everyone had a fantastic Thanksgiving.
Although it was a bit colder than normal, plenty of sunshine made for a picture perfect day. I searched the archives from Thanksgiving 1989! It showed that was the last time there was a measurable snowfall on the holiday. I personally remember that day as I was in West Haven, CT, hoping my family would be able to make it to dinner (which they did). Snowfall across Southern New England ranged from 4-8", with even higher amounts on Long Island.
Although there are no snowstorms in our near future, a fast moving cold front will cross the region later Saturday night. Southwesterly winds ahead of the front should allow temperatures to moderate into the 50s Saturday before sliding back to the 40s Sunday and Monday.
There is limited moisture with the front so at most there will be a few scattered rain showers during the pre-dawn hours Sunday. Most areas should stay dry, however. With the jet stream almost directly above us going into next week, our temperatures will be seasonably cool with very little, if any precipitation.
---
Today: Sunny with a near normal high of 50.
Tonight: Clear. Lows 35 outlying areas, 40 downtown
Saturday: Sunshine AM; increasing PM clouds. Milder, High 57. Couple showers possible overnight
Sunday: Early clouds giving way to sunshine. Breezy and colder. High mid 40s.
Monday & Tuesday: Partly Sunny. Highs: 45 to near 50