Early Flu Season Hits Mass., Amid Questions About Vaccine Match
This article is more than 5 years old.
It gives me no joy at all to announce this, but flu season is officially here — early.
"In the state and in the country, we seem to be having an earlier-than-usual flu season this year," said Dr. Larry Madoff, a director in the Massachusetts Department of Public Health. "I'd say we're about three or four weeks ahead of where we would be in a typical year — but many years are atypical."
The flu season usually peaks in late January or February, sometimes as late as March, but this year, some predictions warn that cases of flu could soar right around the winter holiday season.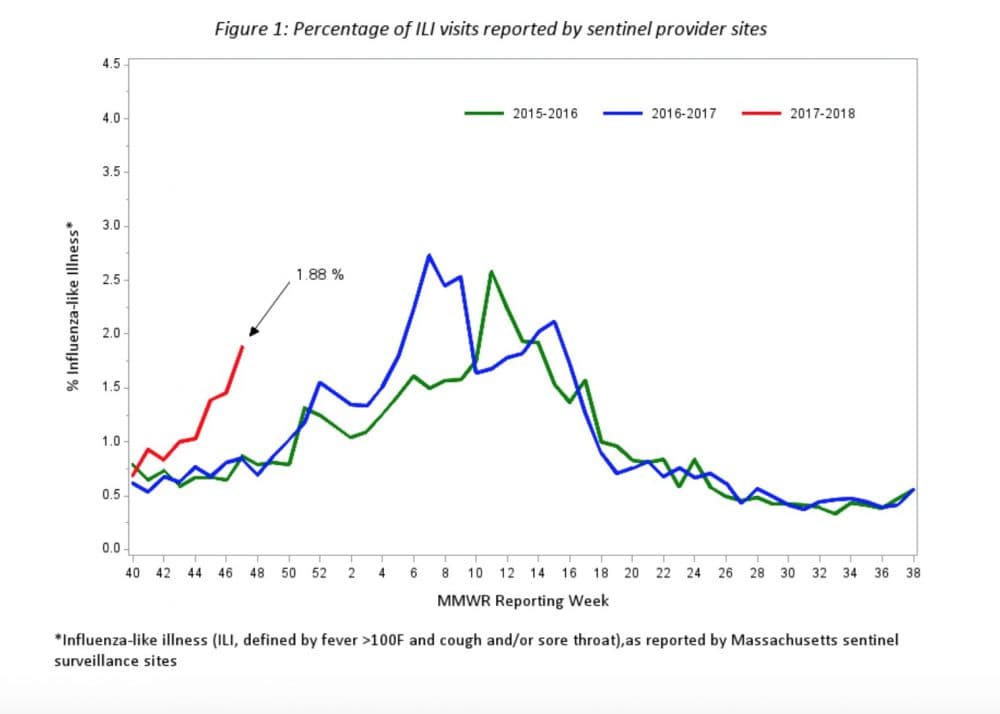 And the flu season could be severe, as well as early. We can look to what happened in the Southern Hemisphere last summer — their winter — for indications of what will happen with our flu season, and Australia just had a very bad flu year, with high numbers of cases and high severity.
If you're suddenly remembering that you forgot to get your flu vaccine, it's not too late. (And if your local pharmacy is out, try again soon; CVS says it is in the process of restocking, and pharmacies generally carry the vaccine through spring.)
But about this year's vaccine: Health authorities are still absolutely clear that getting a vaccine is the best way to prevent the flu, but the New England Journal of Medicine offers some less-than-great news about this vaccine's effectiveness.
Dr. Anthony Fauci, director of the National Institute of Allergy and Infectious Diseases, and his team write that there's "mounting concern" about this year's record level of flu in Australia, and that it's looking like the vaccine was only about 10 percent effective — meaning it reduced a person's risk by only 10 percent — against the dominant strain of flu there, known as H3N2. The American flu vaccine uses the same composition, they note.
A given year's flu vaccine may often be only about 50 percent effective, because the flu virus mutates so quickly that sometimes the strains in the vaccine just aren't a great match for the current strains of the virus.
But the Fauci article points to another possible factor: most flu vaccines are grown in eggs.
The problem: Vaccine makers start with a human virus, and so growing it in eggs is not "what the virus would really prefer to do," said Dr. Cody Meissner, chief of pediatric infectious disease at Tufts Medical Center.
The human virus "has to go through additional mutations in order to adapt to growth in the egg," he said, "so making the changes that are necessary to grow in the egg make it a slightly different virus than the one that's circulating in the community."
In other words, we already have a problem with getting a good match between the vaccine and the virus, and growing the vaccine in eggs may make the match worse, including with this H3N2 strain.
Fauci's article reports that for the 2016-'17 flu vaccine, the preliminary estimate is that it was 42 percent effective overall, but only 34 percent effective against the H3N2 strain.
The obvious consumer question at this point: Though we don't know for sure that it's the eggs that are the problem with H3N2, can we get vaccines that are not made in eggs?
The short answer: Yes, most flu vaccines are made in eggs, but a small minority are made in cell culture or using some tricks with DNA. But Dr. Madoff, of the state DPH, says the concerns raised about eggs do not mean we should shop around for non-egg vaccines at this point. Multiple factors affect vaccine effectiveness.
"There isn't evidence currently that the cell-based vaccines are more effective," he said. "The best flu vaccine is the one that you get. And so I wouldn't shop around too much. I would just get a flu vaccine. That's the most important thing."
The state of flu vaccine science is advancing, Madoff said, but that's over a span of years; it's not a consideration for this year.
Of course, the great hope is that we'll eventually get a universal flu vaccine that would work against all strains of the virus, and then we could stop having to get one every year.
But for now, a yearly reminder is still in order: Flu is serious. The Fauci piece cites official figures that in the worst years, flu can kill more than 50,000 Americans, and land more than 700,000 in the hospital.
"The take-home message is that there's a desperate need for a more effective influenza vaccine," Dr. Meissner said.
And his other take-home: "It's still essential for people to get the influenza vaccine."