A Solo Exploration Of Japanese Internment, Lyric Stage's 'Hold These Truths' Is Timely And Relevant
The historical one-person show can be a static affair. My experience is that it works better with natural holders of court than with heroes (or antiheroes) of a dryer persuasion. Truman Capote and Gertrude Stein have made charismatic subjects for the genre, General Douglas MacArthur not so much.
I'm not sure into which category Gordon Hirabayashi would fall, were it not for director Benny Sato Ambush and the designers of "Hold These Truths" on view at the Lyric Stage Company of Boston (through Dec. 31). The charming if also unassuming Michael Hisamoto plays Hirabayashi, a college-age Japanese-American citizen who defied the forced internment of people of his ancestry following the attack by Japan on Pearl Harbor in 1941, taking his case all the way to the Supreme Court, where he lost.
But director Ambush has mined Hirabayashi's cultural origins to give the solo performer the Japanese equivalent of backup dancers: kurogos, who in traditional Kabuki or Bunraku are faceless, black-clad movers of scenery, props and puppets. Here, however, garbed in puffy brown pants, cream blouses and filmy facial masks, a trio of kurogos offers silent, stylized support as the many other characters in the piece, all given voice by Hisamoto.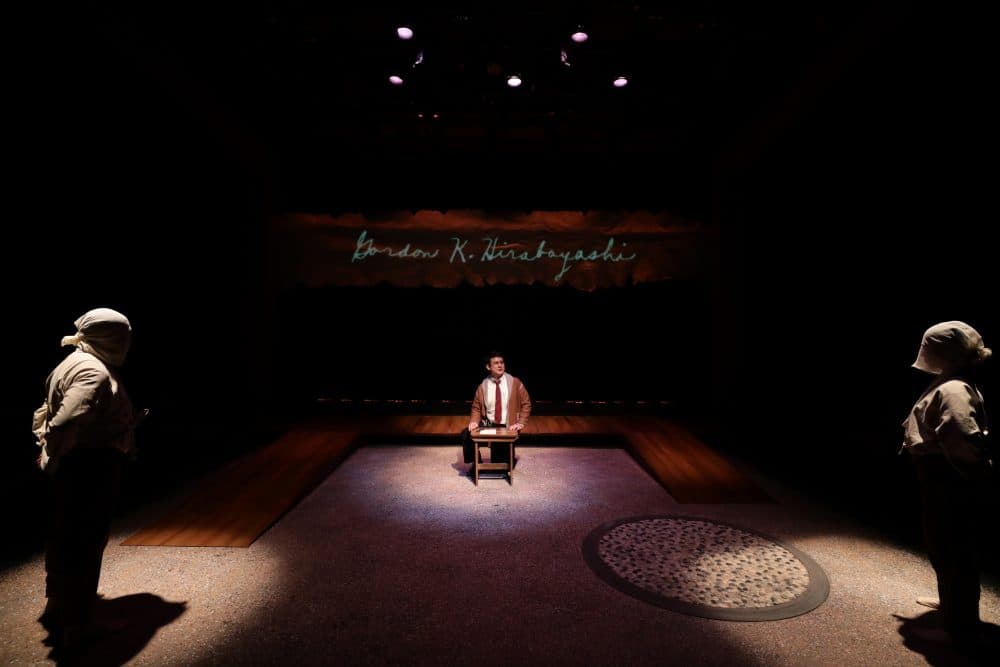 Moreover, this Japanese accent is echoed in a design that artfully deploys Asian-derived scenic elements — sliding screens, lightwood ramps and a high, horizontal strip of Momi paper across which projections swim — and music. (The scenic design is by Shelley Barish; the affecting multicultural score and sound design are by Arshan Gailus.)
Given the hatred and hysteria currently surrounding immigration, Jeanne Sakata's 2007 biographical play may be one whose time is ripe. But what is most heartbreaking about the piece is not the unconscionable fact of the internment, but Hirabayashi's keen, incredulous disillusionment at the fear-fueled loss of his rights. Fiercely but amiably, the character (whom Sakata acknowledges as an amalgam of fact and fiction) chronicles not only his "humiliation," but also his Quaker optimist's disbelief that such a thing could happen.
Clearly, this is a man — the son of Japanese immigrants — for whom the United States Constitution is more than "a scrap of paper," however the president, the police and the War Department may treat the document. It is the latter that in 1941 declares it a "military necessity" to round up and detain 75,000 American citizens and others since it would be impossible to separate loyal Japanese-Americans from those waiting on Pacific shores to usher in the enemy. (In other words, they all look alike.)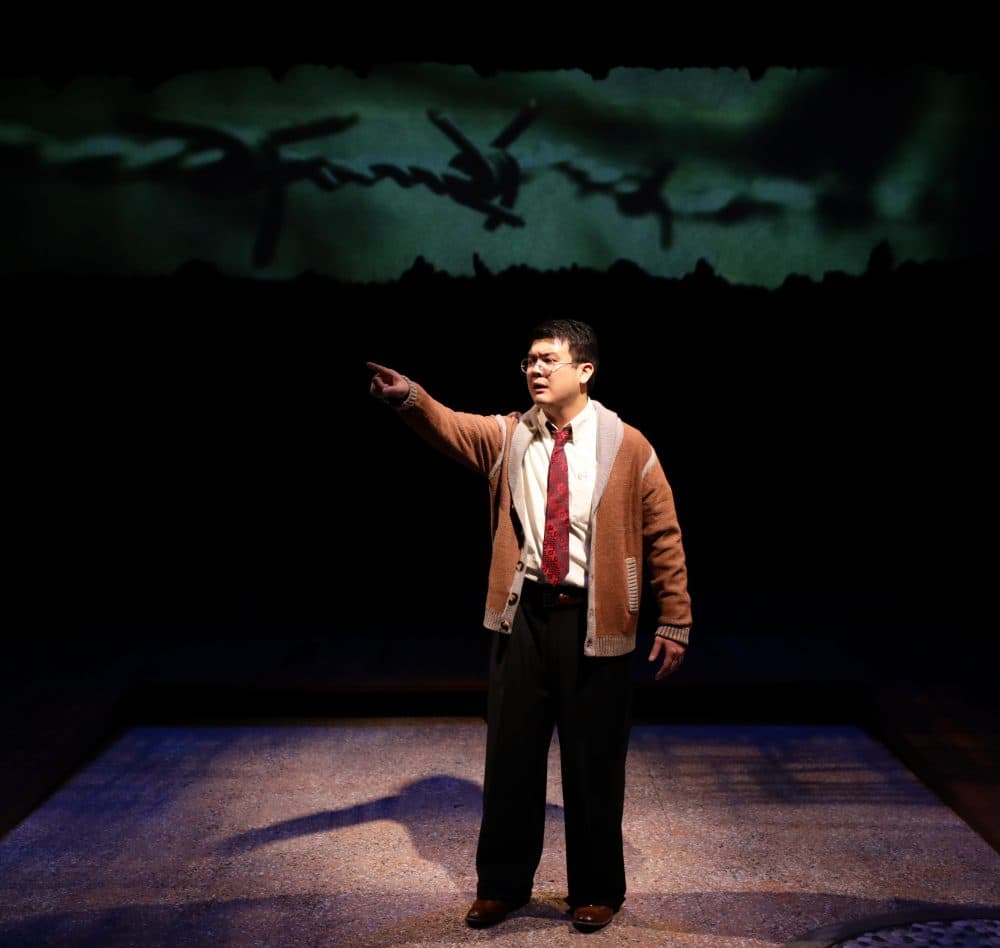 In the play, college student Hirabayashi, attending a YMCA-sponsored program in New York City, is surprised and exhilarated by the absence of signs barring Japanese — placards that have been a constant of his emerging adulthood in what you might call a Jim Crow West. As elsewhere in the production, Hisamoto plays Hirabayashi's sly exhilaration at this rather than dwelling on outrage that it should be otherwise at home. The character is, by his own account, a boy from the sticks (a communal farm in Washington) earnestly grabbing at opportunity — until it's snatched away due to his ethnic ancestry. Even then, he does not so much display anger as outline the principled acts of civil disobedience that landed him in jail.
Nor does Hirabayashi absent the irony rooted in his strange journey. Found guilty of both violating a curfew and failing to register for internment, he offers to deliver himself to an Arizona road camp to serve his time. He then proceeds to hitchhike — free, as he cheerfully remarks, to "commit espionage and sabotage" all the way.
"Hold These Truths" tells a fascinating if shameful story, one that Ambush, a distinguished African-American director, has more of a stake in than you might imagine. As he explains in a program note, he is of Japanese descent. His maternal grandfather, Takayuki Yaokawa Sato, was Japanese. Though the grandfather died before the U.S. entry into the war, his African-American wife and her Massachusetts neighbors were interviewed by the FBI in the '40s. "I can only imagine what would have happened to my family had my grandfather still been alive during the actual World War II years, or if he and the family had lived in the West," the director writes in the note.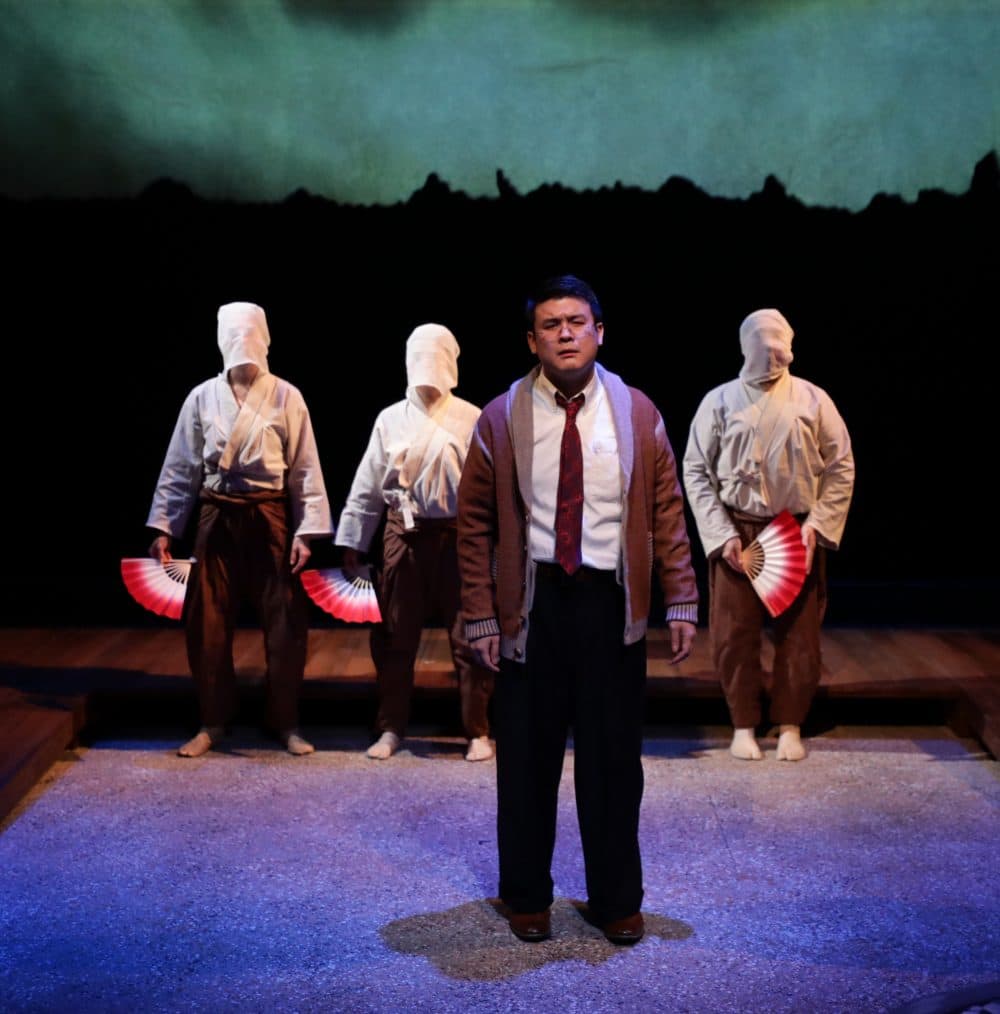 Fortunately, Ambush is not only an invested director but a good one. The droll and delicate Lyric production tells Hirabayashi's tale in a fashion in which his combined cultures gracefully dovetail. The kurogos capture both the modesty and fluidity of Japanese theater, Hisamoto Hirabayashi's touching belief in both Japanese family values and the American rights he learns are far from unalienable.
The actor, subtly aging over 50 years as Hirabayashi tells his tale, also knows how to command the stage. He proves a whiz at accents and at leaping among Hirabayashi, his parents, his pals and supporters and his antagonists, all lithely presented by the gender-neutral kurogos. I might have preferred less tamped-down tearfulness on the part of the actor. But like most fact-based solo shows, this one's a challenge, for the most part forcefully met and harmoniously supported.
The character of Hirabayashi relates early on a Japanese proverb relayed to him by his father (in both Japanese and English). The gist of it is that the protruding nail is the one that gets hit. Having taken his share of pounding before being vindicated some 40 years after his stand, a more seasoned Hirabayashi returns to the maxim at the end of the theater piece. This time, though, he adds a qualifier: "The nail that sticks out is the one that gets hit…. unless the hammer is smaller than the nail." Hisamoto is not an ineffectual hammer, but he employs a sagely light touch.
---
Lyric Stage Company's "Hold These Truths" runs through Dec. 31.